Reflections and Advice:
1.) What do you think makes your school unique relative to other boarding schools?
St. Andrew's feels like a second home to me. The teachers are not only dedicated to education and fostering critical thinking in all disciplines, but also in making the school a comfortable and friendly environment for all people attending and associated with the school. I always knew that I could go to my advisor's house at any hour if I needed anything at all. To this day, I still visit him to chat and fish. The dedication to a sincere experience extends to the staff, who are all friendly and know the student body well. For example, I had regular conversations with one of the janitors about fishing on Noxontown Pond. St. Andrew's employees also care about the parents; my father often talked to a particular facilities man about racing and motorcycles. These relationships cannot be forged by uninterested faculty and invisible staff, and I think their dedication to the students and families are what makes St. Andrew's so special.
2.) What was the best thing that happened to you in boarding school?
It's hard for me to single out the single best thing that happened to me in boarding school. My boarding school education had everything to do with who I am today, and I am grateful for my experience at St. Andrew's.
3.) What might you have done differently during your boarding school experience?
I have no regrets about my boarding school experience. I'd advise any student looking at boarding schools to pay close attention to how they feel when they walk on campus. Does it feel like a good fit? Do they feel comfortable? Boarding school can be a hard transition and it is not for everyone, and it is important to pay attention to their feelings when looking for schools because they are going to live and grow up there.
4.) What did you like most about your school?
While many schools push students to pursue only their interests or strengths, St. Andrew's encourages its students to explore out of their comfort zone both in the classroom and out. This commitment to well-roundedness is ingrained in school charter; for example, it is required that each student take an art, participate in three different sports, and take three years of language. This mindset allows students to hone their interests through a multifaceted approach. St. Andrew's faculty believe that perhaps the discipline a student learns through difficult swimming practices will help them master complicated physics. I feel like the balanced approach to education and lifestyle has allowed me to succeed in my pursuits.
5.) Do you have any final words of wisdom for visiting or incoming students to your school?
Above all, I loved the campus at St. Andrew's. My favorite Sunday activity was signing out a canoe or kayak, grabbing a few sandwiches, and traveling to a part of the lake I had never explored before. I loved walking and running through the woods, fishing on the lake, and reading on the docks. St. Andrew's has a huge campus, and I still go back today to explore.
Academics:
1.) Describe the academics at your school - what did you like most about it?
The St. Andrew's faculty is dedicated to producing well-rounded scholars. As a student, I did not enjoy the mandatory literature courses; I only wanted to study more math and science. My senior year, I sat down with my English teacher to discuss how English literature pertained to me, a budding scientist. Through his mentorship, I learned the value of diversified education. Even with just a few years hindsight, I can now say that these courses were invaluable to my development as a scholar and adult. English courses I once saw as irrelevant I now regularly apply to my life, as I write scholarly papers and critically analyze the news. Each St. Andrew's student pursues math, science, English, history, and language, and through their diversified studies matures to a talented adult.
Athletics:
1.) Describe the athletics at your school - what did you like most about it?
While many schools encourage their students to focus on only one sport, St. Andrew's strengthens its athletes by having them commit to three different sports each year. Single-sport training tends to mentally and physically wear out an athlete, but the diversity of St. Andrew's program allows its athletes to flourish. St. Andrew's athletes draw their strength through their diversified training: I entered St. Andrew's as a mediocre swimmer, and I left a competitive swimmer, runner, and rower.
Art, Music, and Theatre:
1.) Describe the arts program at your school - what did you like most about it?
I do not consider myself an artist, but at St. Andrew's, I felt like my limited natural talent was not a hindrance to my pursuit in the visual arts. The St. Andrew's faculty encourages all students, regardless of skill level, to try their hand at the arts. Musicians at St. Andrew's are encouraged to diversify their skills and interest. As a musician, I felt that there were unlimited opportunities for me to practice and perform. I entered St. Andrew's a classical pianist and singer, and after two weeks I found myself branching off into jazz piano and playing with the jazz ensemble. A large portion of the student body participates in the musical arts, and it is overall a very strong program.
Extracurricular Opportunities:
1.) Describe the extracurriculars offered at your school - what did you like most about it?
The strongest aspect of St. Andrew's student organizations is that they are heavily student-run. The student influence fosters strong student leadership and organizations that are carefully attuned to the interests of the student body. Furthermore, it promotes an environment where students can begin any club to match their interests.
Dorm Life:
1.) Describe the dorm life in your school - what did you like most about it?
The dorm life of St. Andrew's feels very much like a family, and my dorm mates will be my friends for life. The dorms are a place where people want to be: they are a spot to study; watch a big sports game with wings, pizza and your friends; or have a heart-to-heart. Furthermore, the faculty presence on the dorms feels very natural. For example, my sophomore year, the faculty member of my dorm was very present in our daily lives in a motherly way. Once a week, she would bake for the whole dorm and we would all sit in the common room to eat and talk. I felt that the on-dorm faculty were all caring and approachable. The dorm life was very comfortable for me.
Dining:
1.) Describe the dining arrangements at your school.
The chefs at St. Andrew's are always trying to improve the quality of general dining experience. The food is of a high quality, and the dining staff are dedicated to eating locally. Food is always available, which was particularly important to me as a growing young athlete.
Social and Town Life:
1.) Describe the school's town and surrounding area.
Middletown is an up-and-coming town with all the amenities that the student body could need. Furthermore, the faculty is more than happy to take students shopping, out to eat, or just to get off of campus for a while.
2.) Describe the social life at your school - what did you like most about it?
With a student body as small as St. Andrew's, no one is a stranger. Furthermore, through sports, extracurricular activities, and dining, students have plenty of opportunities to make friends in different years. The small St. Andrew's community fosters strong friendship.
Daily Schedule:
Weekday
8:00 AM
Classes/Free periods (for homework)
1:00 PM
Classes/Free Periods (for homework)
6:00 PM
Free time, but I usually did homework. Sometimes I fished or played frisbee on the front lawn. This is a time to spend with friends.
10:00 PM
Evening jobs, dorm socalizing
11:00 PM
Bedtime, which varies as you get older
Weekend
11:00 AM
Sports Event (race, regatta, match, etc)
3:00 PM
Shower, relax, and eat
6:00 PM
Free time, hang out on the front lawn, go to a dance, read, do anything!
11:00 PM
Free time, Watch a movie with friends or something
St. Andrews not only has the most incredible ethos but uses that ethos among the student body to do good. The small student population allows no one to slip under the cracks, and it's the. . .
I think that the small student body and close knit community of St. Andrew's makes it very unique. With a student body of only about 300 students, you know everyone's name and they know yours. . .
St. Andrew's is such a unique place, and it would be impossible to choose just one thing that separates St. Andrew's from any other boarding school. The most obvious difference is probably that St. . .
Show more reviews (

10 reviews

)
Mastering the Boarding School Selection Process: A 5-Step Guide
Discover the ultimate 5-step guide to choosing the perfect boarding school for your child. Explore essential factors, such as academics, campus facilities, extracurricular activities, and more. Make an informed decision to provide your child with an enriching and transformative educational experience. Read now!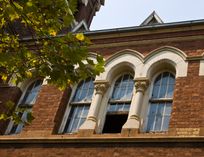 5 Founders and Their Boarding Schools
What prompts somebody to start a boarding school? The motives range from idealism to munificence right on through to capitalism. The common thread seems to be ample capital and a vision of what education can do.