Reflections and Advice:
1.) What do you think makes your school unique relative to other boarding schools?
I think that the small student body and close knit community of St. Andrew's makes it very unique. With a student body of only about 300 students, you know everyone's name and they know yours. You get to know just about everyone through classes, sports, or assigned lunch tables. Advisors and dorm parents are like your real parents and they just foster a sense of community that makes you feel right at home. Family Style lunch is a huge part of that community builder. Everyone has sit down lunch together at the same time and you are randomly assigned a table and you get to have friendly conversation with all different people from all different grades.
2.) What was the best thing that happened to you in boarding school?
I was able to find my place in a wide variety of different activities. I didn't have to just be a studious kid or an athletic kid. I could do well in English and run on the cross country team and dance and be a part of the chapel program. I met a lot of different people through all these different groups and I was able to branch out and be not so shy because I was given all of these opportunities to be social and meet new people.
3.) What might you have done differently during your boarding school experience?
I would have told myself not to worry, that everyone is a little bit freaked out. In my first couple months, I kept looking around at everyone else and thinking that they had it all together and I didn't. I found out later(like junior year) that everyone was just as nervous and freaked out as I was and that everyone looks around and thinks that everyone else has it all put together. Just slow down and take it one day at a time and everything will work out for the best.
4.) What did you like most about your school?
I loved being part of an inclusive and welcoming community that will always be there for me to go back to. I love that I have made friends who I will likely stay friends with the rest of my life.
5.) Do you have any final words of wisdom for visiting or incoming students to your school?
Go take a walk on the front lawn! People hang out there all the time and play Frisbee and soccer and its a good demonstration of the community that we have. It's also beautiful!
Academics:
1.) Describe the academics at your school - what did you like most about it?
Academics are rigorous and largely discussion based. I liked that classes were not lectures and that you got to give your own insights and opinions on material as well as hear from your classmates. Class discussion was usually lively and engaging, and students took the discussion where they wanted to take it. I liked that even in Math a lot of discussion was involved in talking about different approaches to solving problems. There was a lot of group work in math where we collaborated to solve problems and we really pushed ourselves to figure it out on our own. Not being spoon fed the answers by a teacher was a very rewarding experience.
Athletics:
1.) Describe the athletics at your school - what did you like most about it?
For athletics , someone can come in being really great at a sport and be able to continue with that sport and really excel in it. Someone can also come in and have never played a certain sport (or any sport) before and be able to start from scratch and work their way up. I never played any of my sports (cross country, squash, crew) before SAS and I was able to learn how and work my way up over the four years. I also liked that sports (or other afternoon activities) were required so that everyone was active in the afternoons and getting involved with things around campus. I also loved going to the state tournament games for boys basketball and soccer to cheer our teams on. Everyone was always really into cheering and those are some of my best memories.
Art, Music, and Theatre:
1.) Describe the arts program at your school - what did you like most about it?
People can come in having never tried an art before and they can start from the basics, or they can come in being very experienced in an art and continue to get better. All skill levels are welcome. I was a dancer and performing for this student body was always fantastic. Everyone was so supportive and enthusiastic. The performances that I watched (theater, orchestra, choral) were always very well put together and very impressive. The a capella group (the Noxontones) was very good.
Extracurricular Opportunities:
1.) Describe the extracurriculars offered at your school - what did you like most about it?
There are a bunch of different student organizations. Some of them were silly, like the Polar Bear Jump Club, and some of them were serious, like Operation Smile. People are very passionate about the clubs they are a part of. Anyone can start a club if there is enough interest in the topic. People are involved in a wide variety of different clubs. Community service is not required but almost everyone participates in it anyway. People mentor and tutor at local elementary schools and students are always looking for new ways to get involved in the middletown community.
Dorm Life:
1.) Describe the dorm life in your school - what did you like most about it?
Dorm life was my favorite part about SAS. I love that we are 100% boarding. Everyone is with each other all the time. After study hall, everyone just hangs out in the common room and plays games or watches TV or talks about random topics. Dorm parents are great about planning games and crafts and snacks. Seniors all live on dorm with underclassmen and it is great leadership to have on dorm and then you have friends across grades.
Dining:
1.) Describe the dining arrangements at your school.
One big dining room. Breakfast is cafeteria style, lunch is family style, dinner is cafeteria style. Best meals were Sunday brunch (omelet bar, waffle bar) and Wednesday grilled cheese. There is always a salad bar and PB&J option. Very healthy choices for hot meals and cafeteria open at convenient times. Dining services would spice things up every few weeks with a fun and exciting dish or station like a coffee bar.
Social and Town Life:
1.) Describe the school's town and surrounding area.
Middletown doesn't have a ton of stuff, but it has gotten a lot of new additions over the pas few years. There is a movie theater and some new shopping places. There is a Wal mart for grocery items and shampoo and stuff. There are some good local restaurants. Starbucks and Froyo place within walking distance. Middletown is also only about 2 hrs away from DC and 1 hr away from Philadelphia
2.) Describe the social life at your school - what did you like most about it?
Everyone has their own smaller friend group, but everyone kind of floats around and is friends with a bunch of different people. Grades sit all together at dinner and no one is separated by their own little "clique". There was always a lot of fun and creative things going on on the weekends around campus like dodgeball tournaments or some kind of festival or dance on the front lawn.
Daily Schedule:
Weekday
4:00 PM
Afternoon Activity
Weekend
8:00 PM
Activity on Campus
11:00 PM
Watch movie with friends
St. Andrews not only has the most incredible ethos but uses that ethos among the student body to do good. The small student population allows no one to slip under the cracks, and it's the. . .
I think that the small student body and close knit community of St. Andrew's makes it very unique. With a student body of only about 300 students, you know everyone's name and they know yours. . .
St. Andrew's feels like a second home to me. The teachers are not only dedicated to education and fostering critical thinking in all disciplines, but also in making the school a comfortable and friendly environment. . .
Show more reviews (

10 reviews

)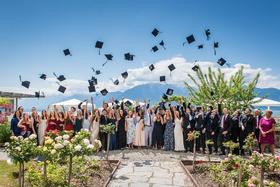 Nurturing Futures: A Journey through Boarding at Haut-Lac School in Switzerland
Nestled in the hills overlooking Lake Geneva in the French-speaking part of Switzerland lies an educational gem that embodies a unique blend of academic excellence, cultural richness and a profound sense of community. Founded over 30 years ago, Haut-Lac International Bilingual Day and Boarding School is now home to both 600 day students and a maximum of 30 boarders from around the world.
What To Wear at Your Job Interview
Navigating job interviews can be stressful, but knowing what to wear shouldn't be. Our comprehensive guide covers the essential dress code tips for men and women interviewing at boarding schools. Make your first impression count with style and professionalism.
Navigating the Modern Maze: Emerging Challenges for Boarding Schools
Explore the pressing challenges facing boarding schools, from marketing difficulties and rising insurance costs to facility maintenance and recruitment of competent trustees and teachers. This article delves into these complex issues and proposes innovative strategies to overcome them.