Reflections and Advice:
1.) What do you think makes your school unique relative to other boarding schools?
The tradition of Choate is what separates us from all the other boarding schools. Our motto is "fidelitas et integritas"--loyalty and integrity. We have a long history of excellence, and each student has a desire to pursue a passion.Also, our dining hall looks like it came from Hogwarts.
2.) What was the best thing that happened to you in boarding school?
My high school years at Choate encompassed some of the greatest memories of my life. Choate is my second home. The Choate community is always there for its students. The best thing that happened to be at Choate was bridging connections with such a diverse range of wonderful people. The faculty are what really make Choate. Also, my friendships are deep and life-lasting.Because I attended Choate, I feel that I have grown to be a strong and confident scholar and person. Choate creates world leaders and want to be extraordinary in this world. I am so proud to come from this school.
3.) What might you have done differently during your boarding school experience?
My advice to kids who are going to boarding school is something I heard when I first arrived at Choate matriculation day. Two things: 1) Never, never, never, never, never give up and 2) "stuff" happens. Boarding school is a bundle of challenges and obstacles that will test your capabilities and push you to your limits. At times, it may seem overwhelming and tough, but keep going through it because if you can break through, the rewards are greater than you could have ever imagined. Always keep your life in perspective and realize the greater picture. Enjoying your life while you are living it and don't be in such a rush to reach the finish. Savour the fact that you are young and you are being challenged and are growing because of these chalenges. My experience at Choate was not what I had expected when looking at the website or magazines. It was so much more.
4.) What did you like most about your school?
The faculty are what make Choate. The are not only your teachers and advisors, but your friends. I actually like spending time with the faculty. I go over to their homes on the weekends voluntarily. They are just amazing people.
5.) Do you have any final words of wisdom for visiting or incoming students to your school?
Check out Half Moon Cafe 's french fries and penne alla vodka, Ann's Breakfast, and Family Pizza's meatball subs. Remember Walmart is your friend.A brand new dorm is built and also a new track. Both are gorgeous additions to an already outstanding campus.
Academics:
1.) Describe the academics at your school - what did you like most about it?
This boarding school is highly competitive. The student body is a community and a family, but Choate students never forget their individual ambitions. Students at Choate want to be the best. It is hard to shine at a place where there are so many stars. Often, even if you are a stellar student in many areas, there is probably going to be someone better than you at Choate. This competitive spirit drives people to do better and achieve an even higher level of excellence. Many times, this academic environment involves a great amount of stress. Choate Rosemary Hall is not for the faint hearted. My junior year, I slept an average of 4½ to 5 hours a night and pulled more than a few all-nighters. The workload is rigorous and the teachers are tough because they constantly push you beyond your limits. The professors are fair and you deserve the grades that you receive. Choate faculty expects only the best caliber of work from their students. The academics at Choate will challenge you to produce only your finest quality of work. If you are able to meet the demands, the reward is greater than you could have ever possibly imagined. By the end of my Choate experience, college was a breeze. The skills I have learned—multi-tasking, time-management, and efficiency—are tools that help Choaties become not only students at a high school, but extraordinary scholars at a world-class educational institution.Choate has opportunities to get specific and dive deeper in whatever subject you are interested in. Regarding humanities, if you are interested in writing your own novella or doing research on the Cambodian genocide, Choate has a Capstone program, which matches one faculty member with the students interested, from 1 student to about 5 students. Regarding the sciences, if you are interested in exploring the anatomy of the human vertebral disk or the meaning of various frog croaks, you can participate in Choate's Science Research Program (SRP). If you are an econ-buff, you can join Choate's championship team in the FED Challenge. You can take the entire stage by acting in your own one-person show or see the see the play that you've written come alive with the guidance of Pulitzer Prize-winning playwright and alumni Edward Albee.Choate produces intellectual minds that also have the capability to do extraordinary work in what they are passionate about.
Athletics:
1.) Describe the athletics at your school - what did you like most about it?
Choate requires that you participate in either a sport or community service activity each term. In all the teams I participated in, regardless of the skill level, Choate teams are highly competitive. We have a great athletics program. In each of the three levels of a sport that we offer (the 3rds, JV, and varsity) Choate teams are always competitive. Our sports teams work hard with whatever skill level they are at in order to improve and win. Our athletics facility, the X, is gorgeous.
Art, Music, and Theatre:
1.) Describe the arts program at your school - what did you like most about it?
Our theater program is top-notch. What I loved most about it was that the faculty pushed me to go outside of my comfort zone and grow. The theater department center's on the principle of taking risks and learning yourself. The teachers, especially Tracy Ginder-Delventhal, TGD, were amazing. You can't beat teachers who care for your acting and personal growth.
Extracurricular Opportunities:
1.) Describe the extracurriculars offered at your school - what did you like most about it?
Choate offers a wide range of clubs. Choaties constantly are involved in engaging their fellow students and also impacting the world beyond campus. My most favorite memory was Harvest Fest, which is a club fair in the fall where Choate brings in an inflatable obstacle course and puts on a pie eating contest and other food stands in order to raise money and student participation in school. It's so much fun and really brings the entire community together regardless of what your specific interests are.
Dorm Life:
1.) Describe the dorm life in your school - what did you like most about it?
The dormitories are fantastic. My senior year I lived in a 12-person senior house called Homestead which was built in the 1700's. It's amazing that I got the chance to live in a historic New England home with my classmates. The girls in my house were like my family, and my advisor cared for us a lot. All of us would sit in the common room and eat brownies and snacks that my advisor had baked for us or sing karaoke competitions in his apartment. It was really a blast. My advisor my junior year would pop in, plunk down on my couch, and just chat with me about life in my room. Before I came to Choate I never thought faculty who are 20 years older than I am could ever relate to me; however, when living with these amazing people, Choate teachers have actually became some of my greatest friends.
Dining:
1.) Describe the dining arrangements at your school.
Our dining hall is the center of our campus. It is absolutely stunning. It looks like it came from Hogwarts with the classic dark wooden floors, the giant portraits, and elegant chandelier. During meal hours, it was the perfect place to socialize and catch up with friends and faculty. The food at Choate is quality. It definitely beats my college's food. The soups are to die for, amongst which are Italian wedding and butternut squash soup. Burger day is every thursday, which is always a lot of fun. I love the meatball subs.
Social and Town Life:
1.) Describe the school's town and surrounding area.
Wallingford is a cute New England town that has a variety of great dining options. Half Moon cafe is the local Choate hangout that serves the best french fries I have ever tasted and their penne alla vodka is killer. There's Japanese cuisine to Italian dishes, and the restaurants are superb, even compared to restaurants in New York. I even crave Wallingford food even after having the whole of New York City at my disposable. The town is friendly immediately outside of campus. However, occasionally, there are incidents when townies honk and yell, and even egg Choate students from their cars.
2.) Describe the social life at your school - what did you like most about it?
I have made life-long friendships from Choate. My best friends are from all over the world, including Bahrain and Hong Kong. The diversity at Choate is so integral to the essence of the community. Choaties care about each other and will always look out for others who have come from the same alma mater.Choate is a lot of fun too. On weekends, there is a SAC dance put on by the activities center. Dancing with my friends and listening to music just to blow off some steam were amongst the best times I had ever had. Also just sitting and chatting from 5:15 to 7:30 at night when the dining hall closed was a blast. When Choaties are together, we have some of the most interesting conversations. It's just so much fun to be with other kids your age sharing your experiences. A connection is fostered that is unlike any other.
Daily Schedule:
Weekday
10:00 AM
Gold Key Society (tour for prospective students)/ homework
3:00 PM
crew practice/ theater rehearsal
6:00 PM
dinner/talk with friends and hang out
9:00 PM
go out to Mem field for study break/eat vendor food
Weekend
11:00 AM
brunch at Ann's Breakfast
1:00 PM
go to Walmart to pick up more shampoo/Cheezits
6:00 PM
dinner at Half Moon Cafe & desert at Wrentworth's ice cream
11:30 AM
check-in with advisor
12:00 PM
dorm mafia/ Monopoly/ talking in common room/ watch a Disney movie with friends in dorm
At Choate, I felt that the faculty and administration really cared about my wellbeing and growth. Classes were mostly organized to allow for discussion and office hours were easy to attend and allowed for personal. . .
Choate has a diverse and interesting study body from all around the world. While it is an old and prestigious boarding school, I found Choate to be less traditional than some of its peer schools. . .
The community is definitely Choate's greatest asset, and the admissions folk do a great job of picking students. We're a pretty chill bunch, so you won't find much of the cut-throat competitiveness that usually accompanies. . .
Show more reviews (

27 reviews

)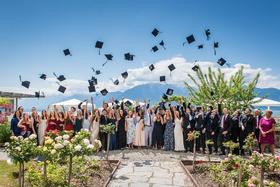 Nurturing Futures: A Journey through Boarding at Haut-Lac School in Switzerland
Nestled in the hills overlooking Lake Geneva in the French-speaking part of Switzerland lies an educational gem that embodies a unique blend of academic excellence, cultural richness and a profound sense of community. Founded over 30 years ago, Haut-Lac International Bilingual Day and Boarding School is now home to both 600 day students and a maximum of 30 boarders from around the world.
What To Wear at Your Job Interview
Navigating job interviews can be stressful, but knowing what to wear shouldn't be. Our comprehensive guide covers the essential dress code tips for men and women interviewing at boarding schools. Make your first impression count with style and professionalism.
Navigating the Modern Maze: Emerging Challenges for Boarding Schools
Explore the pressing challenges facing boarding schools, from marketing difficulties and rising insurance costs to facility maintenance and recruitment of competent trustees and teachers. This article delves into these complex issues and proposes innovative strategies to overcome them.