Reflections and Advice:
1.) What do you think makes your school unique relative to other boarding schools?
The community is definitely Choate's greatest asset, and the admissions folk do a great job of picking students. We're a pretty chill bunch, so you won't find much of the cut-throat competitiveness that usually accompanies "elite" prep schools here. The administration tries its best to improve student life, and the current headmaster is particularly invested in this. Choate constantly upgrades its facilities (i.e. new math center, student center, and upcoming arts center). They're a joy to work/relax in.
2.) What was the best thing that happened to you in boarding school?
Choate definitely helps you understand the true meaning of friendship. Being away from your parents is difficult, so having a support group of friends is invaluable. The friendships I've made there are ones I'll cherish forever, and we'll continue to stay in touch. Choate also helps you become a more cognizant citizen, and I'd especially recommend the history classes for this reason. You learn to care about the world around you and the people who make up this world.
3.) What might you have done differently during your boarding school experience?
I would try to befriend more people and be more open to people outside of my friend group. There are so many wonderful people with whom I've become friends with in my senior year, and I regret not reaching out earlier. It's a lot easier in freshman year, when everyone is new and desirous of making new friends.
4.) What did you like most about your school?
Choate is wonderful for bringing together people of diverse backgrounds. You learn of different opinions and different ways of life, and you can become friends with these amazing people although your hometowns are separated by thousands of miles.
5.) Do you have any final words of wisdom for visiting or incoming students to your school?
There is a cool waterfall if you take a little hike behind the lacrosse/field hockey fields. It's definitely a must-see before you graduate. Make sure to bring friends.
Academics:
1.) Describe the academics at your school - what did you like most about it?
You can really find whatever you're looking for here at Choate. If you can't find it in the course catalog, you can request a directed study, so the possibilities are truly endless. Choate's on a trimester system, so the pace is quite fast, and each assessment matters a lot. There's not much space to make mistakes, but most teachers are surprisingly forgiving and understanding. The school got rid of AP classes a while ago, and I'd say this is a welcome departure from exam-driven curricula. Now, there's greater freedom and far less pressure, although classes haven't gotten any easier. I'd definitely recommend the honors courses because they offer more depth and food for thought. While STEM classes are more lecture-based with hands-on experiments, the humanities classes require more discussion. Lab work is well-designed and an essential component to most, if not all, science classes. The teachers are generally excellent, and those in the history department especially so.
Athletics:
1.) Describe the athletics at your school - what did you like most about it?
The athletics program is inclusive of all skill levels. Intramural sports, such as rock climbing, hiking, and fitness (in the gym), are open to all. Interscholastic sports, even JV, shouldn't be taken lightly though, since most are huge time commitments. Most teams have practices four times a week and games twice a week (Wednesday, Saturday), with away games requiring several hours of travel time. Most junior varsity teams are open to those willing to dedicate themselves to the sport even if they haven't had much, or any, experience. Most varsity teams, on the other hand, are pretty selective, although a few are open to all. Some teams are more cult-like than others, and each has its unique vibe.
Art, Music, and Theatre:
1.) Describe the arts program at your school - what did you like most about it?
While I wasn't really involved in the arts, I enjoyed watching school productions (theater, dance, music). The students in them often do them in lieu of sports and pull off truly wonderful performances, There are opportunities to get more involved if that's your thing -- symphony orchestra goes on an international tour every couple of years or so and so does chamber chorus. Choate requires three arts courses during your time there, so it's a good way to have fun and explore. Set construction, dance, painting, and ceramics are just a few of the many courses offered. There are student art exhibitions, and the pieces made during set construction are often used in actual performances.
Extracurricular Opportunities:
1.) Describe the extracurriculars offered at your school - what did you like most about it?
There are so many clubs for whatever interest you may have, and if Choate doesn't have it, you can make it. You can get as involved as you'd like. Some clubs barely meet at all, while others frequently travel for tournaments and the like. There are STEM clubs, acapella groups, the Choate News, arts clubs, dance groups, etc. Most new students find themselves signing up for twenty/thirty/forty clubs but end up focusing on a couple soon enough.
Dorm Life:
1.) Describe the dorm life in your school - what did you like most about it?
Dorm life widely varies based on the dorm (part of a lottery system). Some dorms, usually larger ones, enforce rules more strictly than others. Prefects, who are specially-chosen seniors, help the house advisers take care of students in their respective dorms. There are so-called "mug nights," during which the dorm celebrates birthdays or gives announcements with food. You'll end up bonding with your dorm mates because you live with them. The dorms are mostly doubles, so you'll also have a roommate to share your experiences with. The freshman dorms are not the most pleasant since the advisers very strictly enforce lights out, late lights, study hours, etc., but the rules ease up once you're a sophomore/junior. Senior dorms are the most fun since you've probably chosen to live in the same dorm as your friends, and you have so much more freedom and far fewer rules.
Dining:
1.) Describe the dining arrangements at your school.
There is a single dining hall that fits the entire student body, and you'll often find teachers eating there with their families as well. Although everyone groans about the food, it's actually pretty good. There's always a salad bar with fresh veggies and other ingredients, a few types of fruit, a selection of bread, a few soups, pizza, pasta, and dessert. The grill and the section next to it serve hot entries; the line can get kind of long. It's good to note that the dining hall closes in between meal times, although fruit and water are always available. There's a freshman section, a sophomore/junior section, and a senior section. The dining hall is set up as a bunch of circular tables, where you can eat and have conversations with your friends. It's a great place to hang out with your friends, and many stay to talk long past meal hours.
Social and Town Life:
1.) Describe the school's town and surrounding area.
The school allows you to explore the town of Walling ford at your leisure. It's a small town, but it has everything you could ever need. Mr. D's, a dessert shop, and Zaon, a Thai restaurant, are student favorites. Just a short walk away are a plethora of casual and formal restaurants. There's a Walmart if you need any supplies, and a town library if you're looking to study away from campus. The town is pretty safe, and you'll often find Choate students strolling about or taking a run.
2.) Describe the social life at your school - what did you like most about it?
The social life is honestly what you make of it. If you want to hang out with your friends every day, you can. If you want to stay in your room and play games, you can. Most students hang out with their friends after classes end until study hours. There are dances every other weekend with EDM/pop music in the student center, and there are always weekend activities to do on- and off-campus, including trips to the movies or to the mall. Sleepovers are a common occurrence on weekends as well. It's wonderful being surrounded by your friends 24/7.
At Choate, I felt that the faculty and administration really cared about my wellbeing and growth. Classes were mostly organized to allow for discussion and office hours were easy to attend and allowed for personal. . .
Choate has a diverse and interesting study body from all around the world. While it is an old and prestigious boarding school, I found Choate to be less traditional than some of its peer schools. . .
The community is definitely Choate's greatest asset, and the admissions folk do a great job of picking students. We're a pretty chill bunch, so you won't find much of the cut-throat competitiveness that usually accompanies. . .
Show more reviews (

27 reviews

)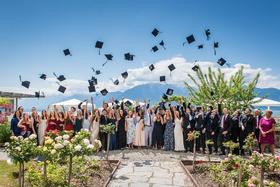 Nurturing Futures: A Journey through Boarding at Haut-Lac School in Switzerland
Nestled in the hills overlooking Lake Geneva in the French-speaking part of Switzerland lies an educational gem that embodies a unique blend of academic excellence, cultural richness and a profound sense of community. Founded over 30 years ago, Haut-Lac International Bilingual Day and Boarding School is now home to both 600 day students and a maximum of 30 boarders from around the world.
What To Wear at Your Job Interview
Navigating job interviews can be stressful, but knowing what to wear shouldn't be. Our comprehensive guide covers the essential dress code tips for men and women interviewing at boarding schools. Make your first impression count with style and professionalism.
Navigating the Modern Maze: Emerging Challenges for Boarding Schools
Explore the pressing challenges facing boarding schools, from marketing difficulties and rising insurance costs to facility maintenance and recruitment of competent trustees and teachers. This article delves into these complex issues and proposes innovative strategies to overcome them.