Reflections and Advice:
1.) What do you think makes your school unique relative to other boarding schools?
Choate has a diverse and interesting study body from all around the world. While it is an old and prestigious boarding school, I found Choate to be less traditional than some of its peer schools, in the sense that it maintained campus traditions that were important to students, but moved away from outdated rules such as the dress code. Choate, like some of its peer schools, was a big proponent of the Harkness table teaching method, which I personally found to be very conducive to learning and communicating with both the teacher and fellow classmates. Overall, the school was a place where students were encouraged to seriously pursue academics, as well as learn and grow through a wide variety of other disciplines. There was a wide range of clubs, sports, study abroad programs, and other extracurriculars that were important to students, and allowed for a sense of community and the opportunity to learn alongside talented peers.
2.) What was the best thing that happened to you in boarding school?
The friends I made at Choate are lifelong, and people I consider family. While Choate opened a lot of doors for me in an academic sense, it wouldn't be the same place without the friendships that truly made being there worthwhile. Living and growing on a campus for 4 years, especially during your teen years, isn't easy, and the experience wasn't always positive. Choate challenged me in a variety of different ways, but I grew from learning how to overcome those challenges, and from drawing on the support of my friends. I learned the value of friendship at Choate, and I am a better person because of it.
3.) What might you have done differently during your boarding school experience?
If I could do it over again, I would have tried to be less focused on grades and the classes I should be taking, and go out of my way to try new classes or clubs. I think I did more of this closer to senior year, but it was sometimes easy to become obsessed with an outcome which took away from just enjoying a class or time that could've been used to try something new. There's a lot you can do at Choate, so try to take advantage of as much as you can and enjoy the learning experiences that you are afforded.
4.) What did you like most about your school?
I really enjoyed getting to learn and grow among such talented and smart people. The community aspect at Choate was great, and the student body was capable of a lot of impressive things. I learned a lot from my peers both inside the classroom and outside of it. The majority of the teachers were also super passionate and served as mentors to students, and that contributed a lot to my overall learning experience.
5.) Do you have any final words of wisdom for visiting or incoming students to your school?
Savor your senior spring. It's a special time filled with a lot of traditions and fun events, so enjoy every moment and spend as much time with your friends as you can.
Academics:
1.) Describe the academics at your school - what did you like most about it?
Coming from a fairly homogenous small hometown with a below average public school system, encountering the academics at Choate was a really big shift for me. Like many of the students there, I came to boarding school having been at the top of my class back home, and had to confront an academically rigorous course load and learn the true meaning of time management. While there was certainly an adjustment period for me, Choate academics undoubtedly challenged and pushed me in a way that prepared me for success later in on in my college career. There is also a lot of independence in regards to how students design their schedules and manage their time, and there was really a variety of interesting classes that I felt really lucky to have been exposed to.
Athletics:
1.) Describe the athletics at your school - what did you like most about it?
At the time that I attended Choate, students were required to participate in some sort of sport every trimester. I think that you could substitute this with being involved in an arts production, if that was what you were into instead. The athletics program was extensive, with many sports offerings and a lot of intramural teams that students could join as well. While sports at Choate were inclusive of a lot of different skill levels, they definitely required a large time commitment across the board. Sports teams would meet after school and have games/meets on the weekends that would take up a lot of time, especially if they were away games. I was involved in a sport that took up a lot of extra time due to having to travel back and forth to the school's boathouse that was off campus. While it was exhausting at times and a really big time commitment, I really enjoyed the sense of community that I found on my team, and the ability to participate seriously in something other than academics.
Art, Music, and Theatre:
1.) Describe the arts program at your school - what did you like most about it?
I wasn't personally involved in the arts, but I was friends with a lot of people who were. Choate had a special "Arts Con" program, which was selective and allowed students to more seriously pursue different art disciplines. While I wasn't involved, it was pretty obvious that Choate has a really wonderful arts program that a lot of really talented students took advantage of. There was a theater production every semester, and students could also take voice and music lessons. The arts community definitely had its own vibe and was a kind of cult like, but that was no different from some athletic teams or other groups on campus.
Extracurricular Opportunities:
1.) Describe the extracurriculars offered at your school - what did you like most about it?
There were tons of extracurriculars at Choate that students could participate in. I was more involved with athletics, but there were lots of serious clubs and activities that were important to students on campus. Students also had the ability to form their own clubs if they didn't already exist, and there were also several community-oriented clubs that allowed students to get involved with the greater Wallingford community.
Dorm Life:
1.) Describe the dorm life in your school - what did you like most about it?
The majority of the student body is boarding students, and dorms are separated by grades. There are larger dorms dedicated to just freshmen, mixed housing for sophomores and juniors, and senior only dorms. It was definitely great living with your friends 24/7, and there was a lottery system that determined where you and your roommates would potentially be placed as you got older. There are student prefects who live in the dorms and enforce rules such as lights out for the younger students and study our guidelines. Something great about dorm life was the "mug nights" where teachers in the dorms would provide desserts or other treats on students' birthdays or other occasions. During a study break from 9 to 9:30, there would also be food trucks that would come out in front of Mem House. Overall, dorm life is definitely a big part of the Choate experience in the sense that students really get to bond.
Dining:
1.) Describe the dining arrangements at your school.
People would definitely complain about the food at Choate, but looking back it was actually pretty good and there was generally a pretty big selection. The dining hall is big and students would sit based on year (there's a senior section, freshman section, and an area where sophomores and juniors would sit - it wasn't something assigned but just unspoken seating in the hall). Students could also hang out in the dining hall after dinner hours and socialize with friends.
Social and Town Life:
1.) Describe the school's town and surrounding area.
Wallingford is a small New England town, but most students would go into town often on weeknights and weekends. There is a strip of cute restaurants like Mr. D's and Half-Moon, and other restaurants and small stores down the hill. It was a nice way to get off immediate campus and eat out with friends not in the dining hall. You could also get day permissions to go to New Haven, which a lot of students got to via the Amtrak.
2.) Describe the social life at your school - what did you like most about it?
Choate isn't very large, so you really get to know most of the student body by the time you graduate. There is something special about the shared experience of having grown up together on a small campus, and I think a lot of the students recognize that. Dorms were definitely one of the ways in which friend groups were formed and bonding happened, and classes and extracurriculars also brought students together. I personally will never forget the people that I met and interacted with during my time at Choate.
One thing about Choate I really believed made it so unique was the variety of classroom experiences one could have in just ONE academic day. Many schools utilize the classic classroom set up where the. . .
The community is definitely Choate's greatest asset, and the admissions folk do a great job of picking students. We're a pretty chill bunch, so you won't find much of the cut-throat competitiveness that usually accompanies. . .
Choate was unique in that during my junior year, they did away with AP labels on courses in order to let the teachers have more power over the curriculum. This created a culture in which. . .
Show more reviews (

27 reviews

)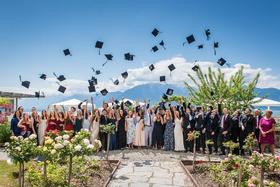 Nurturing Futures: A Journey through Boarding at Haut-Lac School in Switzerland
Nestled in the hills overlooking Lake Geneva in the French-speaking part of Switzerland lies an educational gem that embodies a unique blend of academic excellence, cultural richness and a profound sense of community. Founded over 30 years ago, Haut-Lac International Bilingual Day and Boarding School is now home to both 600 day students and a maximum of 30 boarders from around the world.
Navigating the Modern Maze: Emerging Challenges for Boarding Schools
Explore the pressing challenges facing boarding schools, from marketing difficulties and rising insurance costs to facility maintenance and recruitment of competent trustees and teachers. This article delves into these complex issues and proposes innovative strategies to overcome them.
What To Wear at Your Job Interview
Navigating job interviews can be stressful, but knowing what to wear shouldn't be. Our comprehensive guide covers the essential dress code tips for men and women interviewing at boarding schools. Make your first impression count with style and professionalism.