Reflections and Advice:
1.) What do you think makes your school unique relative to other boarding schools?
Since its foundation, Subiaco Academy have sought to nourish students not only knowledge but also moral principles through Catholic teachings and education. Subiaco's emphasis on the Catholic value includes mandatory attendance in Wednesday mass during school and in Sunday morning mass, if you are a boarding student. Also, students are required to take religion course every year. Following through these practices, Catholic students find their true-selves; and Non-Catholics get to learn and understand the difference in beliefs.
2.) What was the best thing that happened to you in boarding school?
The primary purpose of coming here to United States was to get better education and opportunity to accomplish my dream— which was, and still is, to become a great filmmaker. Even before I came here to United States as a freshmen, I dreamed to go to one of the best film schools in the world - Tisch School of the Arts of New York University. As many of the students have their dream college - NYU Tisch School of the Arts was my first-choice, dream school. By approaching my dream step by step, I have grown not only physically but also mentally: By expanding my knowledge and perspective towards issues and histories all over the world, I became a bigger and more critical thinker; and finally on December of 2007, I was admitted Tisch School of the Arts; Films were always there when I was going through a change; and in fact, films were one of the motivations for changes in my mind.
3.) What might you have done differently during your boarding school experience?
As a freshman, I tried to befriend as many people as I could. But thinking back now, I feel like I was trying to become somebody else to win friends. But now I know there are many people whom I could befriend even with my true self. Also the sooner you know what you want to do, the more you can prepare and show it to people. Not excluding this only to the college admission, I would like to emphasize that people get interested in you when you have a passion for something. So think about what you want to do for the rest of your life!
4.) What did you like most about your school?
I love the tradition, supporting environment and the people: I admire a golden senior ring (even goes back to 1920s) and every other tradition that makes the school unique. I fully absorbed a supporting environment. The school's encouragement, support and interest in my passion were a great foundation for my achievements. Some of the people I met here in Subiaco became my role models. They were very Christian-like, good-natured, charismatic and intelligent. I respect them very much.
5.) Do you have any final words of wisdom for visiting or incoming students to your school?
If you are expecting Subiaco as either loose, study-free environment or Utopia where everything is beautiful, you should consider coming here again. Subiaco is a unique place in which discipline, rule and tradition exist. Sometimes your freedom to do whatever you please will not be compromised. Also there is no perfect school. You will find many difficulties with some of its people and rules. But all you need is a will to meet the challenge and win every opportunity to accomplish your dream. By the way, we have a great sunset view behind Heard Hall. You should check it out.
Academics:
1.) Describe the academics at your school - what did you like most about it?
Due to the small number of student body, the community at Subiaco Academy boasts very family-like, close affiliation. Even in classes, teachers are friendly and very easy to approach; They do not remain behind their podium, but actually connect through lectures, questions and sometimes jokes. Sometimes it is just amazing to see them associating with the students and earning respects as a teacher.
Athletics:
1.) Describe the athletics at your school - what did you like most about it?
Contrary to the number of the students, Subiaco competes with some public schools that is consist of hundreds of students. Because of that, Subiaco sometimes meets difficulty playing at the same level; however, school's basketball, tennis and track team have been recognized in region and state over the years. It is mandatory for boarding students to cheer at Friday night home game for football and basketball. Subiaco's extremely loud and passionate cheer has been a long-known tradition and surely inspires sentiment of pride and unity.
Art, Music, and Theatre:
1.) Describe the arts program at your school - what did you like most about it?
I have always been involved in many kinds of art programs in Subiaco, because art— especially visual/cinematic art— is what I will pursue in college and in my career. School's support for the art department is incredible. Students will receive not only all the materials they need for their projects but also a teacher's close attention for every individual work. I have taken art classes every year— Fundamentals of Art, Creative Expressions, AP Studio Art and Independent Film Studies— and they helped me to build strong artistic foundation. Especially Independent Film Studies (an individual project established by myself to practice and focus more on cinematic art) proves how Subiaco is willing to support every individual talent a student has. Also I have participated in Jazz Ensemble as a saxophonist for two years. The teaching is absolutely amazing, because the band director allows us to enjoy playing but at the same time motivates us to play "true music, true jazz." We have played many places including Hard Rock Cafe in San Antonio, and have earned "Division I - Superior" at the American Classic 2007. Overall, school has great commitment to nourish and develop individual artistic talent, and had supported students who now study film, drama, music and graphic design in colleges.
Extracurricular Opportunities:
1.) Describe the extracurriculars offered at your school - what did you like most about it?
Subiaco offers many extracurricular activities, such as CASA club (International students association), Spectrum Production (Filmmaking Club), Subitone (Choir group), Quiz Bowl team, Drama club, Blue Arrow (student ambassadors), National Honors Society and Student Council. Because some of them require talents and commitment, students have to go through selection/audition. However, they are apt to provide many different aspects and qualities. They, all of them, insist professionalism and serious approach to various fields.
Dorm Life:
1.) Describe the dorm life in your school - what did you like most about it?
There are two dormitory buildings in Subiaco campus. One is Heard Hall, mainly for freshmen and some of the sophomores. The other, dormitory in Main Building is mainly for juniors and seniors. All rooms are shared by two students, and later in the school year, the room/roommate selection can be re-arranged with the dean of men. All the dorms and every floor have small kitchen for students to cook popcorn, ramyun noodle or anything like that. Living far away from home, especially for international students, is always challenging; however, it certainly gets easier when you associate with your roommate or neighbors across the hallway by watching movies and playing games.
Dining:
1.) Describe the dining arrangements at your school.
Cafeteria serves meals three times a day (only lunch for day students). Breakfast is at 7:00 in the morning; Lunch at 11:35 and Dinner at 6:00. Usually meal is served for thirty minutes. There is no assigned seating or any rule; however, students usually sit where they always sit. So it is generally implied that students sit where they have sit. Quality of food solely depends on how students take it: There are some issues that students complain; however, compared to many other schools, it certainly is satiable and sometimes deserves the second-dish (sometimes the third).
Social and Town Life:
1.) Describe the school's town and surrounding area.
Arkansas is commonly known as a "natural state." To picture the image of the school's campus, just take that literally— pastures, clear sky, hills, lakes, ponds and forest. City of Subiaco, in Northern Arkansas, has certainlydiscerniblee air quality and is always very quiet and peaceful. For that reason, school holds many outdoor activities, such as pig roast, hiking, fishing,canoeingg and camping. However, mall and Wal-Mart Supercenter is about forty minutes away from the campus, so it is somewhat inconvenient when one wants to shop or go to theaters.
2.) Describe the social life at your school - what did you like most about it?
Living in Subiaco for four years, the most valuable lesson I learned from this community was the social relationship with people. There are all kinds of people with different interests, characters and life values. Sharing the difference, arguing and finally understanding them have been one of the precious lessons I came to appreciate. Even though not everybody at Subiaco is going to be nice to one another, that does not mean there is nothing to learn from them. However, I also found a few best friends with whom I can share any opinion and interest. For that profound and valuable lesson and friendship, I admire Subiaco's community.
Daily Schedule:
Weekday
3:30 PM
Activity Period begins
10:00 PM
Lights Out (Freshman, Sophomore and Junior)
11:00 PM
Lights Out (Senior)
Weekend
10:00 PM
Lights Out (Freshman, Sophomore and Junior)
11:00 PM
Lights Out (Senior)
There is no place in the world quite like Subiaco Academy and there is no experience in the world like the Subiaco Academy experience. It has changed and evolved substantially since I started there. . .
2022-2023 will be my 3rd year at Subiaco Academy. I am a senior. Subiaco is an awesome school where students develop character, faith, and Brotherhood. It is a. . .
When I attended West Point, I found that I was extremely well prepared for the rigorous academics and athletics found there. Graduating high in my class, I credit Subiaco's academic and athletic programs for preparing. . .
Show more reviews (

1 review

)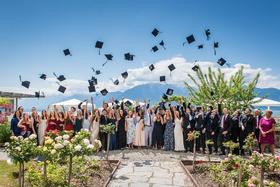 Nurturing Futures: A Journey through Boarding at Haut-Lac School in Switzerland
Nestled in the hills overlooking Lake Geneva in the French-speaking part of Switzerland lies an educational gem that embodies a unique blend of academic excellence, cultural richness and a profound sense of community. Founded over 30 years ago, Haut-Lac International Bilingual Day and Boarding School is now home to both 600 day students and a maximum of 30 boarders from around the world.
What To Wear at Your Job Interview
Navigating job interviews can be stressful, but knowing what to wear shouldn't be. Our comprehensive guide covers the essential dress code tips for men and women interviewing at boarding schools. Make your first impression count with style and professionalism.
Navigating the Modern Maze: Emerging Challenges for Boarding Schools
Explore the pressing challenges facing boarding schools, from marketing difficulties and rising insurance costs to facility maintenance and recruitment of competent trustees and teachers. This article delves into these complex issues and proposes innovative strategies to overcome them.