Reflections and Advice:
1.) What do you think makes your school unique relative to other boarding schools?
In my mind, the part of Middlesex that stands out the most, aside from the beautiful campus, dedicated faculty, and interesting classes, is the very inclusive community that resides on campus. Because it is such a small school with only 350 students in grades 9 through 12, it creates a cohesive environment where every student is able to contribute. Tight relations are fostered between students and faculty of all different backgrounds. The small class sizes also encourage students to take an opinion and learn to argue for it in front of classmates and teachers. At Middlesex, no student feels left out, as everyone is involved in and is an important part of the united community.
2.) What was the best thing that happened to you in boarding school?
The best thing that happened to me at Middlesex was being able to play on three different sports teams. I personally love athletics and competing, and the greatest part about athletics at Middlesex was the teams I was able to share it with. Every team is different, and all of the coaches lead in a different way. Not only did I enjoy playing the sports, but I learned a lot about leadership and teamwork along the way. For me, each team was a different experience. For example, my greatest passion was ice hockey. I have been playing since I was five, and I will continue playing in college. I loved playing on our team at Middlesex and it was fun to be such a contributor. However, for me, lacrosse was a much different story. I started playing my Freshman year at Middlesex, and it seemed like I was still learning the basics for a while; however, I kept with it and I absolutely loved playing the sport despite how new it was to me. Middlesex athletics helped me grow into a more confident and helpful person, not only on the lacrosse field, soccer field, or hockey rink, but in all that i did on campus.
3.) What might you have done differently during your boarding school experience?
Coming in as a freshman I wished that I got involved more with school activities. I didn't really venture far from what was required, and i regret it greatly. There is so much opportunity at school that it was a shame I missed out on it. Later on I discovered "Walden House" which is a community service option that goes to a nursing home every week to visit with guests. I met new people and had a lot of fun with this rewarding experience. I also took up ceramics later on in my Junior Year, and I even ended up winning two Thoreau Awards for my ceramics pieces. My best advice is to get involved in school events; they are a lot of fun and it is a great way to get acclimated into a community.
4.) What did you like most about your school?
The best part about my Middlesex Experience was the relationships that I made along the way. Whether they were with classmates, roommates, or faculty they were all important. A school can have the best facilities in the world, but it will not be a great school without the dedication and spirit of the people within. Immediately coming onto campus I realized how nice everyone is as they continuously greet and say hi to people in the hallways. At Middlesex, the faculty treat students with an endearing trust which makes the students grow into very responsible people. The teachers expect a lot from their students, but they also understand the difficulty of student life. There is a great balance of trust and aid between faculty and students. I've learned so much from my experiences with teachers and friends that it made conversing with adults outside of school a lot easier. Not only are students ready to take on an academic load after leaving Middlesex, but they are also able to take on the difficult new experiences that life brings at you.
5.) Do you have any final words of wisdom for visiting or incoming students to your school?
Take advantage of what Middlesex has to offer. Take a long walk in the woods or swim across the pond before you graduate. And start your Senior Plaques early because they take a lot longer than you think. But most of all, just enjoy the experience (don't get too caught up in the workload) because it goes by a lot faster than you think.
Academics:
1.) Describe the academics at your school - what did you like most about it?
The teachers and classes are truly remarkable at Middlesex, but what makes the experience so exceptional is that each student holds an incredible will to learn. The students are greatly invested in their classes and everyone contributes to class discussions and debates. Not only do students learn the material from their classes, but they learn how to argue and defend their own ideas. All History and English classes are centered around the Harkness table which promotes student controlled discussions. The teachers are very enthusiastic about the material in which they cover and they are very concerned with the growth of their students. Teachers are regularly available for extra help at all hours of the day, and they encourage their students to take advantage of it. Middlesex is a place for students to experience all different areas of study whether it is Visual Arts, Languages, or Mathematics. A student may find a passion in one area of study where they are able to master the material with an Advanced Placement class, but he or she is also able to experience the importance of a multifaceted education.
Athletics:
1.) Describe the athletics at your school - what did you like most about it?
The important part about athletics at Middlesex is that everyone is involved in them. Whether you have been playing a sport for your entire life or trying it out for the first time, there is a place for you on a Middlesex team. The teams at Middlesex are a crucial part of the entire experience. Everyone is enthusiastic about playing their sport and representing the school well. As a freshman you are required to play 3 seasons of sports, as a junior you are required 2, and as a senior only 1. Often, students continue playing 3 seasons of sports all the way through their time at Middlesex.At Middlesex, the athletics program is really what you want to make of it. For me, playing on three different varsity teams was a commitment, but definitely well worth the time and effort. I experienced all of the ups and downs, and learned almost everything about work ethic, teamwork, and leadership. It's not really the wins and losses that make athletics important to Middlesex, but it's the experiences that you share with teammates along the way. A lot of my greatest memories of the school are with my sports teams.
Art, Music, and Theatre:
1.) Describe the arts program at your school - what did you like most about it?
The Arts program at Middlesex is great because there is so much opportunity to explore it. Through Freshman and Sophomore year students are required to take 4 intro classes to the Arts: Drawing, Art History, Music, and Drama. This program allows students to experience something which they may not have had a chance to. For me, I will personally never forget my experiences with drama class sophomore year and performing an embarrassing short skit in front of the entire school. For many students, these intro classes spur their interest in other advanced classes such as AP studio art, ceramics, music theory, AP art history, or even staring in one of the plays. At Middlesex, everyone is able to participate in the what they want. Theater rehearsals are scheduled at night so that the students can perform in the plays and participate in athletics. And with the variety of plays and arts that we have, there are opportunities for each student no matter what year to find and do what they want.
Extracurricular Opportunities:
1.) Describe the extracurriculars offered at your school - what did you like most about it?
There are so many extra-curriculars to get involved with at Middlesex. There is an entire assembly at the beginning of each year devoted to introducing all of the clubs and organizations to the student body. Almost all of the clubs are student run, and they range from very serious to completely random. Some of the more popular clubs include: Common Sense (environmental group on campus), Model Congress, Ceramics Club, G.S.A, Finance Club, Chess Club, Tea Club, Scooter Club and many more. There are also opportunities to get involved in student publications such as the Anvil (student newspaper), Iris (student creative writing publication), or Fides (another student newspaper publication. Many students also choose to get involved in student government where there are representatives from each dorm and grade. There is also a lot of opportunity to do community service each week. Every Tuesday a bus leaves from campus and goes to a nursing home nearby where students are able to socialize with the guests in the home. Also, every Thursday a bus travels to an Open Table organization where Middlesex students join the clean up crew for the evening. There are so many extra-curricular opportunities at school it is almost overwhelming; however, every student has the opportunity to find a new experience at Middlesex through a club or organization.
Dorm Life:
1.) Describe the dorm life in your school - what did you like most about it?
Living in a dorm is definitely one of the most exciting parts of Middlesex life. The close-knit community revolves around the togetherness of the students living in dorms. Most dorms are set up so that each floor holds students from one class grade and a Senior proctor. Most rooms are singles, in fact, usually Middlesex has enough singles so that every freshman could have a single if they want it. Each dorm has it's own character and benefits. One of the memorable parts of the dorm is how we celebrated every girls birthday in our dorm throughout the year. Each dorm also participates in several different competitions throughout the year which includes an Air Guitar, a Field Day, and a Dorm Lights Competition. The dorms are really fun, and it is a great way to get close to different people at the school. The school is 25% day students and the borders and day students are very close. Many day students stay late at night, and often stay over in the dorms on the weekends.
Dining:
1.) Describe the dining arrangements at your school.
The Cafeteria set-up is really nice on campus. The dining room is almost always available to students during the day, and there is a very big assortment of foods. There is always a cereal bar, a bagel station, cold cuts and sandwiches, soups, waffles, fruit, ice cream, and a salad bar with almost all that you could ever want in a salad. The dining room is always a place to relax and rewind from the day with friends and classmates.
Social and Town Life:
1.) Describe the school's town and surrounding area.
The town of Concord is a very cute little town. There are all types of stores and restaurants. There is a bus which goes into Concord every afternoon, and it leaves campus and brings students back every 30 minutes. Students usually travel into town on Sundays or free afternoons during the week. Middlesex is also within 30 minutes of Boston and Cambridge. There are vans almost every weekend that either go to Alewife or the Burlington Mall. There is enough going on to keep you busy on campus, but many students often take advantage of the transportation opportunities into town or other places nearby.
2.) Describe the social life at your school - what did you like most about it?
A part about Middlesex that is different from other bigger schools is that everyone knows each other. The social events are always fun because everyone is mostly familiar with the people around them. There are always events during the weekends and a lot of students stay on campus to enjoy them. Some of the more popular weekend festivities include: Casino Night, Random Dance, Spring Carnival, the Hypnotist, the Benefit ball, Foam Dance, and many more. Because we have Saturday classes, weekends are short but also very worshiped. Students make the best of their weekends and it is always a fun environment to be around.
Daily Schedule:
Weekday
7:15 AM
Wake up & go to breakfast
10:00 AM
More Classes (Calculus and Current Events)
9:30 AM
Hang Out in Dorm or Stu Fac before bed
Weekend
11:00 PM
Go Into Town with Friends
1:00 PM
Take Bus back to Campus
2:00 PM
Hang Out on Circle with Friends
4:00 PM
Watch a Movie in the Dorm
10:00 PM
Watch a new TV show in Common Room
Middlesex is probably the boarding school that is far ahead in terms of student body diversity, and I mean that in a very good way. Between geographical and socioeconomic diversity, you really learn a ton. . .
Great level of focus on developing clear and cohesive writing skills. Write countless essays and spend time working on the technicalities that improve your ability. Great long-standing traditions. We have a beautiful circle that allows. . .
The entire experience was not only unique, it was life changing! It opened my eyes and mind up to world I wasn't familiar with. I was able to meet, connect and bond with students from. . .
Show more reviews (

26 reviews

)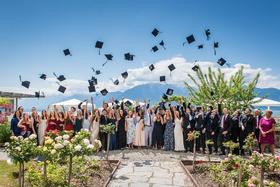 Nurturing Futures: A Journey through Boarding at Haut-Lac School in Switzerland
Nestled in the hills overlooking Lake Geneva in the French-speaking part of Switzerland lies an educational gem that embodies a unique blend of academic excellence, cultural richness and a profound sense of community. Founded over 30 years ago, Haut-Lac International Bilingual Day and Boarding School is now home to both 600 day students and a maximum of 30 boarders from around the world.
What To Wear at Your Job Interview
Navigating job interviews can be stressful, but knowing what to wear shouldn't be. Our comprehensive guide covers the essential dress code tips for men and women interviewing at boarding schools. Make your first impression count with style and professionalism.
Navigating the Modern Maze: Emerging Challenges for Boarding Schools
Explore the pressing challenges facing boarding schools, from marketing difficulties and rising insurance costs to facility maintenance and recruitment of competent trustees and teachers. This article delves into these complex issues and proposes innovative strategies to overcome them.