Reflections and Advice:
1.) What do you think makes your school unique relative to other boarding schools?
The Honor Code makes Thacher unique in that it is truly followed within the school, and creates a comfortable, trusting environment. One example of the Code's effect is the senior privilege of "wandering," where seniors may move about the inner campus up to two hours after curfew. Because there is no specific dorm for seniors, this is a great way to keep up with friends who live in another dorm. I do not think that wandering would be possible without the trust that the teachers place in Thacher students.
2.) What was the best thing that happened to you in boarding school?
As an only child, I still cannot believe the insight I had when I realized that going to a boarding school 400 miles away from home would be the best choice I could make for high school. Thacher helped bring me out of my shell, become self-reliant and self-confident. I have gained friends with whom I will remain close for years to come, and the alumni connections are astounding. Not two days after the college destinations of seniors were posted was I contacted by a Thacher graduate of '57 informing me that he lived in my college town and asking when he could take me out for dinner. The secret to succeeding at Thacher, I found, is having the maturity to recognize that this is a place in which one can grow, the character to appreciate and uphold the honor code, and the drive to take advantage of the opportunities and friendships that Thacher offers.
3.) What might you have done differently during your boarding school experience?
It is hard to believe, but the mistakes I made at Thacher actually helped me learn more about myself than anything else. The point of going to boarding school is not to be perfect in every activity; it is to experiment, to push your limits and learn about who you are as a person, not just as a student, an athlete, an artist. Thacher focuses a lot on building character and inner strength. The best advice I could give to incoming students is to expect to surprise yourself, for you will discover talents you never thought you had. Make friends with everyone, especially teachers and staff - those connections will serve you well for the rest of your life.
4.) What did you like most about your school?
Thacher does not encourage students to focus only on one talent - it forces them to become well-rounded and learned in many areas. I love the implicit trust and respect that the campus holds, and the fact that the Honor Code is actually honored (I couldn't resist!). The people make Thacher more than just another boarding school
5.) Do you have any final words of wisdom for visiting or incoming students to your school?
I must say, a Thacher experience is not complete without sitting around a dining room table with seniors at midnight enjoying a bowl of cereal. But to fill that time until you are a senior, I recommend trying some of the following: put "jimmies" in the bottom of your ice cream cone before getting soft-serve, try the tamales from the tiny store in the parking lot by Emporium, sit in Libby Park, watch the sunset from the Outdoor Chapel, take a class from Mr. Shagam, drop by Olympus and chat with the administration.
Academics:
1.) Describe the academics at your school - what did you like most about it?
Thacher is academically rigorous; however, students are collaborative instead of competitive. The teachers are incredibly approachable, and are eager to see their students succeed in all areas. My freshman year, while struggling with a math class, my teacher Mr. Meyer sat with me every Thursday night over cider and cookies and personally tutored me through the material. The next year he encouraged me to repeat the class with a new teacher, instead of continuing on to a different teacher whose teaching style Mr. Meyer knew would not mix well with my learning style. Mr. Coleman, my sophomore math teacher, quickly became my mentor and inspired me to learn Trigonometry over a summer to skip a class and return to the "advanced" track that I had started in. I have found that one of Thacher's greatest strengths is the teachers, who all love teaching. In response to a request for a more challenging math class, for example, Thacher created a class for two (later three) students, hiring a Thacher parent to teach said class. Thacher is a community of people who love to learn, and it has the resources to accommodate almost any academic thirst.
Athletics:
1.) Describe the athletics at your school - what did you like most about it?
Athletics are required at Thacher, which helps build relationships with students that one would otherwise never get to know. I was never a varsity athlete, but I loved playing whatever sport caught my interest and cheering our teams on to victory. While varsity sports are competitive and play to win, the JV and freshman teams tend to focus on skill building and just enjoying the game. There is a lot of support for sports, and it is fun to be coached by one's English teacher, or even the Headmaster himself. While Thacher is at a disadvantage of requiring all freshman to ride five days a week, and thus taking time away from sports practice, our athletes prove themselves by beating teams of other schools who had an extra year of practice!
Art, Music, and Theatre:
1.) Describe the arts program at your school - what did you like most about it?
The arts program is potentially Thacher's weakest aspect, but the school has taken pains to improve the department with the creation of the Performing Arts Center and the music practice rooms under the Commons. Considering Thacher's small size, the school boasts an impressive range of talent and interests. The fall play and spring musical are always fun to see, as are the Chamber singers and the hilarious acting group The Thacher Maskers, but students have also created their own groups such as the Potential Banad (a student band), The Guerilla Theatre Troupe (a student-run acting group), and of course, the tri-yearly Coffee House acts.
Extracurricular Opportunities:
1.) Describe the extracurriculars offered at your school - what did you like most about it?
There were a number of extra-curriculars offered at Thacher, especially volunteering options. I volunteered at a nursing home for two semesters, which was very sobering, but Thacher has an especially strong connection with the local schools in Ojai for tutoring as well. Like with academics, students had the option to do an independent study during their sports time if they completed both their riding and team sport requirements. This was a perfect time to pursue things Thacher did not offer, one example being a specific type of yoga (though Thacher offers a yoga class for seniors too).
Dorm Life:
1.) Describe the dorm life in your school - what did you like most about it?
I loved living in the dorms at Thacher. The most recent addition, a dorm just for the senior girls who are not prefects, was one of my favorite places to live, because it was a perfect transition to living in a college residence hall, where we were basically adults and treated as such. The number of dorm activities depend on the dorm head and prefects, but Thacher has done a good job of finding faculty who are energetic and enthusiastic about acting as dorm parents for the students. As for prefects, one of the best bonding experiences is the munch-outs, where seniors responsible for five or six students will buy tons of junk food, pizza, etc. for their prefectees to share at night (late night gossiping, movies, or chilling often follows). Dorm visitation is very limited, where members of the opposite sex may only enter the dorms on one specified night of the year. By senior year I felt that policy was a bit restricting, but the wandering privilege remedied that and the rule helped enforce same-sex intensive bonding that I believe could have been lost otherwise.
Dining:
1.) Describe the dining arrangements at your school.
The dining hall provided great food, especially on weekends with waffle bars, steaks and eggs to order, and smoothie machines. The soft serve machine certainly contributes to the "freshman 15," as do Robin's delicious desserts. Because of its location, Thacher has amazing access to year-round fresh produce (usually organic and local) and quality food. My favorite day is the Eat Local Challenge, where the majority of the food is purchased from local farmers. While the dining hall has fairly strict hours (6:30 to 9, 11 to 2, 5 to 7:30), students are free to grab fruit and drinks to snack on throughout the day. Thacher also has formal dinners four nights a week, where students are randomly assigned to faculty tables for dinner. The rotations last 3 weeks, and it is a great way to get to know other students and faculty. The dinners are family style with freshman, sophomores and juniors bringing out trays and clearing plates. Serving for formal dinners certainly makes one appreciate waiters in restaurants!
Social and Town Life:
1.) Describe the school's town and surrounding area.
Thacher is a gated community, but on Wednesdays (when classes end by 1:30pm) and Saturdays the Toad bus takes students into town every hour from 11 to 5. Ojai is a small town of 8,000, but it features the necessities of a grocery store, amazing burrito and tamale stands, and little boutiques perfect for getting gifts. There are a number of student-friendly restaurants that serve quick, cheap, and good food, as well as some upscale ones that are great when the parents are in town. Ojai does feel a little small after three years, but Ventura and Santa Barbara nights (on the occasional Saturday night) help for a city-fix.
2.) Describe the social life at your school - what did you like most about it?
Students always joke that they can never take a weekend home because there is so much going on (of course, this does not stop some students). There are always fun events planned for Friday and Saturday nights (ice skating, lazer tag, Coffee House, and capture the flag to name a few). Most weekends also have dances, three of which are official ones with assigned dates. These dances pair upperclassmen with underclassmen, and help keep students from feeling excluded. One of my favorite dances is Unprom, which is usually themed and required that students spend NO MORE than $25 on their outfits, the more hideous the better. For more low-key events, however, most classroom are open to movie-watching with faculty permission, and all common rooms in dorms have TVs with DVD players.
Daily Schedule:
Weekday
10:15 AM
Free period, usually give a tour
10:00 PM
Check-In, Wandering Begins
Weekend
1:00 PM
Study, hang out with friends
8:00 PM
Event (dance, ice skating, movie night, etc.)
The tight knit community is a really rare quality at high schools in general but especially boarding schools. The relationships with teachers and students is so close and the fact that there is very few. . .
The horse department at Thacher is both unique and outstanding. Unique because the school strives to keep the cowboy culture alive with over 100 horses and a fully outfitted western riding center. It is outstanding. . .
Thacher's community on campus is unlike any other, connections at the school go beyond merely knowing every student's name but having had interacted closely with everyone whether on a camping trip, in the dining hall. . .
Show more reviews (

23 reviews

)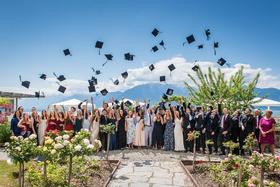 Nurturing Futures: A Journey through Boarding at Haut-Lac School in Switzerland
Nestled in the hills overlooking Lake Geneva in the French-speaking part of Switzerland lies an educational gem that embodies a unique blend of academic excellence, cultural richness and a profound sense of community. Founded over 30 years ago, Haut-Lac International Bilingual Day and Boarding School is now home to both 600 day students and a maximum of 30 boarders from around the world.
Navigating the Modern Maze: Emerging Challenges for Boarding Schools
Explore the pressing challenges facing boarding schools, from marketing difficulties and rising insurance costs to facility maintenance and recruitment of competent trustees and teachers. This article delves into these complex issues and proposes innovative strategies to overcome them.
What To Wear at Your Job Interview
Navigating job interviews can be stressful, but knowing what to wear shouldn't be. Our comprehensive guide covers the essential dress code tips for men and women interviewing at boarding schools. Make your first impression count with style and professionalism.