Reflections and Advice:
1.) What do you think makes your school unique relative to other boarding schools?
Thacher's community on campus is unlike any other, connections at the school go beyond merely knowing every student's name but having had interacted closely with everyone whether on a camping trip, in the dining hall line or at a weekend event. The freshmen riding program sets each class up for success by allowing them to bond and form close-knit connections amongst themselves.
2.) What was the best thing that happened to you in boarding school?
As a boarding high school student, I grew very independent, self-sufficient and confident in my own capabilities. I also know that the connections I made with my peers during these years will last a lifetime. There is no better place to spend four transformative years than with over 200 motivated and talented individuals on a beautiful campus in a valley, surrounded by scenic sunsets.
3.) What might you have done differently during your boarding school experience?
From the second students arrive on campus, they are shown that they are supported. They meet their dorm head, their prefect, their advisor and get so much help navigating campus. If my kids were attending I would feel confident that they were given all the support and resources they needed to have a smooth transition.
4.) What did you like most about your school?
I like that all the students share values of being hardworking, motivated, intellectually curious, being kind to one another, and creating a community where everyone can grow to be their best self and be authentic to themselves. Without this shared value, this special community could not be achieved.
5.) Do you have any final words of wisdom for visiting or incoming students to your school?
Take advantage of every opportunity given and approach every camping trip with a positive mindset, they are so much and something alumni always miss. Also make sure to take advantage of Winter camping trips when they are offered
Academics:
1.) Describe the academics at your school - what did you like most about it?
Academics at Thacher are challenging and push each student towards intellectual growth without pushing students towards unhealthy stress levels. Every student feels supported as small class sizes, only about 7-13 students per class, can allow teachers to work closely with students and recognize when a student may need some extra help. Almost all the teachers live on campus and are always willing to have students over at their homes for extra help or to meet at any time to review anything .
Athletics:
1.) Describe the athletics at your school - what did you like most about it?
The athletic program at Thacher has something for every individual as there are competitive sports such as football, baseball,lacrosse and also climbing and western riding. The athletic program allows for great connections to be made as every student is participating and the athletic period allows for a break from academics. The facilities are very nice and all have scenic views of the surrounding mountains and valley. The coaches are often also teachers which allows for close and supportive relationships to form especially as they are the ones who drive the team to off-campus games and to dinners after.
Art, Music, and Theatre:
1.) Describe the arts program at your school - what did you like most about it?
The art program requires all freshmen to take an introductory course to visual art, music, and drama. This is a bonding experience for freshmen and allows them to try new things and figure out what they enjoy most. There are also art courses like ceramics which is always popular among students as it is very enjoyable. The different art groups on campus such as jazz ensemble and chamber singers perform often at school wide concerts and for parents as well
Extracurricular Opportunities:
1.) Describe the extracurriculars offered at your school - what did you like most about it?
At the beginning of each year, the school organizations hold a club fair with several clubs ranging from tech club to tea club. The clubs allow anyone to join and there are some for everyone. There are also several affinity groups such as the Black Student Union and Latinos Unidos. Although community service hours are not a graduation requirement, students are very involved as many chose to do community service during their weekly free periods and take advantages of other weekend opportunities that come around throughout the year.
Dorm Life:
1.) Describe the dorm life in your school - what did you like most about it?
Dorm life is arguably the best part of being at a boarding school as you get to live next to your closest friends. Students are never forcibly required to room, however many do choose to room at some point as it is an exciting experience. There are prefects in each dorm however the dorm rooms are not set up by perfect groups which allows for more mixing, especially freshman year. Dorms will often have weekly events after check in such as a pool night. Each dorm also has a common room, kitchen and laundry room.
Dining:
1.) Describe the dining arrangements at your school.
The dining hall is almost always open, it closes briefly after meal times for cleaning but opens later to allows students to drop in and grab a bagel or soft serve. There is a wide variety of meals throughout the year and are always several options at every meal. The dining hall is also very accommodating as there is always a vegetarian and vegan option.
Social and Town Life:
1.) Describe the school's town and surrounding area.
Town life is amazing for students as Ojai is perfect for young students. Ojai has many places for students to eat on weekends and all the options are local business as there are no chains. Ojai is a close-knit community and has good connections with Thacher students.
2.) Describe the social life at your school - what did you like most about it?
There is a lot of time to socialize at Thacher as there is time dedicated every night to hang out with friends and peers. Each weekend there are opportunities to get off campus with friends and events occurring on campus as well.
The tight knit community is a really rare quality at high schools in general but especially boarding schools. The relationships with teachers and students is so close and the fact that there is very few. . .
The horse department at Thacher is both unique and outstanding. Unique because the school strives to keep the cowboy culture alive with over 100 horses and a fully outfitted western riding center. It is outstanding. . .
Thacher's community on campus is unlike any other, connections at the school go beyond merely knowing every student's name but having had interacted closely with everyone whether on a camping trip, in the dining hall. . .
Show more reviews (

23 reviews

)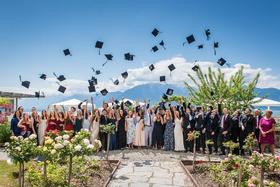 Nurturing Futures: A Journey through Boarding at Haut-Lac School in Switzerland
Nestled in the hills overlooking Lake Geneva in the French-speaking part of Switzerland lies an educational gem that embodies a unique blend of academic excellence, cultural richness and a profound sense of community. Founded over 30 years ago, Haut-Lac International Bilingual Day and Boarding School is now home to both 600 day students and a maximum of 30 boarders from around the world.
What To Wear at Your Job Interview
Navigating job interviews can be stressful, but knowing what to wear shouldn't be. Our comprehensive guide covers the essential dress code tips for men and women interviewing at boarding schools. Make your first impression count with style and professionalism.
Navigating the Modern Maze: Emerging Challenges for Boarding Schools
Explore the pressing challenges facing boarding schools, from marketing difficulties and rising insurance costs to facility maintenance and recruitment of competent trustees and teachers. This article delves into these complex issues and proposes innovative strategies to overcome them.