Reflections and Advice:
1.) What do you think makes your school unique relative to other boarding schools?
One thing that makes Thacher unique are the opportunities to form close, meaningful relationships with teachers and its commitment to helping students grow personally as well as academically. Whether it's out in the Domelands wilderness having the landscape explained by its geologic history, sharing some citrus in the common room during study hall, or a lively formal dinner discussion about why video games aren't philosophically bad, Thacher teachers bring a thoughtful devotion to their work.
2.) What was the best thing that happened to you in boarding school?
This is repeated so often at the school as to seem like a cliche, but honor, fairness, kindness, and truth are the core values of the school and have become core values of mine. Thacher gave me the opportunity and the mentor-ship to grow as a leader, a student, but more importantly as a person.
3.) What might you have done differently during your boarding school experience?
During my boarding school experience, I would have spent more time earlier designing and going through with independent projects. The ones that I did do later at my time at Thacher were really valuable learning experiences and the shift from having teachers as knowledge-offerers to co-collaborators was really valuable.
4.) What did you like most about your school?
While this might sound bland, I liked the community, its values, and its commitment to learning and being outside.
5.) Do you have any final words of wisdom for visiting or incoming students to your school?
For students visiting the school, I'd recommend that students ask the tour guides lots of questions about their own personal experiences at the school and their favorite moments with their friends.
Academics:
1.) Describe the academics at your school - what did you like most about it?
What I appreciated most about the academics was the willingness of teachers to help you get to the next level of your own learning. My senior year, I created an English class (to be taught by a rotating schedule of teachers), and the teachers were nothing but supportive of the whole endeavor. They are knowledgeable and continue to study their own disciplines, but are willing spend tons of individual time in order to help each student succeed.
Athletics:
1.) Describe the athletics at your school - what did you like most about it?
I liked the carefree attitude of the JV sports, as well as the focus on sportsmanship or 'the second scoreboard,' which prizes fun and integrity over winning.
Art, Music, and Theatre:
1.) Describe the arts program at your school - what did you like most about it?
For such a small school, Thacher's arts program offers lots of breadth. At every Coffeehouse, which is an open mic type event, I was always blown away by the talent and musical commitment that students had.
Extracurricular Opportunities:
1.) Describe the extracurriculars offered at your school - what did you like most about it?
The commitment to the outdoors in the extracurricular activities is a unique part of Thacher that is available few other places. Thacher's bi-annual week-long camping trips, the Horse Program, and the climbing program, as well as its commitment to sustainability, all make it unique in this regard.
Dorm Life:
1.) Describe the dorm life in your school - what did you like most about it?
Regarding dorm life, I loved the hours that I spent with my friends just hanging out chatting, whether late at night or on a Sunday afternoon.
Dining:
1.) Describe the dining arrangements at your school.
The kitchen staff is always trying to improve and the food is pretty good. Also, soft-serve is available 24/7.
Social and Town Life:
1.) Describe the school's town and surrounding area.
Ojai is a sleepy old hippie town, but the people in it are all super kind. I loved going into town to get ice cream and walk around the park or get brunch with friends on a Sunday morning.
2.) Describe the social life at your school - what did you like most about it?
I loved my down-to-earth, kind, adventurous, intelligent, capable friends.
The tight knit community is a really rare quality at high schools in general but especially boarding schools. The relationships with teachers and students is so close and the fact that there is very few. . .
The horse department at Thacher is both unique and outstanding. Unique because the school strives to keep the cowboy culture alive with over 100 horses and a fully outfitted western riding center. It is outstanding. . .
Thacher's community on campus is unlike any other, connections at the school go beyond merely knowing every student's name but having had interacted closely with everyone whether on a camping trip, in the dining hall. . .
Show more reviews (

23 reviews

)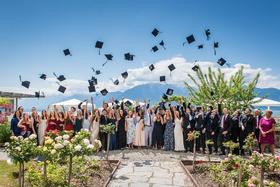 Nurturing Futures: A Journey through Boarding at Haut-Lac School in Switzerland
Nestled in the hills overlooking Lake Geneva in the French-speaking part of Switzerland lies an educational gem that embodies a unique blend of academic excellence, cultural richness and a profound sense of community. Founded over 30 years ago, Haut-Lac International Bilingual Day and Boarding School is now home to both 600 day students and a maximum of 30 boarders from around the world.
Navigating the Modern Maze: Emerging Challenges for Boarding Schools
Explore the pressing challenges facing boarding schools, from marketing difficulties and rising insurance costs to facility maintenance and recruitment of competent trustees and teachers. This article delves into these complex issues and proposes innovative strategies to overcome them.
What To Wear at Your Job Interview
Navigating job interviews can be stressful, but knowing what to wear shouldn't be. Our comprehensive guide covers the essential dress code tips for men and women interviewing at boarding schools. Make your first impression count with style and professionalism.