Reflections and Advice:
1.) What do you think makes your school unique relative to other boarding schools?
CSW has a community service program which allows you to get involved in various causes and activities, local and global. For example, there is the AIDS Ride, a bike ride to benefit the Fenway Community Health Center; the Children's Garden, which is a day care center on campus for preschool aged kids, and an organic gardening group. There is a very strong emphasis on visual arts and theater and plenty of space to do it in, including a new gallery space for student work. The teaching methods are inspired by progressive education values and individual attention, with small classes in which you call teachers by their first names.
2.) What was the best thing that happened to you in boarding school?
If I had not gone to CSW, I would not have discovered art or film and I would never have realized that as a person, you are always changing. I always heard, "CSW is changing" among other students while I was there. And then I realized that was part of the magic. I went from being afraid to go to English class, to getting an A on a 25-page paper. I went from not knowing what I wanted to do with my life, to doing it. CSW gave me the strength and courage to be myself, and to find joy in that instead of worrying that I don't fit in.
3.) What might you have done differently during your boarding school experience?
I actually wish I had gotten a little more involved in extra curricular stuff. I think it's really important to connect as much as you can, especially when you're away from home. I know it's hard, but try to follow the rules because they are there for a reason!
4.) What did you like most about your school?
I think I've pretty much already said it all. Everybody there was so kind and accepting, and it really made a difference to me. CSW encourages change and revolution. You can be an individual there.
5.) Do you have any final words of wisdom for visiting or incoming students to your school?
Go to Bruegger's! Then sit on the quad and let your mind wander. See how long you can work in the art building (I think people used to sleep there?) before you get kicked out. Stop at the admissions office for coffee and hot chocolate in the morning. Climb a tree on the quad and don't get caught. ENJOY IT!
Academics:
1.) Describe the academics at your school - what did you like most about it?
When I decided that I would be better off at a small, private school instead of a big, public one, I realized the most important thing to me is that I have teachers who are receptive to the way each individual learns. In a huge public school, I fell behind in many of my classes and basically fell through the cracks because everybody was taught in the same way.At CSW, I felt welcomed instead of ignored. My differences and unique ways of thinking were encouraged and celebrated instead of squashed and condemned. The teachers pushed me to take risks as a student and to really find myself, and instead of being afraid to raise my hand, I learned how to speak my opinion in a way that makes people listen. The class sizes were small, so we could talk to each other easily and it was a very positive learning environment. This school changed my life and gave me a reason to WANT to go to class every day. The classes were a lot more like college classes: Gothic Literature, Botany, Ornithology, Outsiders in Shakespeare, Civil War. It was very intense at times, but felt a lot more productive to me. The module system (8 "mods", 5 weeks long each) was hard to get used to at first, but the structure of the day was a breath of fresh air and I didn't mind having longer classes.
Athletics:
1.) Describe the athletics at your school - what did you like most about it?
CSW was the kind of school who prided themselves on NOT having a football team! Despite this, the sports teams there are still very good and there are actually a lot of great opportunities to play: softball, ultimate frisbee, baseball, soccer, basketball, yoga, modern dance. The playing fields are pretty nice. I wasn't hugely involved in sports while I was there, but I could tell that the people who were, were having a good time. I liked this- not as competitive, and you didn't feel like the athletes were getting treated any differently from the other students.
Art, Music, and Theatre:
1.) Describe the arts program at your school - what did you like most about it?
The visual arts program at CSW is incredible. The year I graduated, I think we had 3 people accepted to RISD. I cannot speak highly enough of it. The facilities are very big and the teachers are knowledgeable and encourage you to take risks as an artist. There are life drawing classes in which you can draw nude models, graphic design, painting, sculpture, pottery, printmaking, video, photography. It can be a little intimidating at first, but especially in your senior year, if you decide you're interested in going to art school, the teachers really help you in building your portfolio. You can get your portfolio slides photographed right at school, and there is constant feedback going on.There are a couple of different opportunities for theater- you can also get involved in set-building and the annual dance concert. There are productions in the fall and in the spring, as well as Pocket Players, a theater group which performs shows for the local deaf community. The performing arts building is huge.The music program is great too. You can take music theory, electronic music, I think there's even a class to learn string instruments.This school was a better art school than the art school I went to for college! It is small, but the level of talent coming out of here is amazing.
Extracurricular Opportunities:
1.) Describe the extracurriculars offered at your school - what did you like most about it?
I really enjoyed doing the Boston to New York AIDS Ride, both as a cyclist and then as a crew member the following year. I also did a sea kayaking trip for athletic credit one spring, which was a lot of fun. There was always so much to do. A lot of times I wouldn't come home from school until 5:00 because I would get involved in an art project or be out on a bike ride. The school is really tuned in to volunteer opportunities, like Amnesty International and various environmental organizations.
Dorm Life:
1.) Describe the dorm life in your school - what did you like most about it?
I was a day student there, but we were allowed to go into the dorms as long as we signed in, and we could hang out with our boarder friends. The dorms are all pretty nice- big common room, they probably have wi-fi by now, friendly dorm parents. There is a curfew but I think it's only enforced during the week (I could be wrong!). Dorm life did not seem too strict to me, nor was it a free for all. It seemed like a lot of fun, to the point where I actually asked my parents if I could board there anyway, even though we lived in Massachusetts!
Dining:
1.) Describe the dining arrangements at your school.
The dining hall was awesome. They have vegan and vegetarian options galore, a salad bar, breakfast in the morning, the cooks are friendly, and the food is good. The dining hall is almost always open- even when they aren't serving meals, they still have snacks out, which is great.
Social and Town Life:
1.) Describe the school's town and surrounding area.
My friends and I would walk to the train station from the school, so then we could go into Boston. You can also take a cab into Waltham, which has a few stores and an IHOP. There are woods all around the school, so you can go mountain biking or hiking. Bruegger's Bagels is a popular hang-out too.
2.) Describe the social life at your school - what did you like most about it?
In public school, kids threw rocks at me because I had facial piercings and spiked hair. Here, they came right up to me and started talking to me. They did not treat me differently, because THEY looked different too. There are preppy kids, punk kids, goth kids, nerds, and they all hang out together. There is a niche for everyone and so much time during the day to see people and make friends. At CSW, I came out of my shell!
Daily Schedule:
Weekday
10:00 AM
Morning class (A Block), then advisor block
1:00 PM
Afternoon B Block (some of the classes are two blocks)
4:00 PM
D Block (extra curricular)
Weekend
9:00 AM
Boarders have breakfast
1:00 PM
Hang out in Harvard Square
5:00 PM
Homework, then dinner
The thing that stands out most obviously about the Cambridge School is probably its unique schedule. The "mod system" allows for block scheduling in a truly innovative way. Because of the way classes. . .
The Cambridge School of Weston is a liberal arts institution filled with some of the most incredible teachers in the world. The atmosphere is incredible. There is a special place for every student, teacher, and. . .
CSW values social justice and celebrates diversity in an incomparable way. Every one of my peers looks back on our high school experience as positive and nurturing. The faculty and community at CSW truly encouraged. . .
Show more reviews (

12 reviews

)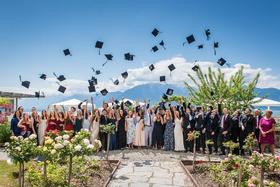 Nurturing Futures: A Journey through Boarding at Haut-Lac School in Switzerland
Nestled in the hills overlooking Lake Geneva in the French-speaking part of Switzerland lies an educational gem that embodies a unique blend of academic excellence, cultural richness and a profound sense of community. Founded over 30 years ago, Haut-Lac International Bilingual Day and Boarding School is now home to both 600 day students and a maximum of 30 boarders from around the world.
What To Wear at Your Job Interview
Navigating job interviews can be stressful, but knowing what to wear shouldn't be. Our comprehensive guide covers the essential dress code tips for men and women interviewing at boarding schools. Make your first impression count with style and professionalism.
Navigating the Modern Maze: Emerging Challenges for Boarding Schools
Explore the pressing challenges facing boarding schools, from marketing difficulties and rising insurance costs to facility maintenance and recruitment of competent trustees and teachers. This article delves into these complex issues and proposes innovative strategies to overcome them.