Reflections and Advice:
1.) What do you think makes your school unique relative to other boarding schools?
I was a four-year boarding student at SAS and I can't easily express how grateful I am for what I learned and how much I grew during my time there. I will certainly say that the teachers make the SAS experience; they are sincerely supportive, intelligent, and dedicated to the life of the community. Many of them remain good friends of mine. The emphasis that is placed on discussion, writing, and experiential education is phenomenal. Whatever your interests are, you can find a way to explore them at SAS.
2.) What was the best thing that happened to you in boarding school?
I arrived when I was 14 and left when I was 18; a lot of change happens during this time. I learned to be more independent while also learning the importance of relying on a supportive community and supporting the community myself. I have no trouble speaking to adults; the teacher-student relationship is very respectful and honest, and many of them gave me advice that I truly learned and grew from. I hear many of their voices still as I make day-to-day decisions in my life away from SAS. I learned about service by serving, and I learned how important it is not only to succeed academically but to act responsibly in love and kindness for the sake of the people in your life, your health, and for the community as a whole. Academics play a significant role in what you will learn at SAS, but you will, more importantly, I believe, learn a lot about yourself and others during your daily life there.
3.) What might you have done differently during your boarding school experience?
I would have been more outgoing. I would not have taken on so much work during my sophomore year, and I would have gotten to know a few of my teachers better.I was recently talking to a friend of mine who went to SAS with me; we were talking about how SAS is so much more than the schoolwork, and how much we miss the community. Not all times will be happy times; high school is challenging, but the experience as a whole has been one of the greatest I have ever had. I will support SAS for the rest of my life.Specific to boarding school perspectives who are scared of being away from home: you will not be alone; it may seem hard at first, but you will be supported. Get to know your teachers and other students. You will learn a lot about time management and taking care of yourself, and you will find that your familial relationships will likely grow stronger.
4.) What did you like most about your school?
The friendships I made with my peers and with my teachers, the preparation I gained for college, and the greater appreciation I have for the outdoors.
5.) Do you have any final words of wisdom for visiting or incoming students to your school?
Hike the trails around campus. Check out the Res (the campus lake). Go to Shenanigans in Sewanee. Walk through Abbo's Alley and All Saints Chapel. Talk to the teachers at SAS. Talk to students.
Academics:
1.) Describe the academics at your school - what did you like most about it?
I loved how discussion-oriented the classes are and how often we were able to get out in the field, particularly in science classes. I took biology, a fall semester of geology, and a spring semester of environmental studies during 10th grade, and I was out in the field two or three times a week without fail.SAS also places a lot of emphasis on thoughtful, well-crafted writing. The English program is great, and I've felt very prepared for college writing.The Spanish program is excellent; most students who participate continue studying it in college (I have many friends who've majored in it; I'm thinking of minoring in it) and it is not unusual to find many are fluent by the time they graduate.Senior Religion was an incredibly valuable course because I gained a better knowledge of world religions and theology and was able to explore my own beliefs.SAS does not have AP classes, but students can take courses at the University of the South. I took English and Philosophy classes there during my senior year; I couldn't be more grateful for that opportunity.
Athletics:
1.) Describe the athletics at your school - what did you like most about it?
I loved playing soccer and running track at SAS. I love each sport, but I also appreciated that anyone could come out and try a sport regardless of their level of play. It provided some interesting opportunities for learning a bit about team dynamics, fitness, commitment, and we also had a load of fun together.
Art, Music, and Theatre:
1.) Describe the arts program at your school - what did you like most about it?
I wish I had taken greater advantage of the visual arts, particularly the clay program; it is absolutely top notch. The performing arts are good and growing.
Extracurricular Opportunities:
1.) Describe the extracurriculars offered at your school - what did you like most about it?
I liked that students can jump into something if they've got the time and interest. There's a variety of things to do, some of which are pretty unique for a high school setting. The Outing program is particularly unique; I encourage anyone to get out and try that. Leadership and service opportunities are available. Some people wonder if students have the ability to explore interests on a mountain in the middle of Tennessee, but between the University and the SAS campus, a student has so many resources to choose from; you're not in the middle of nowhere if you open your eyes to these resources and to the supportive people around you.
Dorm Life:
1.) Describe the dorm life in your school - what did you like most about it?
I loved dorm life. I was a proctor on my hall my senior year with mostly underclassmen, and we had a blast. Dorm parents make themselves available; you'll get to know them and their families, and they'll support you if you're have trouble with anything. Residential life is fun and you get to know people on a whole different level than you would being at a big high school; I found these relationships valuable.
Dining:
1.) Describe the dining arrangements at your school.
The food is ok; the dining staff is wonderful - I got to know many of them well and they are some of the most genuinely kind and hardworking folks I know. They'll take care of you.My favorite part about meals is that I could sit at any table with anyone and I was welcome. I got to know people well by sitting down and having breakfast with them. You won't ever hear someone tell another that they can't sit down at a table and eat together.
Social and Town Life:
1.) Describe the school's town and surrounding area.
I love Sewanee. It's beautiful, safe, and the people are kind. I loved that I could be active outside running trails, hiking, climbing, and caving, or that I could go get coffee with friends and hang out on the front porch or lawn of the shop. The school makes runs into Sewanee and into Monteagle if you want to go out to eat, get groceries, or if you need to go buy some shampoo. Regular trips are made to Chattanooga and Nashville which are always fun.
2.) Describe the social life at your school - what did you like most about it?
I liked that I got to know a lot of different people very well. SAS is committed to serving a diverse group of students; I've got friends from different parts of the US, Germany, Korea, Taiwan, Jamaica. It's surprisingly diverse, and it's a tolerant environment.
Daily Schedule:
Weekday
8:00 AM
Philosophy class at the University
2:30 PM
Dorm, hang out, change clothes
5:30 PM
Supper, hang out until 8
8:00 PM
Study hours until 10pm
Weekend
10:00 AM
Get on bus for rafting trip
12:00 AM
Go rafting on Ocoee
4:00 PM
Bus to Chattanooga for dinner
5:45 PM
Dinner at Chef Lin's in Chatt.
9:00 PM
Go to Stirling's Coffee House with friends
11:00 PM
Return to campus, hang out
12:00 PM
Dorm check-in, hang in dorm or sleep
A school's culture is one of the most important feature of a learning environment and SAS's culture is kind, supportive, and encouraging. It's small enough to be personal and yet has enough space to create. . .
While at Sewanee, I spent the majority of my free time hiking with my friends, planning new community service opportunities with my peers, and getting to know myself. This school is like no other in. . .
I was a four-year boarding student at SAS and I can't easily express how grateful I am for what I learned and how much I grew during my time there. I will certainly say that. . .
Show more reviews (

3 reviews

)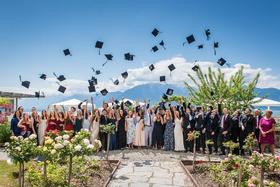 Nurturing Futures: A Journey through Boarding at Haut-Lac School in Switzerland
Nestled in the hills overlooking Lake Geneva in the French-speaking part of Switzerland lies an educational gem that embodies a unique blend of academic excellence, cultural richness and a profound sense of community. Founded over 30 years ago, Haut-Lac International Bilingual Day and Boarding School is now home to both 600 day students and a maximum of 30 boarders from around the world.
What To Wear at Your Job Interview
Navigating job interviews can be stressful, but knowing what to wear shouldn't be. Our comprehensive guide covers the essential dress code tips for men and women interviewing at boarding schools. Make your first impression count with style and professionalism.
Navigating the Modern Maze: Emerging Challenges for Boarding Schools
Explore the pressing challenges facing boarding schools, from marketing difficulties and rising insurance costs to facility maintenance and recruitment of competent trustees and teachers. This article delves into these complex issues and proposes innovative strategies to overcome them.