Reflections and Advice:
1.) What do you think makes your school unique relative to other boarding schools?
While at Sewanee, I spent the majority of my free time hiking with my friends, planning new community service opportunities with my peers, and getting to know myself. This school is like no other in its approach to creating creative, curious students. No matter what I was interested in pursuing there was someone there-teachers, staff, or other students-willing to help me figure out how to pursue it.My teachers became my friends, and I still talk to and visit many of them today. Their guidance helped to prepare me for my studies in college, because I knew how to ask for direction if there was something more that I wanted to learn outside of the curriculum.I couldn't recommend SAS more highly than to say that all of my children will attend.
2.) What was the best thing that happened to you in boarding school?
Had I not gone to SAS I don't think I would be the person that I am today. Growing up in such a tight-knit community really created a comfort zone where you could explore who you were as a person without fear of judgment or rejection. My involvement with so many extracurriculars led me to receive a half scholarship to Tulane University. I believe that had a gone to a large catholic school in Memphis I might not have had the confidence to join in and lead so many projects and groups. The unique experience of living at your school allows you to focus more on activities that you might have dismissed. For example, I might never have joined student vestry at another school because it might have conflicted with my sports or student council meetings, but because we lived at school we had the luxury of holding meetings at 7 PM. That wouldn't be reasonable at a normal school.
3.) What might you have done differently during your boarding school experience?
I wouldn't change a thing about my first experience at boarding school. Just make sure to put yourself out there. It's a chance to figure out who you are, to try on new persona's, and to remake yourself into who you want to be. When I arrived at SAS, I was a shy bookworm who didn't have the best track record with making a lot of female friends. Still, I made it my mission to try and put myself out there even when it made me uncomfortable and I made some of the best friends of my life. Be spontaneous. Be adventurous. And have fun.
4.) What did you like most about your school?
Honestly, the people that end up at SAS both as teachers and students are some of the most incredible people I've ever had the pleasure to know. I wouldn't be who I am today if I hadn't met them, and I'm so glad that I did.
5.) Do you have any final words of wisdom for visiting or incoming students to your school?
I knew from the moment I set foot on campus that SAS was the right school for me. Not everyone that I knew had that same experience, but most of the students that I knew you loved SAS just as much or more than I did. You really need to check out the aspects of the school that matter most to you. If Art is your thing you have to see the ceramics studio. If you really want a good theater program check out McCrory hall. And most definitely have somebody take you out to Piney point.
Academics:
1.) Describe the academics at your school - what did you like most about it?
I loved the small class size. This worked especially well in my English classes. Since the classes were so small, The teachers were able to give individualized feedback and no student could slip through the class during discussions about books we read. One of my favorite classes was Latin class with Dr. Seavey. His passion for Latin and classics made it easy to learn. Plus, his experience teaching at the college level meant that he taught the language in the same way that college professors (interjecting facts about the culture in which the language was spoken instead of just rote memorization of declensions). For me, history class was always very boring before I came to SAS. The passion and individualized attention I received for my teachers there helped me to understand the importance of the study of history. I even took some history electives in college that I would have had no interest in otherwise. Finally, that new chemistry wing is awesome. They finished construction of Wade Hall my senior year and I got to take advanced chemistry there. It was amazing and made me want to pursue science in college.
Athletics:
1.) Describe the athletics at your school - what did you like most about it?
Everyone has to do some physical activity after school (or they did when I was there), but for those that don't like organized sports there is "Outing". Essentially, outing is an afternoon program that shuttles people around to the various hiking trails, caves, and climbing opportunities around the mountain. The teachers who lead it don't push you beyond your limits, e.g. Force you to repel down a cliff if you're scared of heights. Plus, they're very highly trained in safety, first aid, and the types of activities that you're doing. I did outing every year because I loved it so much.My coach was definitely one of my favorite parts of volleyball at SAS. Coach Zeitler was tough but fair and helped our team to prepare for every game with the same vigor as if it were the national championship. I had so much fun on the team and enjoyed playing for both the JV and Varsity teams. Even when we didn't win, the team followed coach's lead and focused on preparing for our next game by learning what we needed to work on.From a bystander perspective, the wrestling team at SAS is also a great program. I volunteered as wrestling manager my senior year when one of my friends joined the team so I could watch her wrestle. She ended up taking state in the women's division despite having only started wrestling that year. It was awesome.
Art, Music, and Theatre:
1.) Describe the arts program at your school - what did you like most about it?
Even though I was too afraid to get up on stage myself, I attended almost all of the theater programs when I was at SAS. My favorite was the musicals that they would put on because there was so much talent and it was great to see the productions that they put on. The quality of production was much higher than I expected for a high school play, but then again I had never been to one before. Personally, I spent a great deal of time in the ceramics studio when I was at SAS. Throwing clay helped me to center myself if ever I was getting overwhelmed by my school work or extracurriculars. The open door policy on the ceramics room models how college ceramics works. If sculpture is your thing, you can get a lot of practice and a lot of examples for a college portfolio. It should be mentioned that the ceramics studio at SAS was the same size as my college ceramics studio at Tulane. They had the same number of wheels and only a few less kilns.
Extracurricular Opportunities:
1.) Describe the extracurriculars offered at your school - what did you like most about it?
I took part in a lot of extracurricular activities. It was nice that they weren't all academic, all sports, or all special interest groups. For student vestry, I prepared homilies for the school service. With the green club I help to enact to the schools recycling program. Through blue and gold guides I was able to give tours to prospective students and sing the praises of SAS. In the afternoons I was able to go on hikes during outing and practice my serving for volleyball. Through student advisory and my VP position, I was able to enact real change at the school. There are so many opportunities to get involved whatever your passion is, or you can try a little bit of everything to figure out what your passion is.
Dorm Life:
1.) Describe the dorm life in your school - what did you like most about it?
My dorm room at SAS was comparable to my dorm room at Tulane. My freshman year we actually had the same furniture. The rooms include everything you need including a bed, desk, dresser, and closet space. Personally, I never had a problem sharing a room but if there ever were problems between roommates you could exchange after a resolution process. Usually they only changed on a semester basis. At the end of every year, you get to select who your roommate will be for the next year and can put in preferences for your dorm and room. I always got the roommate that I wanted and usually got the dorm that I wanted. I loved living in St. Mary's despite the fact that it was the older dorm because there were more girls and it was centrally located.
Dining:
1.) Describe the dining arrangements at your school.
Whenever you tour SAS, the tour guides make sure to mention the fact that the dining hall looks like Harry Potter. It really does. For me I love the dining hall, because it has good options whatever you're craving is. The hot lunches are really good and Emily does a great job planning them out. Still, if it's meatloaf day and you hate meatloaf then you can always turn to the sandwich bar or the salad bar. I almost never had trouble finding something that I liked and it was easy to eat a well-balanced meal. It was actually more difficult to find good fruits and veggies at my Tulane dining hall then it was at SAS.
Social and Town Life:
1.) Describe the school's town and surrounding area.
There isn't much to Sewanee, it's true. The point of a boarding school like Sewanee isn't that you're in the heart of the city but rather that your nestled in the middle of nature. Still, using the van runs and weekend trips you can still get to civilization. The weekend trips routinely go to the surrounding cities including Chattanooga which is only 45 minutes away. Plus, every now and again there are trips to Nashville that you can go on. In all my time at SAS I never felt that I couldn't get into the city to see a movie or go to a restaurant if I really wanted to. Older students can check out borders to go home with them for the weekend or to go on a trip down the mountain if the borders parents approve.
2.) Describe the social life at your school - what did you like most about it?
I loved my friends that I met at SAS. We still keep in touch today. It's funny how close you get when you live in a dorm. The girls in St. Mary's became more like sisters to me than friends. We shared clothes, had sleepovers, watched scary movies, and helped each other with homework. One of my favorite memories was during study hours in the evening. If we had finished our homework early our dorm parent would set up small trash cans at the end of the hall and we would play dorm bowling with a skateboard.
Daily Schedule:
Weekday
3:30 PM
Afternoon Programs
8:00 PM
Study Hours in dorm
Weekend
1:00 PM
Van runs every hour or so into monteagle and Sewanee
A school's culture is one of the most important feature of a learning environment and SAS's culture is kind, supportive, and encouraging. It's small enough to be personal and yet has enough space to create. . .
While at Sewanee, I spent the majority of my free time hiking with my friends, planning new community service opportunities with my peers, and getting to know myself. This school is like no other in. . .
I was a four-year boarding student at SAS and I can't easily express how grateful I am for what I learned and how much I grew during my time there. I will certainly say that. . .
Show more reviews (

3 reviews

)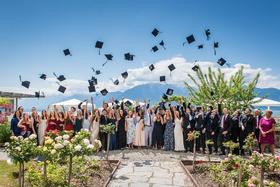 Nurturing Futures: A Journey through Boarding at Haut-Lac School in Switzerland
Nestled in the hills overlooking Lake Geneva in the French-speaking part of Switzerland lies an educational gem that embodies a unique blend of academic excellence, cultural richness and a profound sense of community. Founded over 30 years ago, Haut-Lac International Bilingual Day and Boarding School is now home to both 600 day students and a maximum of 30 boarders from around the world.
What To Wear at Your Job Interview
Navigating job interviews can be stressful, but knowing what to wear shouldn't be. Our comprehensive guide covers the essential dress code tips for men and women interviewing at boarding schools. Make your first impression count with style and professionalism.
Navigating the Modern Maze: Emerging Challenges for Boarding Schools
Explore the pressing challenges facing boarding schools, from marketing difficulties and rising insurance costs to facility maintenance and recruitment of competent trustees and teachers. This article delves into these complex issues and proposes innovative strategies to overcome them.