Reflections and Advice:
1.) What do you think makes your school unique relative to other boarding schools?
I believe the focus on Jesuit values is a unique aspect that distinguishes Georgetown Prep from other preparatory schools. The dedication to understanding the role of religion and spirituality in my life was in large part due to the positive influences I had during my time there. The priests were knowledgeable and understanding of the difficulties of a college preparatory school, and challenged us to find God in all things and grow into Men for Others.
2.) What was the best thing that happened to you in boarding school?
I think that the ability to live alone and be independent was the single most important lesson I learned while living at Prep. Many students when they first go to college have trouble leaving their families and friends; I think Residents have a significant advantage in this category. You have to be able to take care of yourself to a certain degree, and that really promoted my independence while I was at Prep. I believe this experience has helped me grow significantly, and has benefited me substantially as I moved onto a university environment.
3.) What might you have done differently during your boarding school experience?
I would recommend taking the time to form new bonds of friendship with the people in your Resident class as soon as you enter boarding school. In this way, you can always have a close group of friends to rely on when times are difficult. One of my major problems was that I did not make friends right away, and making friends earlier on could have changed my entire experience at Prep. There will be times when school seems impossible and everything is going wrong, and that is when you'll need to have a couple good friends by your side.
4.) What did you like most about your school?
I felt that Georgetown Prep truly helped me grow into a man with solid Jesuit values and a passion for excellence. Prep not only developed my academic abilities, but taught me social skills, the importance of athletic involvement and the role of God in our lives. I believe all of these values are important and have helped inspire me to be successful in every arena I am involved in. Overall, Prep helped me grow into the person I am today, and with Prep's influence, I doubt I would have had such a strong devotion to scholarship or serving as a Man for Others.
5.) Do you have any final words of wisdom for visiting or incoming students to your school?
I would recommend using the Hanley Athletic Center as much as possible, because the facilities are excellent and is the newest building on campus. Be sure to spend some time getting to know the Headmaster, the Residential Dean and your year's Residential prefects; they are there to help you grow, so use them. Also, go to Sunday mass every week, and if you ever need to escape from life, even for a couple minutes, just go into the Chapel and spend some time reflecting on why you are at Prep.
Academics:
1.) Describe the academics at your school - what did you like most about it?
I felt the teachers were extraordinarily dedicated and passionate about the subjects that they taught. They helped inspire in me a genuine desire to learn and care about that particular topic. For example, Tom Conlan helped me learn more about Economics in a year than I had learned over the course of the rest of my academic career, and gave me a solid foundation upon which I base much of my current understanding on the subject. Carey Smith challenged me to work hard and understand a language, Latin, that did not come easily to me, but which I eventually excelled at. Steve Ochs inspired me to analyze and think critically about the factors that contributed to making US history turn out the way it did, and how these have had a profound influence on the current structure of our society.
Athletics:
1.) Describe the athletics at your school - what did you like most about it?
I did not participate heavily in the athletic programs at Georgetown Prep. However, I did play on the Junior Varsity tennis team for several years, where I played regular matches and got plenty of exercise. As I was not overly involved, I can't speak to many of the merits or deficiencies in the athletics program, beyond saying that I didn't regard my involvement with the tennis team as particularly important. Jon Church did care about making sure I played well and often, and I am grateful for his dedication, and I am confident that the other athletic advisors have done an excellent job.
Art, Music, and Theatre:
1.) Describe the arts program at your school - what did you like most about it?
I was also not actively involved in any Music or Theater programs, although I did enjoy the routine performances at Assembly on Friday mornings. I also was a regular attendee of the Prep Players' performances, and had many friends who were actively involved in one of those productions. From what they told me about their experiences, I believe those programs are quite well organized and that the advisors have a real passion for Music and Theater.
Extracurricular Opportunities:
1.) Describe the extracurriculars offered at your school - what did you like most about it?
I found that my involvement in extra-curricular activities was one of the most rewarding aspects of my time at Prep. Some of my best friends, including Mike Whatley and Justin Zubrod, are friends that I would not have likely made had I not been involved in certain organizations. I found that many of the people in my clubs became close friends, and that we all developed our interests and skills together over our years at Prep together. I feel that these organizations really helped make Prep feel like a place that I could explore my interests and passions in a positive manner.
Dorm Life:
1.) Describe the dorm life in your school - what did you like most about it?
I was slightly disappointed with the quality of the dorms when I first arrived at Prep. I found the rooms generally to be aging, and the communal bathrooms in Boland took some getting used to.
Dining:
1.) Describe the dining arrangements at your school.
The dining experience at Prep was acceptable. I appreciated the care and passion the kitchen staff put into making Prep's food each day, and their desire to have a variety of dishes available. I also enjoyed the formal dinners once a week, which have taught me to appreciate the importance of formal meals in the real world.
Social and Town Life:
1.) Describe the school's town and surrounding area.
I liked that fact that Prep was fairly close to the Grosvenor Metro Station, and that this allowed for fairly easy access to the rest of Washington, D.C. I was also grateful for White Flint Mall being only a block up Rockville Pike, as it allowed for an easy diversion from class or studying on occasion. I felt that I was able to go anywhere I wanted throughout the city fairly easily.
2.) Describe the social life at your school - what did you like most about it?
I enjoyed the genuine effort by the Residential program to have events that encouraged student participation. For example, having dinners out, mixers with other schools and a variety of cultural visits helped me have a life beyond academics and enriched my residential experience. I also enjoyed being able to interact with the Day students during the week, as they would also invite me to social events and allow for distraction from Prep life for a time.
Daily Schedule:
Weekday
Weekend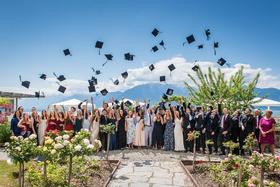 Nurturing Futures: A Journey through Boarding at Haut-Lac School in Switzerland
Nestled in the hills overlooking Lake Geneva in the French-speaking part of Switzerland lies an educational gem that embodies a unique blend of academic excellence, cultural richness and a profound sense of community. Founded over 30 years ago, Haut-Lac International Bilingual Day and Boarding School is now home to both 600 day students and a maximum of 30 boarders from around the world.
What To Wear at Your Job Interview
Navigating job interviews can be stressful, but knowing what to wear shouldn't be. Our comprehensive guide covers the essential dress code tips for men and women interviewing at boarding schools. Make your first impression count with style and professionalism.
Navigating the Modern Maze: Emerging Challenges for Boarding Schools
Explore the pressing challenges facing boarding schools, from marketing difficulties and rising insurance costs to facility maintenance and recruitment of competent trustees and teachers. This article delves into these complex issues and proposes innovative strategies to overcome them.