Reflections and Advice:
1.) What do you think makes your school unique relative to other boarding schools?
Since Georgetown Prep is a Jesuit high school, we were required to preform a certain amount of community service over the course of the year as well as over the summer and write reflections on the service. I enjoyed this aspect of school and now in college I continue to preform service and do remember the service I did at school. Georgetown Prep provided an extremely comfortable atmosphere to live and work, the community orientated meals at lunch and dinner provided a very easy way to get in touch with my classmates. The teachers were very helpful and easy to contact outside of the classroom. Also living on campus were a few teachers, I had the opportunity to build a strong relationship with them and get extra homework help, since they might have lived right down the hallway.
2.) What was the best thing that happened to you in boarding school?
I have become more aware of the things around me, I can manage my time better and have grown both spiritually, mentally, and physically ( thanks to our amazing gym). The friends I made, I will always know and keep in touch, and the memories of living with my friends I know I'll never forget.
3.) What might you have done differently during your boarding school experience?
I would have gotten involved in more sports. I would have gotten to know my teachers better and resident staff better, because they truly are amazing people.
4.) What did you like most about your school?
The very comfortable atmosphere, I only rarely got homesick. The experience of the teachers and the friendliness of the resident staff.
5.) Do you have any final words of wisdom for visiting or incoming students to your school?
Check out our new gym, it is truly amazing how Prep is expanding. Go to a Lacrosse game its a lot of fun. Boland Hall offers the best dorms! But Gunlock is a lot of fun. Also when it snows at Prep, the most fun time in the winter is when we have huge snowball fights out in the quad, and then get to brag about the fun we had to the day students.
Academics:
1.) Describe the academics at your school - what did you like most about it?
I loved the very comfortable classroom atmospheres created by the teachers. The small classes offered plenty of time to participate. The teachers were extremely insightful and offered plenty of time for personal input. I never found my classes boring. The classes offered were very diverse and every class would go into depth of certain subjects, addressing not only what happened but why it happened. The Jesuit education of development of mind body, and soul cannot be beat, each class challenged me to ask questions and really think about what was going on.
Athletics:
1.) Describe the athletics at your school - what did you like most about it?
The Athletics were amazing, we were top ranked in every sport and school spirit was high. The requirement was one sport sophomore year. Sports were very competitive but very easy to join. We had excellent facilities, like found in college and sports games were well attended.
Art, Music, and Theatre:
1.) Describe the arts program at your school - what did you like most about it?
I loved our theatre, it was very large and offered a wide variety of options in relation to what stage setups could take place.
Extracurricular Opportunities:
1.) Describe the extracurriculars offered at your school - what did you like most about it?
Lots of clubs to join and lots of sports to play. There were also many ways to get involved with the community. I used to tutor Native American Indians as well as working at a Food Bank and it was very fulfilling. I like how easy it was to get involved the most.
Dorm Life:
1.) Describe the dorm life in your school - what did you like most about it?
I loved the relaxed and comfortable atmosphere. The dorm had couches and small lounges scattered across the buildings and each class was split up by floor. In regards to roommates, you could pick a roommate but if not you'd be assigned one. Choosing a roommate wasn't ever a big deal in case you couldn't find someone to room with, therefore it was less-stressful. At night, after dinner there would be a time when you could go and get some food at snack, but after that around 10:00 there really wasn't a way to get more food unless you went downstairs to the vending machines, I often visited them. Transferring rooms, in case of a bad roommate, was very easy and not made to be a big deal, reducing the stress.
Dining:
1.) Describe the dining arrangements at your school.
In the morning it was required to go to breakfast, not a big deal and in fact forced me to wake up (if not, someone would come to wake me). Breakfast was sort of limited, just the basic cereals and eggs with bacon. Nothing special, except on Sundays with custom omelets and a buffet style continental breakfast. Lunch at school was often good, but still nothing special. At lunch and dinner if you didn't want to eat the prepared meal you could have a salad/ soup, or sandwich. You could eat as much as you wanted at all meals, price of dining was included in tuition, which was nice. The dining room was very large with lots of drink selections, every type of juice, soda, tea, hot chocolate, lemonade, flavored water, and slushies were available. The tables were wooden and well kept, we had nice silverware and even a fountain in the center of the room to add to the atmosphere. There was no assigned seating and classes tended to sit together,
Social and Town Life:
1.) Describe the school's town and surrounding area.
Well, Prep was on the DC metro red line, which when I didn't have a car made getting around very easy. We were just a few miles outside of downtown DC and so we could experience everything it had to offer, which was amazing. The school had pretty relaxed rules about leaving campus, though they would often check up on the students with a phone call. I did a lot of walking to and from the metro station but it was totally worth it. When I got my car at the end of junior year, I really got to know DC and the surrounding Bethesda/ Rockville area. Even without a car, there is a mall and lots of shops surrounding the school that are easily in walking distance.
2.) Describe the social life at your school - what did you like most about it?
There were lots of dances, lots of activities with other schools, and a lot of time to get to be off campus. I met a lot of people from the many private schools around the area. I went to many proms and had a lot of friends both on campus and off campus, even being at a boarding school, I didn't have to sacrifice my social life. I liked the fact that 2/3 of the school is normal day students, they would often invite me to their houses and introduce me to their friends.
Daily Schedule:
Weekday
3:15 PM
Free time, hanging in other people's room, playing a sport, or going out.
9:30 PM
More free time, working out, talking to friends, ordering pizza and a movie
Weekend
12:00 AM
Go out to DC or friends houses or have a lazy day at Prep
2:30 PM
More free time hanging out or about the town
7:30 PM
More free time still
12:00 PM
Being a senior I was allowed o come home at 12 and then go to bed. Unless I spent the night out.
Georgetown Prep's location allows for students to take advantage of a wide variety of activities in the Washington DC area. The extensive grounds of the campus offers students an opportunity to enjoy first class. . .
There are many unique features which make Prep a great place. It's location is one of those features. Most boarding schools I visited were situated in small town with little to do. Prep is located. . .
Since Georgetown Prep is a Jesuit high school, we were required to preform a certain amount of community service over the course of the year as well as over the summer and write reflections on. . .
Show more reviews (

1 review

)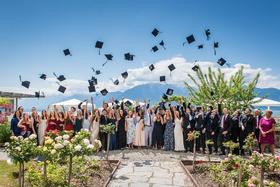 Nurturing Futures: A Journey through Boarding at Haut-Lac School in Switzerland
Nestled in the hills overlooking Lake Geneva in the French-speaking part of Switzerland lies an educational gem that embodies a unique blend of academic excellence, cultural richness and a profound sense of community. Founded over 30 years ago, Haut-Lac International Bilingual Day and Boarding School is now home to both 600 day students and a maximum of 30 boarders from around the world.
What To Wear at Your Job Interview
Navigating job interviews can be stressful, but knowing what to wear shouldn't be. Our comprehensive guide covers the essential dress code tips for men and women interviewing at boarding schools. Make your first impression count with style and professionalism.
Navigating the Modern Maze: Emerging Challenges for Boarding Schools
Explore the pressing challenges facing boarding schools, from marketing difficulties and rising insurance costs to facility maintenance and recruitment of competent trustees and teachers. This article delves into these complex issues and proposes innovative strategies to overcome them.