Reflections and Advice:
1.) What do you think makes your school unique relative to other boarding schools?
Though some other schools advertise writing improvement, Loomis provides a legitimate writing program designed to cultivate true mastery of the written word. "Writing workshop" starts Fall of Sophomore year with grammar and individual sentence structure. By the next semester, essays are the norm. A foundation could easily lay barren; Loomis, however, continues to build, year by year, until the structure is complete. I have found college teachers hoping for mere competence on Freshman papers. Actual finesse startles them. Having such a skill significantly smoothed a historically bumpy academic transition into college.
2.) What was the best thing that happened to you in boarding school?
If I did not leave my local high school for Loomis after freshman year, the scholarship that lured me to Davidson, my well-developed self-awareness, my ability to communicate with peers, adults and even kids - none of these opportunities and skills would exist. A mixture of leaving home and the culture of Loomis cultivated my innate abilities while instilling in me new ones. My Loomis career culminated in my appointment as Head Resident Assistant senior year. Compare my senior self with the egotistic, frightened student of sophomore year and the benefits of Loomis emerge.
3.) What might you have done differently during your boarding school experience?
When I first arrived at Loomis, I believed I had to make a choice in the first few months: academics or social life. I chose academics in an effort to right myself from the slide (a relative slide, from A's to B's) I began to experience in high school. Yes, I did right myself, but I was not socially satisfied. I felt somewhere between content and melancholy. The balance between the two, or the realization that both were important came at the end of Junior Year. Had I realized there didn't need to be a tradeoff between the two earlier, perhaps those first semesters would have more enjoyable.
4.) What did you like most about your school?
When looking at schools, the level of academic rigor hits a certain height at Loomis that differs greatly from lower schools, but in comparison to the Deerfields, Choates and Hotchkisses, varies very little. How Loomis develops the emotional intelligence of its students really raises its standing among its competitors.
5.) Do you have any final words of wisdom for visiting or incoming students to your school?
Dorms have faculty on duty every night. Some are known to have food. Find out who these faculty are, what night they work, in which dorm, and finally, find a way to curry favor with these people. Your late night cravings depend on it.
Academics:
1.) Describe the academics at your school - what did you like most about it?
Beware Student-Teacher ratios. Fractions offer little insight into actual relationships. At Loomis, professors will be involved in most all aspects of boarding school life, and most importantly in the classroom. Learning under someone who comes to watch your lacrosse games or supervises the dorm every Thursday fosters interest in the classroom, regardless of the subject matter. These relationships make for a friendlier, less competitive environment. Teachers push every kid to excel; Loomis celebrates the success of the class, the average for a test, for example, more than the excellence of the top student.
Athletics:
1.) Describe the athletics at your school - what did you like most about it?
Not to keep returning to the human aspect of Loomis, but I found the shining attribute of the school's athletics rested in the coaches. Teams continue to win Founder's League and New England Championships with a different set of athletes each year. Knowledge and personality combined in my coaches to create a true general who I willingly followed. Friendships are not relegated to between the athletes themselves.Not every sport I participated in required a coach, however. Students are required to participate in one activity a semester - be it yoga, Club B Basketball or Varsity Lacrosse. The support of varsity sports extends to the lower levels of fitness, leading to an active, energized student body.
Art, Music, and Theatre:
1.) Describe the arts program at your school - what did you like most about it?
I did not participate in the Visual Arts or Theatre program, but because of my friends, my monthly schedule invariably included an art opening or school play. Excellence in the arts does not go unnoticed at Loomis. The student body will sing the praises of those involved with that weekend's production of Hamlet or a street-artist rendering of Bob Marley. Athletics might have the trophies, but the arts earn just as much respect.
Extracurricular Opportunities:
1.) Describe the extracurriculars offered at your school - what did you like most about it?
A hallmark of Loomis would be the diversity of opportunities available. I didn't realize the work that went into creating the Log, our school paper, until Senior year, when my friends were the editors. The same applies to the Yearbook. With this required dedication comes fulfillment. Couple these publications with the school literary magazine and students have an outlet for any creative activity. Editing not your calling? Try going out every Sunday and building a house on one of Loomis' land holdings. Canoe on the Connecticut river. The opportunties are there. Take advantage of them.
Dorm Life:
1.) Describe the dorm life in your school - what did you like most about it?
Dorm life as a topic raises the debate concerning boarding vs. day students. The 60/40 ratio, advantage boarding, creates some divides. Both being at home and living in a dorm have advantages and disadvantages-having a near equal distribution of situations on campus highlights these differences. Home cooked meals or the bond of living and getting in trouble with your best friends? Having a car or not needing one? The debate rages on.I lived in a dorm, Flagg for 10th and 11th grade, and then Batchelder for Senior Year. The camaraderie in the dorm mirrors college. Each room has a different flavor, whether because of set-up or its inhabitants, and on any given night, four or five kids could be in any given room. The longer you are at school, the more you will learn about ideal room arrangements.
Dining:
1.) Describe the dining arrangements at your school.
Upon leaving the dining hall, every article of your clothing will emanate that days menu. Why would I start with such a negative sounding statement? Such a fact illustrates the dining hall as a place of relaxation, a place where we take our time in eating, enjoying the the time off. In a day where free time seems to be a premium, we relish our meals.The biggest complaint about the food would be the appearance. I am an adventurous eater so I found out the secret early into my first year: the food may look unappetizing, but turns out, it tastes pretty good. Pizza and ice cream will seem the easiest options for good food, but try the regular food, and you will be pleasantly surprised.
Social and Town Life:
1.) Describe the school's town and surrounding area.
Loomis is called an island for two reasons: the annual flood cuts off the school from the outside world and Windsor is not much of a town. A train station, a CVS, and two pretty good restaurant are really all we visited. What Windsor does offer is the opportunity to extend the academic culture of Loomis to kids in the surrounding area who might not be growing up in the best circumstances. We offer extra help on homework and friendship, a powerful combination, in our community outreach programs.
2.) Describe the social life at your school - what did you like most about it?
The weekends require a certain amount of initiative by the students, as dances are not every weekend. Some may go to a day student's house, while those on campus congregate in the SNUG(I agree, the name must be changes) and the night stems out from there. Such freedom and the need to have fun gives students at boarding school, and specifically Loomis, the stories that they look back on fondly.
Daily Schedule:
Weekday
7:45 PM
Homework (Hang out when finished)
Weekend
9:00 PM
Start time if dance night
Loomis required all students to participate in a sport each trimester, which was a great way to get all students both involved and engaged with the school and the other students. It was a great. . .
Because we have a smaller campus than most prep schools in New England, we benefit from a strong sense of community. Everyone is a familiar face and in turn, Loomis feels more like "home". . .
Mandatory extra-curricular activities in each season, ranging from competitive athletics, theatre, bands, choirs, volunteer work, environmental clubs, etc appealing to a wide variety of interest.Dorms and academic buildings positioned around a main "quad" grass. . .
Show more reviews (

27 reviews

)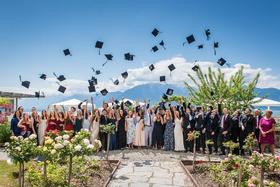 Nurturing Futures: A Journey through Boarding at Haut-Lac School in Switzerland
Nestled in the hills overlooking Lake Geneva in the French-speaking part of Switzerland lies an educational gem that embodies a unique blend of academic excellence, cultural richness and a profound sense of community. Founded over 30 years ago, Haut-Lac International Bilingual Day and Boarding School is now home to both 600 day students and a maximum of 30 boarders from around the world.
What To Wear at Your Job Interview
Navigating job interviews can be stressful, but knowing what to wear shouldn't be. Our comprehensive guide covers the essential dress code tips for men and women interviewing at boarding schools. Make your first impression count with style and professionalism.
Navigating the Modern Maze: Emerging Challenges for Boarding Schools
Explore the pressing challenges facing boarding schools, from marketing difficulties and rising insurance costs to facility maintenance and recruitment of competent trustees and teachers. This article delves into these complex issues and proposes innovative strategies to overcome them.