Reflections and Advice:
1.) What do you think makes your school unique relative to other boarding schools?
The first thing you'll notice about Shawnigan that sets it apart is its stunning natural beauty set in a quiet, quaint, rural area. The buildings and facilities are spectacular and the very first time you drive through the gates you will find your surroundings difficult to comprehend.But what makes Shawnigan truly amazing is the level of people who attend and educate at the School. They are entirely first-class, top to bottom, and truly set the School apart.
2.) What was the best thing that happened to you in boarding school?
The best thing about my experience at Shawnigan, without any shadow of doubt, were the friendships I took away from the School. It was such a unique opportunity to get to know a large group of people on a level usually reserved for only your closest friends and family. Twelve years removed from graduation the friends I made at Shawnigan are still my closest friends today.
3.) What might you have done differently during your boarding school experience?
I don't think I would have done anything differently during my time at Shawnigan. The only advice I would give is that you have to "buy in" to the program - take advantage of the opportunity presented to you and embrace your time there. I think that many students find that they don't know how lucky they are to be at Shawnigan until faced with the prospect of leaving.
4.) What did you like most about your school?
The teachers. The students. The campus. The experience. Everything.
5.) Do you have any final words of wisdom for visiting or incoming students to your school?
Play rugby. Go rowing. Enjoy Ski Week. Work hard. Have fun!
Academics:
1.) Describe the academics at your school - what did you like most about it?
Because the class sizes at Shawnigan were so small, there was a real sense that my teachers knew more about me than just my name and average. They understood my strengths and weaknesses and were able to challenge me to be a better student. There was a wide variety of classes offered, including several language electives not available at other schools I had attended previously.
Athletics:
1.) Describe the athletics at your school - what did you like most about it?
Sports are mandatory at Shawnigan, and the level of coaching is second to none. Although we were a small school, we were able to field a top-caliber rugby team and had a very successful rowing crew as well. We were not always the biggest, strongest, or fastest teams, but we played every game with the knowledge that we would be the fittest and smartest.Another very positive aspect about athletics at Shawnigan was that the programs were not limited to competitive athletes. There were several recreational-level sports to choose from and alternative sports like Outdoor Education and Search and Rescue as well. There really was a sense that there was a sport for everyone at the School.
Art, Music, and Theatre:
1.) Describe the arts program at your school - what did you like most about it?
Fine Arts are also mandatory at Shawnigan and always produced amazing results. The facilities and instruction were top notch and everything from woodworking to painting to fly-tying were offered.The Musicals I took part in felt like professional stagings, with elaborate sets and costumes and a multi-night run in a professional theatre. The performances were always well-attended and truly gave the sense that the cast and crew had accomplished something very special through weeks and months of commitment and hard work.
Extracurricular Opportunities:
1.) Describe the extracurriculars offered at your school - what did you like most about it?
Because so much time was taken up with the regular curriculum, fine arts, and sports, there was very little opportunity to take part in other extra-curricular activities.
Dorm Life:
1.) Describe the dorm life in your school - what did you like most about it?
The best part about boarding at the School was the camaraderie in the houses. You really felt like the guys in your house was your family away from home - an extended family of brothers. There was always time for laughs and fun, but there were also always people there to support you when you needed it.
Dining:
1.) Describe the dining arrangements at your school.
The food at Shawnigan during my time there left a little to be desired. It was a "buffet-style" experience and was usually eaten as quickly as possible. The food usually tasted fine but the entire experience seemed to be lacking.In the time since my graduation, however, these issues have been remedied to a large degree as a new Dining Hall has been opened and there is very much more emphasis on proper dining.
Social and Town Life:
1.) Describe the school's town and surrounding area.
The village of Shawnigan Lake is just that - a village. It is small and rural and very beautiful. However, it is also very quiet and offers very little outside of a couple of corner stores. The nearest major city is Victoria, and while it is only 45 minutes away, to a student without a car it can, at times, feel like another world.The surrounding area, however, offers a huge amount of opportunity to outdoor enthusiasts. There are bike trails and hiking paths galore, and of course the lake is right across the street. There are also canoes that can be used by students during their free time.
2.) Describe the social life at your school - what did you like most about it?
I can't think of anything I DIDN'T enjoy socially about my time at Shawnigan. There were always opportunities to get to know fellow students, be it in common areas of the boarding houses, at school dances, or in any of a number of different social areas around campus.Most kids arrived at Shawnigan not knowing a whole lot about the other students attending, but with a little bit of time, you knew as much about your friends as you do about your family.
Daily Schedule:
Weekday
2:45 PM
Classes end; Tutorial Period
7:00 PM
Prep (Homework Period) Begins
9:00 PM
Prep (Homework Period) Ends
Weekend
9:00 AM
Number One House Inspection
3:30 PM
Sport Period Ends - Leave Weekend Begins
To me, Shawnigan Lake School is unique in that it is a close-knitted community. Rather than compete, collaboration is how students and staff practice on a daily basis. Also, Shawnigan instills a sense of leadership. . .
The first thing you'll notice about Shawnigan that sets it apart is its stunning natural beauty set in a quiet, quaint, rural area. The buildings and facilities are spectacular and the very first time. . .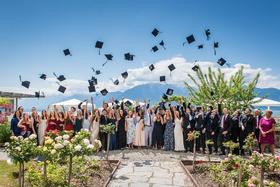 Nurturing Futures: A Journey through Boarding at Haut-Lac School in Switzerland
Nestled in the hills overlooking Lake Geneva in the French-speaking part of Switzerland lies an educational gem that embodies a unique blend of academic excellence, cultural richness and a profound sense of community. Founded over 30 years ago, Haut-Lac International Bilingual Day and Boarding School is now home to both 600 day students and a maximum of 30 boarders from around the world.
What To Wear at Your Job Interview
Navigating job interviews can be stressful, but knowing what to wear shouldn't be. Our comprehensive guide covers the essential dress code tips for men and women interviewing at boarding schools. Make your first impression count with style and professionalism.
Navigating the Modern Maze: Emerging Challenges for Boarding Schools
Explore the pressing challenges facing boarding schools, from marketing difficulties and rising insurance costs to facility maintenance and recruitment of competent trustees and teachers. This article delves into these complex issues and proposes innovative strategies to overcome them.