Reflections and Advice:
1.) What do you think makes your school unique relative to other boarding schools?
For me, there are so many aspects of Grier that make it unique to other boarding schools. At Grier, you don't receive the "run-of-the-mill" boarding school experience. There, it was not just about receiving a fantastic education, it was also a self education, and the chance to find a real family for yourself through friendships and the experiences you exchanged with people while you were there. I have been out of school for only 2 years, but I can already say and know with all of my heart that Grier was truly the best opportunity I may have ever received in this lifetime. I spent years 15-18 at Grier, which are some huge growing years for a young woman, and I was truly able to find out who I was through the support and friendships I received at the school
2.) What was the best thing that happened to you in boarding school?
For me, attending Grier itself was an achievement. I grew up in a VERY small town, not far away from Grier, and I was the most local girl at the school. I cannot ask for anything better than the opportunity I was given to attend for three years. I did a lot of growing up there. I grew as a person in ways that I don't think I even fully realize yet. I breadth of knowledge multiplied by 10 by the education I received, I was fully ready to go off to college when the time came, I formed friendships that I wouldn't trade for the world and learned so much about WHAT KIND of person I am.
3.) What might you have done differently during your boarding school experience?
I wouldn't have changed anything. Everything that happened there happened for a reason and taught me something that I will never forget. Some days were hard. I missed home sometimes, I was sad I didn't go to prom, but like I said, I wouldn't change it, because I would not be who I am today without that school, and who I am today is someone to be proud of.
4.) What did you like most about your school?
The people. Whether it was the teachers, staff or my friends.
5.) Do you have any final words of wisdom for visiting or incoming students to your school?
Live it to the fullest. Take advantage of everything offered. Never waste a minute just sitting, because every experience you will receive will be something that will change your life, whether it's in a small or big way.
Academics:
1.) Describe the academics at your school - what did you like most about it?
What I loved most about the academics at Grier was the support. Not only did I have the most WONDERFUL teachers any student could ask for, teachers who were passionate about their subjects, and who knew their field extremely well, but also teachers who were there to support me through any challenge I faced. I had the opportunity to take several AP classes as well. Although I didn't use it, I also can say that Grier has a wonderful Learning Support staff, who I think is top notch for helping students who struggle. My (still) best friend in the world, who lives on the other side of the country, took full advantage of the learning support program, and will claim to this day that had it not been for the support she received through them, she would not have done nearly as well as she did throughout high school, and who now is holding a 4.0 in one of the top universities in the United States. Grier also has a built in period every day after lunch, called extra help, where students can go individually to a teacher with a challenging topic, and sort it out then. Not only that, but class sizes are so small, it is easy to receive individual attention. I think the largest class I had in three years had 8 people in it. One of the best things about Grier was that most of your teachers lived on Campus, and they usually weren't opposed to even helping you out on the weekends!
Athletics:
1.) Describe the athletics at your school - what did you like most about it?
Although I did not participate in varsity athletics, I can point out the positives. They are open to all grades, all ages, and the coaches really care about improvement. The sports offerings change from year to year, but what was consistently offered during my time there were Riding all year round, Soccer in the fall, Basketball in the winter, and Softball in the Spring. You were also able to participate in the dance program to fill the sports requirement. Each student was required to participate in a sport every weekday afternoon, which keeps code with the Grier's idea of "sound mind, sound body." Students are required to participate at a minimum level of 1 hour per afternoon, but can participate more if they choose. I took 3-4 hours per day of dance classes while I was at school, including ballet, tap, jazz, modern, contemporary, lyrical and other forms of dance in the mix.
Art, Music, and Theatre:
1.) Describe the arts program at your school - what did you like most about it?
Grier's visual arts program is amazing! I have no artistic ability myself, (I draw stick figures!) but I can defiantly see the strength of the program. I once brought a friend from home who is currently a college level art student to visit the school, and upon seeing the arts building, his jaw dropped. The upper level houses an incredibly large, first rate art studio, in which the light reams in from the huge windows throughout the building and provides students with options to take classes like drawing, painting, batik, jewelery design, sculpture, watercolor and many other choices. The lower level of the building houses acoustic rooms containing pianos and other instruments for students to use. There are two large practice rooms, one housing the orchestra and the rock band, and the other housing the choir and other vocal ensembles. There are also several smaller practice rooms in which students can hone in on their abilities, and also receive private instruction in their instrument of choice through the day. Students have access to these facilities at any time, including weekends. The theatre program gets stronger and stronger by the year. Each year there is one major musical put into production, in which the students in the costume design class create the costumes, set design creates the sets, etc. There is also a separate drama class which often puts on small skits during morning assembly.
Extracurricular Opportunities:
1.) Describe the extracurriculars offered at your school - what did you like most about it?
The Grier faculty and staff is very open to new ideas about extracurricular activities. There are many clubs and programs which students can participate in, from language clubs, such as the french or spanish club, to community service organizations, to scholastic clubs, to the essence club, which is a highlight of the school. The essence clubs focus is cultural diversity. Grier also has very strong student government. The student council is taken seriously there, something that I didn't experience at any other school I attended.
Dorm Life:
1.) Describe the dorm life in your school - what did you like most about it?
Dorm life was one of the most interesting parts of attending boarding school. It was also one of the most frightening things to me prior to going there. I was terrified of living with someone I didn't know, but I quickly adjusted and found it to be one the greater parts of my education. Learning to live with and tolerate others silly little habits is something most people don't do until college or beyond. I learned those things at age 15. The rooms are set up suite style, with two rooms sharing a bathroom, and that never seemed to be a problem. There are also exterior houses which upperclassmen can live in if they are in good academic and disciplinary standing. These outside houses do offer a little more freedom, although on every dorm there is a housemother who not only supports her girls, but keeps them in line! Another nice quality is that the younger girls, the 7th and 8th graders, are housed in "Lodge" which, although is attached to the main building, gives them a little space from the other girls and provides a bit more structure for them. The faculty and staff at Grier are always very accommodating to the girls in the dorms. Although you do not choose your first roommate, they are selected carefully for you through a process to find situations where girls have similar living styles. After that, if you want to change rooms or move in with a friend, they are fairly lenient in allowing you to do this, as long as all parties agree.
Dining:
1.) Describe the dining arrangements at your school.
The dining hall serves breakfast, lunch over two periods, and dinner. It is mandatory to eat dinner on weekdays. There is no assigned seating so you are welcome to sit with your friends and have social hour during these times. On Saturdays and Sundays, brunch is served over a long period, allowing you to sleep in. The food is wonderful, there are many choices, including international choices, and there is always a full salad bar available.
Social and Town Life:
1.) Describe the school's town and surrounding area.
Grier is settled in the middle of rural central Pennsylvania. It has access to a small city, Altoona, which has a mall and a wal-mart, as well as movies and many restaurants. Grier provides trips here every weekend. They also provide trips to the other closest town, Huntingdon, for the same reasons. Each of these towns takes a short 20 minutes to get to. There are also "Tyrone Runs" which allow you to go into the small neighboring town, 4 miles away, and grab the necessities or even just some ice cream. There is also a hospital there and in Altoona. Even though Grier has access to everything it needs, the campus itself is nestled quietly away in the woods, providing security and focus for the students.
2.) Describe the social life at your school - what did you like most about it?
Friendships at Grier are indescribable, but I will try. When you live in a boarding school situation, especially one that is 100 percent boarders, you bond in a way that happens rarely on this planet. You have plenty of time to get to know each other, and make the best friends you will ever have in your life. I will say that although I missed out on some of the "normal" teenage experiences, I wouldn't trade it for the world, because I have friends that I couldn't ever forget.
Daily Schedule:
Weekday
10:30 PM
Room Bell and Lights Out.
Weekend
7:00 PM
Hang out with Friends
12:00 PM
Room Bell and Lights Out.
I liked Grier very much when I attended it. Four years went by so fast, I did not even notice how I graduated so quickly. In the meantime, I saw myself change and become stronger. . .
Grier School is unique in a number of different ways, but the aspect that I value most as a former student has to do with the atmosphere and student body. Many people ask me what. . .
Grier is a school that develops young women with the confidence to be their best and be themselves. Grier values and supports each individual student. Its hallmarks are community, diversity and focus on developing each. . .
Show more reviews (

3 reviews

)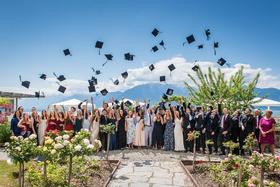 Nurturing Futures: A Journey through Boarding at Haut-Lac School in Switzerland
Nestled in the hills overlooking Lake Geneva in the French-speaking part of Switzerland lies an educational gem that embodies a unique blend of academic excellence, cultural richness and a profound sense of community. Founded over 30 years ago, Haut-Lac International Bilingual Day and Boarding School is now home to both 600 day students and a maximum of 30 boarders from around the world.
What To Wear at Your Job Interview
Navigating job interviews can be stressful, but knowing what to wear shouldn't be. Our comprehensive guide covers the essential dress code tips for men and women interviewing at boarding schools. Make your first impression count with style and professionalism.
Navigating the Modern Maze: Emerging Challenges for Boarding Schools
Explore the pressing challenges facing boarding schools, from marketing difficulties and rising insurance costs to facility maintenance and recruitment of competent trustees and teachers. This article delves into these complex issues and proposes innovative strategies to overcome them.