Reflections and Advice:
1.) What do you think makes your school unique relative to other boarding schools?
Grier School is unique in a number of different ways, but the aspect that I value most as a former student has to do with the atmosphere and student body. Many people ask me what it was like attending an all-girls school. Unfortunately in our world today, competition often trumps solidarity among young women. I found this to be true at the co-ed, public school that I attended before Grier School. In a co-ed setting, there is more pressure to be Number 1, because the number of top positions for women is limited. I found the opposite to be true at Grier. There's something to be said for those people who realize that success and self-accomplishment can be reached alongside another's accomplishments, instead of in place of or at the expense of another's accomplishments. In this regard, I found that girls were able to lift up the successes of others because they valued their own accomplishments for what they were, without feeling the need to compete for a "top spot." The teachers helped to develop and reinforce these ideas. In the classroom, we were encouraged to compete against a set standard of learning instead of a grade curve. In this way, I never felt a need to compete with the other girls at Grier because the number of top spots was unlimited. Grier School gave me a strong sense of "political solidarity" among women, and this is a quality and value that is priceless in a world where we often feel the need to tear others down in order to build up our esteems. It contributes to a bigger idea that collaboratively, we can accomplish more for our schools, societies, and world than we could if we were competing for individual successes. This is a value that has followed me to college and prepared me to be more socially responsible. It has made me more confident in my own ability and achievements, allowing me to be more appreciative of the many talents that the people around me have to offer.
2.) What was the best thing that happened to you in boarding school?
There are so, so many great things that happened to me at Grier School. I can honestly say that it was the best experience of my life. I would type for hours if I tried to name all of the ways in which Grier has made me into the person I am today--it has shaped my character in ways that a small-town girl from Central PA could never imagine.
3.) What might you have done differently during your boarding school experience?
I would do nothing different. The teachers and students are so helpful. I can remain available for contact if further information is sought.
4.) What did you like most about your school?
I loved everything. Please contact me for more information or specific details.
5.) Do you have any final words of wisdom for visiting or incoming students to your school?
Check out the Coffee Barn!
Academics:
1.) Describe the academics at your school - what did you like most about it?
In my two short years at Grier, I was fortunate enough to participate in many different classes. As a student that was always stronger in English and History than Math and Science, the college counselors (Ms. Kingera and Mrs. Davis) proved to be essential to the scheduling process. I was able to find classes to play on my strengths and support my weaknesses. Statistics was one of the classes that I took to supplement a Math credit that supported this strength in English. They were also able to provide me with the tools for workshopping college applications and essays and improving my SAT Math scores. A more English-heavy substitute for the SAT was offered: the ACT. My subsequent scores from the ACT were reflective of the knowledge that these counselors already had about my talents and struggles. They were an asset to me in my Junior and Senior years.
Athletics:
1.) Describe the athletics at your school - what did you like most about it?
The sports offered at Grier are vast with one common factor--they are not competitive. There are many Varsity sports offered, but this is not a school with a focus on athletics. Every person that tries out for the team not only makes it, they end up starting on the soccer field after having learned how to kick a soccer ball the week before. The Varsity sports are more competitive than the regular, seasonal sports, although I will continue to point out that this school does not have a strong focus on athletics.
Art, Music, and Theatre:
1.) Describe the arts program at your school - what did you like most about it?
It's essential to mention the relationship that one activity has with another. Each Fall and Spring, a performance is organized by members of the music and theater departments. By the end of the show, the contributions of the graphic arts class (advertisements/posters), costume design class, videography class, choreography class, instrumentalists and instructors, actresses, etc. is visible in every aspect of the performance. Again, this is just one example of collaboration in order to reach overall achievement. Every student felt that they had a hand in the final product.
Extracurricular Opportunities:
1.) Describe the extracurriculars offered at your school - what did you like most about it?
Extracurricular activities at Grier School are fueled by student demand. They change year-to-year and there are more than I am able to remember or mention. If we don't have a club for it, find 5 friends and create one.
Dorm Life:
1.) Describe the dorm life in your school - what did you like most about it?
I was a day student. I did not board on campus--although I often wish that I had.
Dining:
1.) Describe the dining arrangements at your school.
Food is great! No assigned seating--you're almost as likely to find girls eating in the lawn on a sunny day as you are to find them sitting in the cafeteria. The cafeteria and campus are beautiful.
Social and Town Life:
1.) Describe the school's town and surrounding area.
State College is the entertainment hub for Central Pennsylvania. The town (and affiliated campus, Penn State) is about 30 miles from the school. Many concerts occur year-round and many activities are offered on the weekends for students. The school is also in great proximity to major cities like NYC, Philadelphia, Baltimore, and Washington D.C. Any of these places can be reached in under 5 hours. Weekend trips are frequent.
2.) Describe the social life at your school - what did you like most about it?
I had many friends from many different cultures and countries. This enriched my experience at Grier.
Daily Schedule:
Weekday
Weekend
I liked Grier very much when I attended it. Four years went by so fast, I did not even notice how I graduated so quickly. In the meantime, I saw myself change and become stronger. . .
Grier School is unique in a number of different ways, but the aspect that I value most as a former student has to do with the atmosphere and student body. Many people ask me what. . .
For me, there are so many aspects of Grier that make it unique to other boarding schools. At Grier, you don't receive the "run-of-the-mill" boarding school experience. There, it was not just about. . .
Show more reviews (

3 reviews

)
Mastering the Boarding School Selection Process: A 5-Step Guide
Discover the ultimate 5-step guide to choosing the perfect boarding school for your child. Explore essential factors, such as academics, campus facilities, extracurricular activities, and more. Make an informed decision to provide your child with an enriching and transformative educational experience. Read now!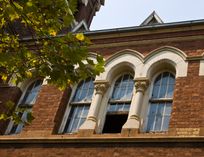 5 Founders and Their Boarding Schools
What prompts somebody to start a boarding school? The motives range from idealism to munificence right on through to capitalism. The common thread seems to be ample capital and a vision of what education can do.