Reflections and Advice:
1.) What do you think makes your school unique relative to other boarding schools?
The Family-like community, the availability of faculty, the support all the girls get from school...there are so many unique things that make Oldfields stand out. I checked this website (Boarding School Review) years ago when I was applying to US boarding schools myself, but I'm really glad I choose Oldfields. I've visited other boarding schools before I came to a decision but Oldfields is definitely the most friendly school I've ever been to! You'll gain so much confidence here.
2.) What was the best thing that happened to you in boarding school?
I have made so many life-long friends that I am now missing so much. Oldfields taught me how to be a strong, independent and confident woman. I am strong enough to challenge myself and confront all the obstacles I'm going to face in the rest of my life. Thanks to Oldfields, I've also found a lot of new strength in me I've never even thought of before. I also love the diversity of Oldfields. As a Chinese student, I was exposed to so many different cultures I've never experienced before.
3.) What might you have done differently during your boarding school experience?
I'm so glad I came to America for high school. Most importantly, I'm so glad I chose Oldfields.
4.) What did you like most about your school?
The advisory system! Again because we're a small school, all the faculty know each of us very well. The advisory system allows girls to have someone to turn to when they need help. The morning meeting is also one of the things I miss most of Oldfields. Every morning, the school comes together as a community to make announcements or send some wishes and regards. It help students know each other better.
5.) Do you have any final words of wisdom for visiting or incoming students to your school?
I love Oldfields!!! I miss it so much!
Academics:
1.) Describe the academics at your school - what did you like most about it?
Teachers are always there for extra help. I really appreciated the bonding we have with all our faculty. We are always invited to hang out in the faculty's house. That's something you definitely won't get from other schools.
Athletics:
1.) Describe the athletics at your school - what did you like most about it?
I played volleyball for 2 years in Oldfields. I absolutely loved it. And there are also numerous other after school activities set up for girls who are not that into sports. However, it is required for all girls to at least play one season of team sports. This is a mandatory requirement that challenges us. I used to think I was really bad at sports. But after trying volleyball, I fell in love with it!!! If you a rider, we also have a great riding program.
Art, Music, and Theatre:
1.) Describe the arts program at your school - what did you like most about it?
I was really engaged in theatre production when I was in Oldfields. I got the unique opportunity to direct a one-act play at the end of my senior year as my senior directing class project. All the plays I did while I was at Oldfields all showed the empowerment of women, which is one thing I really appreciate. I learned so much from Oldfields theatre that I am so well prepared now in college.
Extracurricular Opportunities:
1.) Describe the extracurriculars offered at your school - what did you like most about it?
A lot of extra curriculars are provided at Oldfields. If you don't like any of it (which there is little chance), you can always start a new club or organization! You'll always gain support from faculty!
Dorm Life:
1.) Describe the dorm life in your school - what did you like most about it?
I've lived in two different dorm buildings during my two year at Oldfields. I was also an RA my senior year. A lot of fun dorm activities are created every year to make our dorm life more fun and make all the residents bond!! If you are a senior you'll get the chance to apply for a single room.
Dining:
1.) Describe the dining arrangements at your school.
Absolutely love it. I've visited a lot of other boarding schools and none of their dinning food can compare with ours, even a lot of colleges don't have that delicious food! It's always Buffet and I love holiday dinner so much! We are assigned tables for some nights in order to know others better. You can always find faculty, even the Head sits with the girls at the dinner table!
Social and Town Life:
1.) Describe the school's town and surrounding area.
Hunt Valley - where you can shop, dine and do groceries or just have some fun - is not so far away!
2.) Describe the social life at your school - what did you like most about it?
The weekend trip! A lot of weekend trips are coordinated by the dean of student life. Sometimes if you have good suggestion, you can always make the proposal! I love the starbucks, cold stone ice cream trip during the weekend.
Daily Schedule:
Weekday
10:00 AM
Assembly/Extra Help
2:45 PM
Club/After school activities
Weekend
9:00 AM
Church service trip
I truly do believe that the faculty and staff at Oldfields make this school a unique one. Every member of the faculty and staff are invested in the wellbeing and success of every student here. . .
One aspect that O.S has that no other school is how our school is split into Green or White Teams. These team all year have a friendly competition that not only helps you make friends. . .
I would say that the two most prominent thing that make Oldfields unique is May Program. May Program is a learning opportunity for all students whether that be at Oldfields, in the United States, or. . .
Show more reviews (

9 reviews

)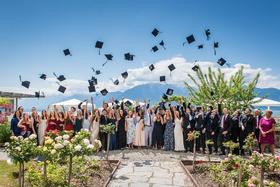 Nurturing Futures: A Journey through Boarding at Haut-Lac School in Switzerland
Nestled in the hills overlooking Lake Geneva in the French-speaking part of Switzerland lies an educational gem that embodies a unique blend of academic excellence, cultural richness and a profound sense of community. Founded over 30 years ago, Haut-Lac International Bilingual Day and Boarding School is now home to both 600 day students and a maximum of 30 boarders from around the world.
What To Wear at Your Job Interview
Navigating job interviews can be stressful, but knowing what to wear shouldn't be. Our comprehensive guide covers the essential dress code tips for men and women interviewing at boarding schools. Make your first impression count with style and professionalism.
Navigating the Modern Maze: Emerging Challenges for Boarding Schools
Explore the pressing challenges facing boarding schools, from marketing difficulties and rising insurance costs to facility maintenance and recruitment of competent trustees and teachers. This article delves into these complex issues and proposes innovative strategies to overcome them.