Reflections and Advice:
1.) What do you think makes your school unique relative to other boarding schools?
The Masters School's teaching technique uses Harkness tables in the classroom to promote classroom discussions which teaches the students not only listen to others opinions but also create coherent and concise ways to express their thoughts.
2.) What was the best thing that happened to you in boarding school?
I think Masters opened up my mind to different points of view. I was in Catholic school for nine years before Masters, so getting to Masters with many different religious views was eye opening. Being open to listen to others opinions has been a lesson that has proved to be useful past high school.
3.) What might you have done differently during your boarding school experience?
I might have taken more of the arts elective classes since Masters was known for its arts programs. I stuck with what I know, but I think stepping outside my boundaries could have proved beneficial in the long run and maybe given me even more opportunities. My advice is to go for whatever it is you want to try.
4.) What did you like most about your school?
I loved the sense of community. Everyone knew everyone and was willing to get involved. This sense of community is something that is rare once you leave boarding school.
5.) Do you have any final words of wisdom for visiting or incoming students to your school?
I enjoyed making visits to Ms. Crane's office and hanging out in the SAC playing ping pong.
Academics:
1.) Describe the academics at your school - what did you like most about it?
I liked that Masters pushes you to your limits. The faculty will gladly meet with you as needed to ensure that you are doing the best you can academically. Once you complete an assignment, the learning is not over. My English teachers had us do group reviews and many drafts of every paper this way we could continuously learn from our mistakes and correct them in the future.
Athletics:
1.) Describe the athletics at your school - what did you like most about it?
By participating in three varsity sports, I fulfilled my gym requirement which allowed me to have more free time to focus on my studies during the day since I had practice or games every afternoon. Masters is pretty competitive within the FAA league is a variety of sports.
Art, Music, and Theatre:
1.) Describe the arts program at your school - what did you like most about it?
Although I was not very interesting in the Visual Arts, music, or theatre program, my friends were. Some of my friends were members of the Dance Company, which two big performances per year, the Glee Club, which sang at all school events, and Dobbs 16, a competitive A Capella singing group that was in a national competition and has traveled to China.
Extracurricular Opportunities:
1.) Describe the extracurriculars offered at your school - what did you like most about it?
There are many opportunities to do community service at Masters. We have a program called MISH, Masters Interested In Sharing and Helping. MISH has two large projects for each grade that is required. My favorite project was when we went in to NYC to feed and clothe the homeless at night through Midnight Run.
Dorm Life:
1.) Describe the dorm life in your school - what did you like most about it?
Although I was a day student at Masters, I stayed in the dorms occasionally with friends. Each dorm has its own kitchen and common room where everyone would hang out to watch tv or movies. There are quiet hours every school night when students do their homework without distractions.
Dining:
1.) Describe the dining arrangements at your school.
Honestly, I miss the food at Masters. My favorite day was chicken patty and baked ziti. The caf was open for all three meals and is included in tuition. There was a little diversity in the variety of food, but it was known when I was there that pizza was every Tuesday and cookies are the most sought after snack.
Social and Town Life:
1.) Describe the school's town and surrounding area.
Dobbs Ferry is a small town only twenty minutes away from NYC. It has pizzerias, sushi bars, nail salons, a Stop & Shop, a diner, just to name a few places to go. I liked that everything is within walking distance from the campus.
2.) Describe the social life at your school - what did you like most about it?
Everyone at Masters got along. It really was a sense of community. It was very different from the typically high school experience with few cliques. If some of my friends were in class and I had a free period there was always someone to hang out with.
Daily Schedule:
Weekday
3:00 PM
practice (athletics)
4:00 PM
practice (athletics)
Weekend
1:00 AM
I went home because I was a day student
The Masters School can be quickly distinguished from other schools by the style of teaching that takes place. After a quick tour of classes, one will notice that there are no desks. Instead, each classroom. . .
The Masters School prides itself on using the Harkness method of teaching. Rather than sit at individual desks, students face each other around a large table. This style prompts discussion and keeps each. . .
One unique aspect of the Masters School for which I was personally very grateful was our Morning Meeting. This was a gathering of the entire upper school and faculty in the theater, three times weekly. . .
Show more reviews (

5 reviews

)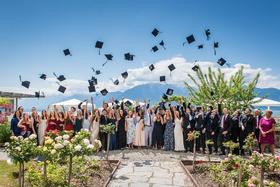 Nurturing Futures: A Journey through Boarding at Haut-Lac School in Switzerland
Nestled in the hills overlooking Lake Geneva in the French-speaking part of Switzerland lies an educational gem that embodies a unique blend of academic excellence, cultural richness and a profound sense of community. Founded over 30 years ago, Haut-Lac International Bilingual Day and Boarding School is now home to both 600 day students and a maximum of 30 boarders from around the world.
What To Wear at Your Job Interview
Navigating job interviews can be stressful, but knowing what to wear shouldn't be. Our comprehensive guide covers the essential dress code tips for men and women interviewing at boarding schools. Make your first impression count with style and professionalism.
Navigating the Modern Maze: Emerging Challenges for Boarding Schools
Explore the pressing challenges facing boarding schools, from marketing difficulties and rising insurance costs to facility maintenance and recruitment of competent trustees and teachers. This article delves into these complex issues and proposes innovative strategies to overcome them.