Reflections and Advice:
1.) What do you think makes your school unique relative to other boarding schools?
Andover has made me realize how precious each moment is, no matter how mundane, tedious, or tiring it may seem at the time. Looking back, I treasure each memory, and try to remind myself to focus on the now. I learned so much, met so many amazing people, was exposed to so many new things and grew all over. Because there are "Youth from Every Quarter" you can't even imagine the kinds of people who you will meet, learn from an teach d too. Whether through the Science/math tutoring program, or an International festival, you will have the time of your life and learn things which can be applied in so many more settings than the classroom.
2.) What was the best thing that happened to you in boarding school?
I realize how lucky I am to be in the situation I am in. Andover hosts a lot of guest speakers, alum who have gone on to do great things for the world, and I have been inspired and awed by many of them. I hope to accomplish even 1/2 of what so many of them have done (Bush #2 excluded)
3.) What might you have done differently during your boarding school experience?
It's OK to take easy classes upon arrival- you need a little bit of settle in time, even if you think you don't. I started with a really demanding course load, and it took me while to make friends as a result. Not that this is necessarily a bad thing, as most people spend the first semester creating the self they want to be at school, before lapsing into who they really are. Thus, waiting a bit before meeting people (and thus judging them) can be good.
4.) What did you like most about your school?
Everyone is very accepting, even if you're totally different than anyone they've ever met before. This is the spirit of Andover, one of genuine interest and acceptance.
5.) Do you have any final words of wisdom for visiting or incoming students to your school?
Go to the Lantern Brunch! It's downtown by the bookstore. It's closed on Sundays, but don't let that stop you! I always got 2 blueberry pancakes (they're huge!) and coffee(Best coffee ever!) and my friend usually got an omelet and orange juice(she said they were amazing as well). Abbot Cluster has the best dorms- they're small houses, with a lot of singles, but they tend to be far from campus, so be ready for some long cold hikes in winter! Get a real Winter Coat for the freezing New England winter! And some good gloves, especially if you like running.
Academics:
1.) Describe the academics at your school - what did you like most about it?
I can't express my fondness for most of my teachers from Andover. Their spirit, kindness, intelligence and knowledge has set an incredibly high standard for all of my current and future professors. A strong believer of the sentiment, "A subject can be interesting, but to be fascinating, the teacher must find it fascinating as well", I found Andover to be the perfect setting for this to be personified. That said, you will have a LOT of Homework. And if you care, it will take you a long to to understand, complete and write it all out. But this really is good, as it does prepare you for college and (presumably) life in general. Admittedly, recent curriculum changes have made the workload slightly lesser, and ones class schedule more flexible. Just remember; if you got in, you can stay in, so buckle down and get to work.
Athletics:
1.) Describe the athletics at your school - what did you like most about it?
SO MANY DIFFERENT SPORTS AVAILABLE!!! Coaches are all awesome. Seriously, I didn't meet a single one I didn't like. Cycling is especially great, as the team has really nice bikes, so you can still race competitively without having to put down a lot money. Though if you try it, you will end up buying a bike and becoming a cyclist. Consider yourself warned ;) Remember, your coaches are your teachers, so you get an extra level of support and encouragement while you train and when you compete.
Art, Music, and Theatre:
1.) Describe the arts program at your school - what did you like most about it?
I really enjoyed the Art program- there were three segments(required) though now I think they've changed it. We used to have to take a semester of film- actual filming, editing and writing, a semester of general art (sketching, photography, etc.) and a semester of sculpture. The sculpture class was more of a pottery class, in which we molded, glazed and fired our very own bowls! It was awesome, and I still have mine. Theatre is also really great- the head of the Theatre department is also the head wrestling coach, so there is no stigma associate with being an actor. All the plays are great, and really reflect the talent our student body.
Extracurricular Opportunities:
1.) Describe the extracurriculars offered at your school - what did you like most about it?
I loved that there were so many. And yes, the ones you want to go to always meet at the same time. Nonetheless, the many clubs and volunteer opportunities always provided a place to meet people with like interests, whom I might not have met otherwise. A don't even know where to start with listing the different possible clubs... I think there's a spreadsheet somewhere?
Dorm Life:
1.) Describe the dorm life in your school - what did you like most about it?
Freshman year, most people get doubles, though I had a single. I actually had a single all four years at Andover, and managed to stay in the same dorm. This is unusual because certain dorms are designated freshman dorms (they have prefects, sign-in and lights out at 11:00) and other are upperclass dorms( with proctors, and sign-in). My dorm switched designation, which is how I managed to stay there. That said, it was a fantastic dorm! My room/ the whole dorm had gorgeous hard-wood floors, and was really, really nice all over. Every dorm has at least one common room, with couches, a microwave, fridge, sink and TV. This is usually a central hang-out location, used for late-night movie watching (on weekends) or very late homework parties (the idea being you are less likely to sleep with other people around. This is not the case) Usually a hall will share a bathroom, there are multiple floors to each dorm, and the house councillar will generally live on the bottom floor. There is one student leader (proctor or prefect) in each dorm, to help you with anything and make sure you sign in on time. After 2 years, you pretty much are living with people you like, basically an improved version of your family :) I loved it.
Dining:
1.) Describe the dining arrangements at your school.
They redid our dining hall! Commons food is now very, very delicious. The lines aren't so bad now, there is tremendous variety, and lots of fruit for the taking. Also, you can come and go as many times as you please while it is open- something you definitely come to appreciate in college. The tables are large, perfect for seating many friends close together, and the rectangular ones are perfect for making long, "Great Hall" style seating. There are four dining areas, each with a bit of stereotype (mostly true) and we like it that way. It makes it somewhat easier to find people. Anyway, back to the food! You can have your own stir-fry made (for you!), there are usually some sort of burgers or grilled things upstairs, and there is delicious pizza downstairs. Ice-cream, fro-yo, coffee and cereal are available from 7-7 (usually)
Social and Town Life:
1.) Describe the school's town and surrounding area.
Townies and PA students have a love hate relationship. It consists (mostly) of them calling us "cat-boners" and us shouting back "Jesus Loves You". That said, Andover is a very wealthy town, and unless you're by the train track, it's pretty safe. I always felt comfortable running at night, and stopping to ask for directions if I got lost while riding my bike. There are a bunch of Grocery stores and restaurants around- but they are pretty solely car assessable. Down-town Andover is really cute, with a cupcake boutique and a classic diner (best pancakes EVER!). Bertuccis and Kings Subs are student favorites. Andover is pretty surrounded by houses, which makes for great running routes and great wandering territory. After a while, it feels more home than your home town does.
2.) Describe the social life at your school - what did you like most about it?
It's OK to be smart! Really! Cliched, yes, but very true here, and something I will never cease to appreciate.
Daily Schedule:
Weekday
9:45 AM
Advising period- meet with teachers or grab some breakfast
10:15 AM
Classes start again!
12:00 PM
Bed-time! (If you're lucky)
Weekend
6:00 AM
Wake-up for away game
6:30 AM
Get on bus, eat a bagel, then sleep, or try to do HW
10:00 AM
At school! Get off bus, warm up, race, cheer on boys team or JV
5:00 PM
Unload bus, go to dinner
6:00 PM
Go to Coffee House, Play or other organized Event
11:30 PM
Sign-In! Rehash day with everyone in the common room
12:30 PM
Decide to watch a moive
As I look back on my life, I found the English Department profoundly brilliant. The level of reading (weekly) was extraordinary. The level of commitment of the faculty was genuine.. . .
Our campus has a cluster system which means we have five somewhat distinct residential communities. It definitely helps build smaller communities within Andover's larger student body. Another thing that was unique about Andover was their. . .
Andover has a need-blind admissions policy, which means that they don't take into account someone's ability to pay for the school when deciding whether or not to admit them. This makes the school much diverse. . .
Show more reviews (

13 reviews

)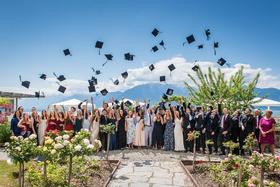 Nurturing Futures: A Journey through Boarding at Haut-Lac School in Switzerland
Nestled in the hills overlooking Lake Geneva in the French-speaking part of Switzerland lies an educational gem that embodies a unique blend of academic excellence, cultural richness and a profound sense of community. Founded over 30 years ago, Haut-Lac International Bilingual Day and Boarding School is now home to both 600 day students and a maximum of 30 boarders from around the world.
What To Wear at Your Job Interview
Navigating job interviews can be stressful, but knowing what to wear shouldn't be. Our comprehensive guide covers the essential dress code tips for men and women interviewing at boarding schools. Make your first impression count with style and professionalism.
Navigating the Modern Maze: Emerging Challenges for Boarding Schools
Explore the pressing challenges facing boarding schools, from marketing difficulties and rising insurance costs to facility maintenance and recruitment of competent trustees and teachers. This article delves into these complex issues and proposes innovative strategies to overcome them.