Reflections and Advice:
1.) What do you think makes your school unique relative to other boarding schools?
Stevenson has a uniquely warm and comforting environment - something I felt the first time I stepped on campus to visit the school. The students are friendly and the teachers are caring; the campus is beautiful and is nestled in one of the most gorgeous places in the country. The day students, roughly half of the student population at Stevenson, integrate well with the residents, which is not always true at boarding schools.
2.) What was the best thing that happened to you in boarding school?
When I came to Stevenson I was a very independent person. While I was able to cultivate this independence and prepare for life in college and beyond, I was also able to learn how to be more dependent. The strong sense of community that exists on campus made me feel comfortable relying on others, both students and faculty. Additionally, I think that Stevenson was wonderful preparation for college. Coming to Harvard, I feared that the rigorous academics and college lifestyle would be challenging. However, I felt more comfortable than most of my peers and have been able to handle the courses and residential life here with ease.
3.) What might you have done differently during your boarding school experience?
I would have spent more time at the beach and outdoors. Stevenson is in such a beautiful area, and I wish I would have taken more advantage of my surroundings.
4.) What did you like most about your school?
I loved the Stevenson community. I could not have asked for a better experience in high school or at boarding school. Everyone on campus is caring and real, and there is a true sense of belonging that comes with attending Stevenson. This school is truly the complete package - strong academics, great students, beautiful campus, wonderful residential life, and stellar extracurricular offerings.
5.) Do you have any final words of wisdom for visiting or incoming students to your school?
Make sure you walk down to the coast and walk along 17 Mile Drive!
Academics:
1.) Describe the academics at your school - what did you like most about it?
Stevenson offers a wide variety of classes, both in subject and in difficulty. This allows each student to really tailor his or her academic program to specific interests and needs. For instance, I love science and math, and was able to take courses like AP Chemistry, AP Calculus, and AP Java; my best friend loves the humanities and was able to take AP English and AP US History. And still for others, taking AP courses was not the ideal route, so they took wonderful senior electives like Creative Writing and Introduction to Psychology. The diversity and depth of classes available enables students at Stevenson to pursue what they love in a manner that challenges and engages them while helping to quell competitiveness among students. While everyone strives for academic excellence, they do not sacrifice collaboration for it. The backbone of the academic program, however, is the caliber of teachers at Stevenson. They are wonderful teachers, coaches, dorm residents, and advisers. This multitude of roles they play on campus exemplifies how much they care about the success of their students, both in the classroom and in life. They take the time to ensure that their students truly understand a concept, and through this instill in them a passion for learning.
Athletics:
1.) Describe the athletics at your school - what did you like most about it?
Every student at Stevenson is required to play on at least one team sport each year and participate in other athletic activities during the other two terms. This unique requirement creates an opportunity for everyone to be part of a team and to meet people they would not have met otherwise. The non-team sport activities are fun and interesting, and include things like rock climbing, sea kayaking, cycling, and golf.
Art, Music, and Theatre:
1.) Describe the arts program at your school - what did you like most about it?
The visual arts, music and theatre programs at Stevenson are all extremely strong. The resources available for pursuing the arts at Stevenson are incredible. I took a sculpture class my sophomore year, and was able to use the ceramics room to throw pottery on weekends for the rest of my time at school, and I know many students were able to use the art studios to paint or sculpt during free time as well. The plays and performances that students produce several times each year are always impressive, and there are ample opportunities to get involved in dance, acting, singing and music ensembles.
Extracurricular Opportunities:
1.) Describe the extracurriculars offered at your school - what did you like most about it?
There is a plethora of extracurricular opportunities on campus. From sports to theater, Student Council to music, there is no shortage of activities to join. This diversity means that every student is truly passionate about what they choose to do, bringing life and excitement to all of their extracurriculars. I enjoyed playing on the Water Polo and Swim Teams, was a Resident Prefect in Day Hall, and was a Community Forum Leader my senior year for a great group of freshmen. The diversity of opportunities at Stevenson also prepared me for the hundreds of student groups I had to choose from when I got to college. I was able to navigate through the Student Activities Fair and select activities that would be meaningful, fun and interesting for me.
Dorm Life:
1.) Describe the dorm life in your school - what did you like most about it?
I believe the strongest component of residential life at Stevenson is the Resident Prefect Program. Prefects are upperclassmen who live in the dorms and are there to provide support and guidance, enforce dorm rules, plan fun dorm parties, and help with any issues that may arise. As a new sophomore, my prefects were integral in making me feel at home at Stevenson. My junior and senior year I was a Prefect in Day Hall, and can attest to how hard each Prefect works to create community, fun and trust within the dorms. Most students, with the exception of some seniors and Resident Prefects, live in a double. The rooms are light and spacious, and are furnished with a desk, bookshelf, dresser, closet, and two large drawers under the bed. Freshmen and new students are assigned a roommate based on a questionnaire about personal habits and tastes. The following years, students are able to request roommates and dorms. The number of people that choose to remain with their "assigned" roommate is a testament to the time and care with which people are matched. Each dorm has a large common room with couches and a television, and some have games or ping pong tables.
Dining:
1.) Describe the dining arrangements at your school.
The dining hall has wonderful food. There are always several options, including a sandwich bar and cereal station, so you are never at a loss to find something to eat (in fact, we used to joke that finding too much good food at each meal was a problem). Additionally, the dining hall staff is extremely friendly, which makes Cafe Louie Louie feel like home. On Monday nights, Stevenson has a special, formal, family-style meal. Monday Night Dinner is a nice way to get to know other students and help foster a sense of community. A faculty member gives a talk after dinner on the first Monday night of each month, and their personal anecdotes and advice help to create stronger ties between students and faculty.
Social and Town Life:
1.) Describe the school's town and surrounding area.
The beaches around Stevenson are divine. A short walk from campus takes you to the rocky Pebble Beach coastline, and the weekend shuttle into Carmel drops you off just a block from Carmel Beach. Carmel-by-the-Sea is quaint and relaxing and has great places to eat and shop, and Del Monte Center (the mall in Monterrey) has great stores and a nice movie theater. The areas around Stevenson have a lot to offer students, and I could not have asked for a more beautiful place to go to school.
2.) Describe the social life at your school - what did you like most about it?
On my student-led tour of Stevenson, I was surprised at how many people my tour guide greeted along our route. However, after attending Stevenson, I realized that this was simply a reflection of the friendliness and openness of students at the school, and the strength of the campus community. Friendships at Stevenson are formed between people from different dorms, grades, citizenships, and between residents and day students. I think that Stevenson lacks the stereotypical stratified high school social structure, which really makes it a wonderful place to go to school. My closest friends included two Germans, a Korean, several day students, and boarders from around the country - and I cherished this diversity. I also felt like I was friends with most of the people in my grade and in the grades above and below me, something that not every school offers.
Daily Schedule:
Weekday
3:00 PM
Water polo or swim practice
Weekend
1:15 PM
Bus to beach, mall, or town
7:00 PM
Movie, ping pong, tv, other activities with friends
Every teacher is always accessible and they are always friendly. I felt so at home there. They also have a counseling center where they take ideas from students about how to improve the school psychologically. . .
RLS gave me the perfect gateway experience from high school to college. The living environment, the professors, the class structure and electives selections were stellar. Best all around experience of my life to date. . .
Stevenson is a stunning atmosphere both beauty and quality of life. The school is situated in Pebble Beach, on the beautiful Monterey Peninsula. However, the scenery is not the most beautiful part about Stevenson. The. . .
Show more reviews (

8 reviews

)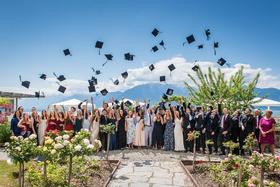 Nurturing Futures: A Journey through Boarding at Haut-Lac School in Switzerland
Nestled in the hills overlooking Lake Geneva in the French-speaking part of Switzerland lies an educational gem that embodies a unique blend of academic excellence, cultural richness and a profound sense of community. Founded over 30 years ago, Haut-Lac International Bilingual Day and Boarding School is now home to both 600 day students and a maximum of 30 boarders from around the world.
What To Wear at Your Job Interview
Navigating job interviews can be stressful, but knowing what to wear shouldn't be. Our comprehensive guide covers the essential dress code tips for men and women interviewing at boarding schools. Make your first impression count with style and professionalism.
Navigating the Modern Maze: Emerging Challenges for Boarding Schools
Explore the pressing challenges facing boarding schools, from marketing difficulties and rising insurance costs to facility maintenance and recruitment of competent trustees and teachers. This article delves into these complex issues and proposes innovative strategies to overcome them.