Reflections and Advice:
1.) What do you think makes your school unique relative to other boarding schools?
The majority of the Middlesex campus is set around the iconic circle. All of the classroom buildings, the chapel, and most of the dorms are located around the outside of the large green circle that forms the center of campus. Not only is this arrangement a beautiful sight to wake up to each morning, but it also physically unites all aspects of the campus and community. The circle is the ultimate hang-out spot on campus, and on a nice afternoon it is not uncommon to see most of the students gathered on the circle to play Frisbee, sunbathe, study, or simply sit and talk with friends. This one location that brings the entire school together is a unique part of the Middlesex experience, and it helps create the strong community of students and faculty that defines Middlesex.
2.) What was the best thing that happened to you in boarding school?
Going to boarding school helped me form deeper, more lasting relationships than I would have formed at a different school. By living on campus with my friends, classmates, teammates, and teachers, I got to know people both inside and outside of the classroom.
3.) What might you have done differently during your boarding school experience?
If possible, don't bring all of your belongings on move-in day. It is helpful to see you room and what kind of storage it has before you decide exactly what to bring. Things like winter coats and boots can wait a few months!
4.) What did you like most about your school?
I love the Middlesex community as a whole. I like that people are friendly. They say hi in the halls and smile when people walk by. I think that Middlesex is a warm and inviting place, and it was a great place to spend three years.
5.) Do you have any final words of wisdom for visiting or incoming students to your school?
I would advise new students to strongly consider requesting a roommate for their first year. Most rooms at Middlesex are singles, but each dorm has a few doubles. Living away from home with a complete stranger can definitely be an adjustment, but for me, having a roommate made a big difference in how I adjusted to my first few months away from home. I really appreciated having a kind of "partner in crime" during my first few months. We went to meals and events together and met new people together, so I never felt like I was alone in a school of new people.
Academics:
1.) Describe the academics at your school - what did you like most about it?
Academics come first at Middlesex, and Middlesex academics are challenging and rewarding. Teachers expect the best from students, and students expect the best from themselves. Students should expect to push themselves academically throughout their time at Middlesex. Middlesex teachers are always willing to provide extra help after class and in the evenings, and they truly take an interest in each student.
Athletics:
1.) Describe the athletics at your school - what did you like most about it?
Athletics was a highlight of my time at Middlesex. There is truly something for every athlete. Varsity sports are usually more competitive and intense. Practices are longer and teams aim to reach a high level of play. The JV and Thirds programs usually aim to help younger or less experienced players reach the Varsity level during their time at Middlesex. Both ends of the spectrum are fun and rewarding in their own way. I loved working hard and pushing myself during my seasons on the Varsity Field Hockey and Lacrosse teams, but I also loved being laid back and goofy during the winter playing JV hockey.
Art, Music, and Theatre:
1.) Describe the arts program at your school - what did you like most about it?
I took piano lessons during two of my three years at Middlesex. The music department found a great teacher who came to campus during one of my free blocks each week to teach me. This was a great way to take a break from academics and do something fun that I love.
Extracurricular Opportunities:
1.) Describe the extracurriculars offered at your school - what did you like most about it?
Like athletics, there is something for everyone. Clubs and activities range from Model UN and the Anvil to Harry Potter club and Fishing club. Clearly, some activities require more commitment than others. At the beginning of each school year, students have the opportunity to start a club or organization if one they are interested in does not already exist.
Dorm Life:
1.) Describe the dorm life in your school - what did you like most about it?
Dorm life was another highlight of my Middlesex experience. Unlike a day school where the school day ends at the end of the academic day, at Middlesex, the school day is truly 24 hours long. Living in a dorm with 25 other students is truly the best way to meet new people, and since Middlesex does not have any freshman dorms, living in a dorm helps form bonds between classes. Each dorm has 2-3 faculty apartments in addition to student rooms, and each night a faculty member is on duty in the dorm during study hours. This allows students to get to know more faculty members on a personal level as well.
Dining:
1.) Describe the dining arrangements at your school.
Although noting compares to mom's cooking,Middlesexx dining does a good job of cooking tasty meals. Ware Hall Middlesex'ss dining hall) is open for breakfast, lunch, and dinner Monday through Saturday and for brunch and dinner on Sundays. There is always a hot option at each meal, but for those who don't choose to eat the hot food, there is always cereal, salad, sandwiches, pasta, yogurt, fruit, and other foods available at each meal. Sunday brunch is by far the best meal of the week.
Social and Town Life:
1.) Describe the school's town and surrounding area.
Middlesex offers a shuttle service into Concord after school and on weekends. Students often take advantage of this service to visit Crosby's orCVSS to pick up some snacks and supplies or to visit some of the off campus dining options likeHelen'ss, the Main Street Café, Bedford Farm's Ice Cream. Overall, Concord is a pretty quiet town, but a quick trip into Concord is always a fun way to get off campus and mix things up.
2.) Describe the social life at your school - what did you like most about it?
The student activities club works to provide activities for students each Saturday night. These can range anywhere from dances, to movie nights in the theater, to laser tag in the gym, or broom ball in the rink. Although campus does quiet down on weekends, most boarders remain on campus most weekends and often day students will stay on campus as well for a Saturday night activity.
Daily Schedule:
Weekday
8:00 AM
First block class starts
9:30 AM
All School assembly
10:30 PM
Check in to the dorm for the night
Weekend
12:00 AM
A few hours of homework
3:00 PM
Catch the shuttle into town
10:00 PM
Check into dorm for the night
Middlesex is probably the boarding school that is far ahead in terms of student body diversity, and I mean that in a very good way. Between geographical and socioeconomic diversity, you really learn a ton. . .
The community that is centered around the circle is welcoming, and the nice fall and spring days leave the students socializing on the circle during free blocks throughout the day and in their free time. . .
The entire experience was not only unique, it was life changing! It opened my eyes and mind up to world I wasn't familiar with. I was able to meet, connect and bond with students from. . .
Show more reviews (

26 reviews

)
Mastering the Boarding School Selection Process: A 5-Step Guide
Discover the ultimate 5-step guide to choosing the perfect boarding school for your child. Explore essential factors, such as academics, campus facilities, extracurricular activities, and more. Make an informed decision to provide your child with an enriching and transformative educational experience. Read now!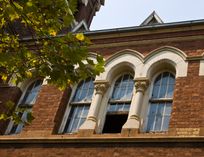 5 Founders and Their Boarding Schools
What prompts somebody to start a boarding school? The motives range from idealism to munificence right on through to capitalism. The common thread seems to be ample capital and a vision of what education can do.