Reflections and Advice:
1.) What do you think makes your school unique relative to other boarding schools?
Milton is a place where everyone takes an active role in cultivating students, in academics, athletics, art, and as a citizen of the world. There is a deep sense of community and the teachers take a holistic experience in really fostering a safe community where it is not only acceptable but expected that students take an active role in their own learning but in their classmates' as well.
2.) What was the best thing that happened to you in boarding school?
I feel that Milton had a HUGE influence on who I became. It cultivated me to think critically, have a passion for learning, and to ask questions constantly. It made me well rounded, from athletics, to arts, to education and I could have honestly not have had a better experience.
3.) What might you have done differently during your boarding school experience?
I would say expect to be nervous, as that is a normal part of change. Reach out to people if you need help, and use your teachers as resources as much as possible.
4.) What did you like most about your school?
I love the sense of community Milton has. I literally sobbed uncontrollably at Milton, because I never thought I could have an experience like that again. It captivates everything a high school experience could be, and more.
5.) Do you have any final words of wisdom for visiting or incoming students to your school?
The student center is amazing! You'll definitely be there a lot, and the new science center looks unreal!
Academics:
1.) Describe the academics at your school - what did you like most about it?
I loved that everyone else was there to learn, to glean the most information from their peers and teachers. I felt that there was diversity in the classroom for the most part (though probably not as much as in a public school, but that is to be expected), and I was not afraid to voice opinions in class. The classes are naturally competitive: some of the brightest students go to Milton. That being said, it was not cutthroat in any way and the competitiveness brought everyone to a higher academic standard.
Athletics:
1.) Describe the athletics at your school - what did you like most about it?
I loved the athletics program. As someone who played field hockey, track, basketball and danced, I was very active in the athletic community. The sense of being one with a team was amazing, and the coaches pushed every player to be their best. The facilities are one of a kind, better than some colleges! Having access to top trainers and training facilities was a huge asset.
Art, Music, and Theatre:
1.) Describe the arts program at your school - what did you like most about it?
I loved the music program, and one of the highlights was that every other year the Chamber Orchestra and Singers took a tour ! Being able to go to Italy and Hawaii and play for people who enjoyed and embraced us, while simultaneously absorbing different cultures is a unique and cherished experience.
Extracurricular Opportunities:
1.) Describe the extracurriculars offered at your school - what did you like most about it?
There were great extra curricular opportunities and ample time to do them. Participating in clubs, sports teams, art, community service- you name it, Milton has it!
Dorm Life:
1.) Describe the dorm life in your school - what did you like most about it?
I was not in a dorm, but had many friends who were, and I feel it really fostered a sense of community between the students in the dorm and other boarders. I always felt welcome to have dinner in a dorm, or even sleep over and loved that aspect.
Dining:
1.) Describe the dining arrangements at your school.
I loved the food at Milton, and especially loved that after sports I could go and have dinner there! Milton definitely was on par with college cafeterias in terms of diversity of the meals. There was always a salad bar, an ice cream machine , in addition to hot food as well.
Social and Town Life:
1.) Describe the school's town and surrounding area.
I love Milton. It is a quiet town, but close to Boston, which is a plus. It is immaculate in terms of cleanliness, and is a beautiful place all in all.
2.) Describe the social life at your school - what did you like most about it?
As a student of Milton for 10 years, I felt I had deep connections with my peers. I grew up in Milton, and some of my best memories were getting ready for dances with my friends, going to Milton/Nobles day, or doing any range of activities on the weekends. As a Co-Head of Student Activities, I felt our committee worked hard to have great activities to foster a sense of community on the weekends.
Daily Schedule:
Weekday
3:00 PM
meetings: clubs, etc
3:45 PM
practice for sports or dance
Weekend
10:00 AM
sports game/dance practce
7:00 PM
set up for an activity at Milton
8:00 PM
activity at Milton! typically til 11
Milton has an impressive dedication to the collaborative learning process. The Harkness table is a stalwart of the school and something I am deeply appreciative of.. . .
Milton is unique primarily due to the major emphasis on discussion in many classes through the harkness table method. This is prevalent in English and history classes. The organization of the student center allows for. . .
Milton Academy is a pretty racially diverse school. We don't really have social hierarchies. Our location is very convenient, and our grass is always green and healthy.. . .
Show more reviews (

5 reviews

)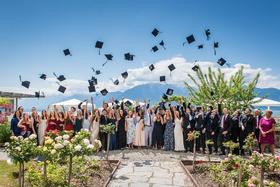 Nurturing Futures: A Journey through Boarding at Haut-Lac School in Switzerland
Nestled in the hills overlooking Lake Geneva in the French-speaking part of Switzerland lies an educational gem that embodies a unique blend of academic excellence, cultural richness and a profound sense of community. Founded over 30 years ago, Haut-Lac International Bilingual Day and Boarding School is now home to both 600 day students and a maximum of 30 boarders from around the world.
What To Wear at Your Job Interview
Navigating job interviews can be stressful, but knowing what to wear shouldn't be. Our comprehensive guide covers the essential dress code tips for men and women interviewing at boarding schools. Make your first impression count with style and professionalism.
Navigating the Modern Maze: Emerging Challenges for Boarding Schools
Explore the pressing challenges facing boarding schools, from marketing difficulties and rising insurance costs to facility maintenance and recruitment of competent trustees and teachers. This article delves into these complex issues and proposes innovative strategies to overcome them.