Reflections and Advice:
1.) What do you think makes your school unique relative to other boarding schools?
Berkshire provides the ultimate learning environment for students. Their motto "learning not just for school, but for life" replicates exactly what the faculty at Berkshire strive to enforce. The faculty at Berkshire are so invested in the lives of their students. Not only are students prepared for the most academically elite colleges, they are more importantly prepared for the real world future. The close knit community is certainly one of a kind and provides students with the necessary tools in order to ultimately discover and bring light to their individual talents and aspirations. Berkshire is the ultimate environment to discover your true potential.
2.) What was the best thing that happened to you in boarding school?
Attending Berkshire was one of the best decisions that I have ever made. There is no doubt, and I say this frequently, that I would be where I am today, without Berkshire. Head of School, Mike Maher, is an amazing man. He not only takes the time to get to know every name of every student that attends Berkshire, he takes the time to truly get to know each and every student. He sets the bar high for the rest of the faculty but they have no difficulty surpassing these expectations.
3.) What might you have done differently during your boarding school experience?
I am from Nova Scotia, Canada and I did not have a chance to actually go visit Berkshire before I arrived on campus for my first day of preseason. So, if I could do one thing differently, I would 1) visit the school and 2) I would have gone for my freshman year instead of starting my sophomore year.
4.) What did you like most about your school?
The community atmosphere and the active schedule. It made it hard for me to even realize that I was 16+ hours away from home. Berkshire ultimately changed my life and I couldn't have imagined a better place to prepare myself for college life and beyond.
5.) Do you have any final words of wisdom for visiting or incoming students to your school?
Go get a buffalo chicken wrap from Shawns Place (in the student center). Also, go to the brand new athletic center and ask for Skip.
Academics:
1.) Describe the academics at your school - what did you like most about it?
The small class sizes actively engage students in the material at hand. There is no way that you can fall behind at Berkshire. The faculty are so passionate about the material and strive to share their passion with their students. Extra help is readily available to students. I specifically remember babysitting my history teachers children while he looked over my rough draft for my midterm paper. That is the type of atmosphere that Berkshire provides its students with. It is unlike any environment.
Athletics:
1.) Describe the athletics at your school - what did you like most about it?
As an athlete at Berkshire, sportsmanship is injected in our blood. Athletically, like all other aspects, there is a place for everyone at Berkshire. But, all the students share at least one thing in common and that is their display of sportsmanship.For athletes in search of that next level, Berkshire is the place to be. With the tools provided to me by Berkshire, I was able to win 6 New England Championship Titles and garner a full athletic scholarship to college. Berkshire is the home of some remarkable athletes at the NCAA D1 level and even the Olympic level (i.e. Recent Olympian, Kacey Bellamy).I played ice hockey at Berkshire and had the opportunity to be a part of a New England Division 1 Championship team. If there was one thing that my coach stressed, it was that she expected us to be exceptional members of the community before we prioritized being exceptional hockey players. As my athletic career unfolded at Berkshire, I soon realized that it was Track and Field that I wanted to pursue at the collegiate level. While I underwent the college process, I had unbelievable support at Berkshire.I am currently a senior in college and my teachers from Berkshire still e-mail me weekly to congratulate me on my athletic competitions. Actually, my hockey coaches from Berkshire have even made numerous appearances at my collegiate athletic competitions. In short, the support doesn't end when you cross the stage at Graduation.
Art, Music, and Theatre:
1.) Describe the arts program at your school - what did you like most about it?
The Arts at Berkshire are impressive. There are numerous plays put on each academic year along with performances put on through visual arts and music. I used to really enjoy attending these performances. The students are extremely talented.
Extracurricular Opportunities:
1.) Describe the extracurriculars offered at your school - what did you like most about it?
Berkshire offers numerous extra-curricular activities. There is certainly something out there for everyone. I am the most uncoordinated person in the world and was eagerly welcomed into the Berkshire R&B dance club. Berkshire offers student organizations in many academic related fields along with some relating to specific interests that a group of students might have.
Dorm Life:
1.) Describe the dorm life in your school - what did you like most about it?
My dorm experience at Berkshire was instrumental in preparing me for college. I can't stress this enough. My sophomore year, my floor represented 7 different countries and 25 different states. Looking back, I consider myself so lucky to have had the opportunity to live in such a diverse environment at the age of 15. If I could go back to those years, I would in a minute! The dorm parents are so supportive. Every Saturday night, a specific dorm parent is on "duty" and at around 9pm they prepare snacks for all the girls (or boys) in the dorm.You can walk into any dorm common room on a Sunday afternoon and find someone curled up on a couch, watching a movie. There is always someone to talk to and spend time with.
Dining:
1.) Describe the dining arrangements at your school.
There is one thing that I have always found remarkable about Berkshire. During my three years at Berkshire I could always walk into the dining hall and sit anywhere and always feel welcomed. This most certainly does not occur at every school.When I attended Berkshire, we had Monday evening community dinners. They were a great way to interact with students that you might not on a regular basis along with a faculty member whom is sincerely interested and getting to know you better.
Social and Town Life:
1.) Describe the school's town and surrounding area.
Great Barrington is a great town and the school provides frequent bus rides into "town".
2.) Describe the social life at your school - what did you like most about it?
The social life at Berkshire was so welcoming. I always felt a sense of inclusion.
Daily Schedule:
Weekday
Weekend
11:30 AM
All School Meeting
12:00 AM
Lunch with your advisor
One unique aspect of a boarding school could be its integration of technology and innovative teaching methods. The school might have a strong focus on incorporating technology into the learning process, using interactive educational tools. . .
Berkshire's campus in unparalleled. The pristine architecture fits into the pristine beauty of the surrounding mountains beautifully.. . .
During my three years at Berkshire, I was able to take advantage of many unique opportunities that other boarding schools just did not offer. For example, I was able to attend The Island School during. . .
Show more reviews (

15 reviews

)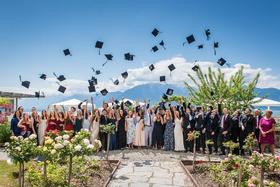 Nurturing Futures: A Journey through Boarding at Haut-Lac School in Switzerland
Nestled in the hills overlooking Lake Geneva in the French-speaking part of Switzerland lies an educational gem that embodies a unique blend of academic excellence, cultural richness and a profound sense of community. Founded over 30 years ago, Haut-Lac International Bilingual Day and Boarding School is now home to both 600 day students and a maximum of 30 boarders from around the world.
What To Wear at Your Job Interview
Navigating job interviews can be stressful, but knowing what to wear shouldn't be. Our comprehensive guide covers the essential dress code tips for men and women interviewing at boarding schools. Make your first impression count with style and professionalism.
Navigating the Modern Maze: Emerging Challenges for Boarding Schools
Explore the pressing challenges facing boarding schools, from marketing difficulties and rising insurance costs to facility maintenance and recruitment of competent trustees and teachers. This article delves into these complex issues and proposes innovative strategies to overcome them.