Reflections and Advice:
1.) What do you think makes your school unique relative to other boarding schools?
Berkshire School is a boarding school unlike any other. The main way that Berkshire differentiates itself from other boarding schools is that Berkshire is not simply a place of learning, it is a home. Teachers and coaches truly take students under their wing and they do all that they can to make the students feel at home. While at Berkshire, you have the opportunity to get to know teachers, coaches and dorm parents in all aspects of day to day life. It is completely normal to discuss a quiz in class with a teacher, then to see that teacher on the athletic field and finally to eat cookies and milk in that teacher's house or apartment during study hall.I have never been to a more caring environment. Berkshire is a community where everyone takes the time to get to know you and your goals, dreams, strengths and weaknesses. Yet, most importantly, they take it upon themselves to help you do all that you can to achieve those dreams and goals. It is in the students' successes that the faculty of Berkshire derive their own successes.
2.) What was the best thing that happened to you in boarding school?
The best thing that happened to me at Berkshire was, truthfully, getting into Cornell. I had wanted to go to Cornell for 3 years and I had the entire backing of the school. The headmaster and I had met many times and just discussed what I was doing to get into Cornell, how life was at Berkshire, how home was etc. My advisor always took time to meet with me and to discuss my dreams. He would invite me over for dinner with his family and would make sure that he was doing all he could to help me reach my goal.It is through the Berkshire faculty trusting me and pushing me that I have grown as a person. I am capable of achieving my dreams and working towards my goals. I know that because of Berkshire.
3.) What might you have done differently during your boarding school experience?
My best advice for students going to boarding school is to be open to new experiences. I decided to try crew and I fell in love. I tried snowboarding as my winter sport and it is my favorite past time. Be open to new people and to new experiences and do your best! Most importantly, have fun with the wonderful people you are with.
4.) What did you like most about your school?
I loved the involvement of the faculty with the students. The location and opportunities offered is a close second. Yet, were it not for the faculty, I would not be the person I am today.
5.) Do you have any final words of wisdom for visiting or incoming students to your school?
I recommend students go to Shawn's Place Snack Bar and the School Store. Get a piece of student life and a bite to eat at the same time!
Academics:
1.) Describe the academics at your school - what did you like most about it?
Berkshire offers many different classes for all students at all levels. All core classes offered accelerated sections. The difficulty of classes was, like most schools, as hard as you chose to make it. Berkshire offers many AP classes with teachers that have been teaching the courses for years yet are always looking to improve on their methods of teaching.One of the greatest strengths that Berkshire has is the Pro Vita program - a week long program that offers students classes in many different disciplines. Students can choose from classes such as: Becoming a Private Pilot (at the local airport!), True Life "Behind the Badge", Knitting or many, many other options. This program was first offered my senior year so I am sure it is even better now!
Athletics:
1.) Describe the athletics at your school - what did you like most about it?
Berkshire athletics are a strong and proud tradition. Our new hockey rinks and tennis courts are beautiful. Our turf fields are the perfect place to relax on a fall afternoon. Almost all sports are offered in the varsity, JV and (sometimes) thirds levels.All students are required to play 2 out of 3 seasons a year in a competitive sport. Berkshire offers many different sport options that appeal to all tastes. From crew to competitive mountain biking - Berkshire has it all.As far as competition goes, hockey is the most popular sport with soccer and lacrosse always being extremely competitive and exciting.
Art, Music, and Theatre:
1.) Describe the arts program at your school - what did you like most about it?
I was not very involved in the arts program at Berkshire. There is a large selection of classes such as digital art, photography, ceramics, performing art, dance, fine art etc. Berkshire is currently working on providing even more wonderful space for the arts and these opportunities should push to make them a more important part of student life. Berkshire is truly committed to the arts.I most enjoyed Berkshire's digital art program. The digital art classes are state of the art and are very helpful in students' future endeavors - even if they are not art students!
Extracurricular Opportunities:
1.) Describe the extracurriculars offered at your school - what did you like most about it?
The Ritt Kellogg Mountain Program is Berkshire's greatest and most unique provider of extracurricular opportunities. Berkshire sits right under Mount Everett and the Mountain Program is there to help students learn more about the outdoors through the mountain and through conservation efforts. This program has winter sport options such as Boat Building that allows students to take part in the outdoors.Berkshire also has a sugar shack that allows for students to make their own maple syrup. There is the philanthropy society that is always giving back to the local and larger community.
Dorm Life:
1.) Describe the dorm life in your school - what did you like most about it?
Dorm life at Berkshire was awesome. There is not much scarier than leaving home at the age of 14 or 15 and moving into a new place with people you don't know. Fortunately, the dorms are all recently renovated or, in many cases, decently new (early 2000s!). Students live in singles or doubles. In some of the new girls dorms there is a door between the two room mate's rooms so you can close the door if you want some privacy.Dorm parents were the best part of the dorms. They truly are your parents away from home and it is not uncommon for them to invite you in their home to watch a movie or to eat some cookies or other delicious snacks. Berkshire dorms have a sense of pride and they compete in the annual dorm wars competition.
Dining:
1.) Describe the dining arrangements at your school.
Dining at Berkshire is wonderful. We only have one dining hall. There are no assigned seats and there are required sit down dinners ( I think now it is two times a week). The food was always diverse yet with the option for pasta, for soup, for ice cream, and for salad and lunch meat/sandwich materials.Every year, Berkshire goes all out for Christmas, Thanksgiving and Halloween. The dining staff knows everyone and everyone knows them. It is a family friendly environment as Berkshire teachers and faculty normally bring their families for dinner as well.
Social and Town Life:
1.) Describe the school's town and surrounding area.
Well there is no town life in Sheffield for the students. Students can take a bus to Great Barrington where there is an abundance of restaurants and boutiquey shopping. Students can also go to K Mart and Price Chopper. It is not too exciting yet it is nice to go out to dinner with friends or family.
2.) Describe the social life at your school - what did you like most about it?
The social life at Berkshire is welcoming. Students have friends in all different dorms, sports and walks of life. I have never known a student to dislike the social life at Berkshire as everyone typically finds their niche.
Daily Schedule:
Weekday
Weekend
One unique aspect of a boarding school could be its integration of technology and innovative teaching methods. The school might have a strong focus on incorporating technology into the learning process, using interactive educational tools. . .
Berkshire's campus in unparalleled. The pristine architecture fits into the pristine beauty of the surrounding mountains beautifully.. . .
During my three years at Berkshire, I was able to take advantage of many unique opportunities that other boarding schools just did not offer. For example, I was able to attend The Island School during. . .
Show more reviews (

15 reviews

)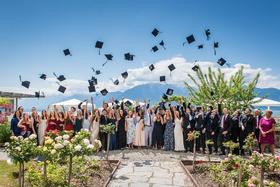 Nurturing Futures: A Journey through Boarding at Haut-Lac School in Switzerland
Nestled in the hills overlooking Lake Geneva in the French-speaking part of Switzerland lies an educational gem that embodies a unique blend of academic excellence, cultural richness and a profound sense of community. Founded over 30 years ago, Haut-Lac International Bilingual Day and Boarding School is now home to both 600 day students and a maximum of 30 boarders from around the world.
What To Wear at Your Job Interview
Navigating job interviews can be stressful, but knowing what to wear shouldn't be. Our comprehensive guide covers the essential dress code tips for men and women interviewing at boarding schools. Make your first impression count with style and professionalism.
Navigating the Modern Maze: Emerging Challenges for Boarding Schools
Explore the pressing challenges facing boarding schools, from marketing difficulties and rising insurance costs to facility maintenance and recruitment of competent trustees and teachers. This article delves into these complex issues and proposes innovative strategies to overcome them.