Reflections and Advice:
1.) What do you think makes your school unique relative to other boarding schools?
There are several aspects of the Delphian School which made it unique. However, one aspect that I think is a major advantage of the Delphian education is the location of the campus. Located on a hill in a beautiful part of Oregon, the school provides a pure, scenic, natural environment. Aside from the beauty of the area, the location provides an ideal environment for learning. As there are little to no outside distractions, students are able to focus 100% of their attention on their studies and overall learning experience. This factor was instrumental in my educational journey and experience at the Delphian School.
2.) What was the best thing that happened to you in boarding school?
The best thing that happened to me in boarding school was recognizing the real importance and value of education. I don't think I would have had this realization (or at least not to the same extent) in a different school environment.A close second to this is the everlasting friendships I gained in boarding school. Because we lived together, my boarding school friends and I shared so many valuable life experiences.
3.) What might you have done differently during your boarding school experience?
I really have no regrets attached to my boarding school experience. Nonetheless, one thing would strongly recommend to kids going to boarding school is that they get involved in as many activities and groups as possible early on. I know that some kids are timid or nervous in their first months at a new school. However, it is hugely advantageous to be involved, as it will provide an opportunity to expand yourself in various avenues early on.
4.) What did you like most about your school?
It is hard to single out one thing I liked most about my school. However, I would say what I liked most was the nearly infinite possibilities for education and growth through the hands-on academics and vast array of extra-curricular activities.
5.) Do you have any final words of wisdom for visiting or incoming students to your school?
My Delphian education is the best thing that has happened to me in my life so far. I'm sure most of my friends would say the same. The opportunities and camaraderie that come with the Delphian experience are priceless. If you have the chance to attend the Delphian School, seize it! It will be one of the best decisions you will ever make.
Academics:
1.) Describe the academics at your school - what did you like most about it?
There are many interesting and unique aspects of Delphian's academics. One aspect that is very unique to the Delphian program is that each student's education is individualized and tailored to them individually. In other words, students study independently with supervisors overseeing their studying and progress.This approach is majorly advantageous, as it automatically eliminates the possibility of students waiting around for slower peers or being left behind by faster peers. By studying independently, students have the opportunity to take the time they need to fully grasp a subject before moving on. This is different than standard academic systems and truly makes for a sound educational experience.
Athletics:
1.) Describe the athletics at your school - what did you like most about it?
As the Delphian School is relatively small, we were not always the most competitive team around. Nonetheless, the size of the school meant that more kids had the opportunity to be on sports teams. This factor made a tighter and more unique camaraderie between players on the teams. Rather than there being a separation between groups of people who played sports and those who did not, there was a healthy mix, as many of the people in choir and drama were the same people on the soccer and basketball teams.
Art, Music, and Theatre:
1.) Describe the arts program at your school - what did you like most about it?
I would say this part of the Delphian experience was the richest extracurricular area. Delphian is always very competitive in choir. Their plays are always top-notch. Also, the visual artists at the school are consistently competitive and successful in art competitions in the area. It appears to me that the school's strength in this area comes from the broad acceptance of every student and allowance of students to explore themselves in many avenues without negative and discouraging judgment (which many students experience in other school systems).
Extracurricular Opportunities:
1.) Describe the extracurriculars offered at your school - what did you like most about it?
Delphian provides a vast array of extra-curricular opportunities. One way the school does this is by having a very large student council organization. In addition to the student council, the school offered off-campus community service and internship opportunities for students.What I liked about Delphian's extracurricular scene was that there were always options. Throughout my education there, I constantly had choices of places to do community service, student council positions and so on. This large amount of options provided for a well-rounded extracurricular experience.
Dorm Life:
1.) Describe the dorm life in your school - what did you like most about it?
Dorm life at Delphian was a wonderful experience. Each dorm was relatively small (consisting of around 20-30 students in each dorm). This size made it possible to have a very tight-knit dormitory. As a result, I was always able to easily become good friends with my roommates and dorm mates.Furthermore, Delphian requires students to hold their rooms to a high standard of cleanliness. This has paid off in a big way, as I am now one of the most clean and orderly students in my dorm at Seton Hall University.
Dining:
1.) Describe the dining arrangements at your school.
Delphian's dining hall was great. Rather than having meals restricted to one item or theme, the dining hall was arranged in a buffet-style, providing options for students with differing tastes and preferences. They also offered an extensive salad bar and multiple beverage choices. This level of selection is beyond what I know to be offered at other schools in the area.
Social and Town Life:
1.) Describe the school's town and surrounding area.
As mentioned above, the school is relatively apart from town, and is in its own area. The town areas close to the school are fairly basic, but are adequate. The school often provides transportation into town for of-campus shopping and activities. Furthermore, there are trips every once in awhile into Portland. These are always a big hit. What I liked most was that the town (about 30 minutes away) had all the necessities (grocery stores, department stores, a movie theater etc.). There was nothing I ever needed that couldn't be gotten in town.
2.) Describe the social life at your school - what did you like most about it?
As the school has a relatively small number of students, it is very easy to make close friends. I never found the school's social environment to be cliquey or have any real bullying situations. Furthermore, Delphian's social environment offered broad acceptance of all students, no matter their possible differences from each other. It was never strange to see a basketball player hanging out with a drama student, or a choir member hanging out a member of the baseball team. In fact, many students were members of all of these groups. This broad acceptance was my favorite part of Delphian's social life.
Daily Schedule:
Weekday
9:00 PM
Hang out at the snack bar with my friends
Weekend
11:00 AM
Study with my friends
3:00 PM
Play basketball in the gym with friends
What made my school different from other boarding schools was that I was able to move through my program at my own pace. I didn't have to worry about catching up with my class because. . .
The fact that we study for real world application rather than just trying to spit things back out on an exam. This makes the education 10 times more valuable than any other school I have. . .
Here at the Delphian School, all the exams are done one-on-one, where the examiner will ensure that all the student's questions regarding the subject they just studied are solved and answered to satisfaction.The Delphian. . .
Show more reviews (

21 reviews

)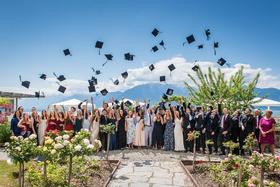 Nurturing Futures: A Journey through Boarding at Haut-Lac School in Switzerland
Nestled in the hills overlooking Lake Geneva in the French-speaking part of Switzerland lies an educational gem that embodies a unique blend of academic excellence, cultural richness and a profound sense of community. Founded over 30 years ago, Haut-Lac International Bilingual Day and Boarding School is now home to both 600 day students and a maximum of 30 boarders from around the world.
What To Wear at Your Job Interview
Navigating job interviews can be stressful, but knowing what to wear shouldn't be. Our comprehensive guide covers the essential dress code tips for men and women interviewing at boarding schools. Make your first impression count with style and professionalism.
Navigating the Modern Maze: Emerging Challenges for Boarding Schools
Explore the pressing challenges facing boarding schools, from marketing difficulties and rising insurance costs to facility maintenance and recruitment of competent trustees and teachers. This article delves into these complex issues and proposes innovative strategies to overcome them.