Reflections and Advice:
1.) What do you think makes your school unique relative to other boarding schools?
I think the relationships which you form at Middlesex are unique. The school is small enough that you can say hello to just about anyone in the hallways, and the relationships you have with other students, teachers, or faculty members are special, because you have a chance to spend so much time together and to learn so much about the personalities of the people around you.
2.) What was the best thing that happened to you in boarding school?
The best thing that happened to me was realizing that it was ok to embrace nerdiness. I was always a good student, but Middlesex, and the teachers there, helped me become truly interested in and passionate about what I studied. I feel very ready to go to college, and excited to continue taking the classes I like.
3.) What might you have done differently during your boarding school experience?
I would have tried to join clubs/publications earlier. I was too intimidated to ask to write for the school newspaper until I was a junior. Now I realize that you should just jump in and try to do whatever you're interested in.
4.) What did you like most about your school?
The thing I liked most about Middlesex was the teachers. They are exciting and intelligent people, and they make Middlesex the place that it is.
5.) Do you have any final words of wisdom for visiting or incoming students to your school?
Don't be afraid to be smart.
Academics:
1.) Describe the academics at your school - what did you like most about it?
I liked that the students at Middlesex are truly engaged in their classes. From math classes to more conversation-based humanities courses such as english, students come to class prepared, and the classes are better because of that preparedness. The teachers at Middlesex also routinely go above and beyond. Teachers are great about setting up time for extra help, and they do genuinely take an interest in the kids they teach.
Athletics:
1.) Describe the athletics at your school - what did you like most about it?
Playing sports at Middlesex is a great way to make friends, and the kids with whom you play sports often become your best friends at Middlesex. Sports are competitive, but they are not everything at Middlesex. Coaches want to win, but they also want to have fun and work hard.
Art, Music, and Theatre:
1.) Describe the arts program at your school - what did you like most about it?
The theatre and music programs at Middlesex are very strong. Whenever I attended a concert or a play, I was always impressed at the skill of the actors or musicians. There are also student-made paintings hanging in various locations around campus.
Extracurricular Opportunities:
1.) Describe the extracurriculars offered at your school - what did you like most about it?
Middlesex's extra curricular activities allow kids to step up into leadership positions. Although clubs must have a faculty member as a part of them, the students essentially run the clubs on their own. It is very easy to join clubs, publications, or volunteer groups at Middlesex, and there is no reason not to give something a shot if you are thinking about it, as most organizations will accept any kid, regardless of experience in the given field.
Dorm Life:
1.) Describe the dorm life in your school - what did you like most about it?
As a day student, the dorms never felt off-limits to me. You can still hang out with boarding friends as a day student.
Dining:
1.) Describe the dining arrangements at your school.
The staff we have has always been very friendly and accomodating, and they are always trying to get better and to make the food the school wants. The dining hall always has pasta, bagels, and a salad and sandwich bar if you do not like the hot lunch.
Social and Town Life:
1.) Describe the school's town and surrounding area.
Concord is a quiet, small town, but the center of town is a pretty lively place, and a great place to go for lunch.
2.) Describe the social life at your school - what did you like most about it?
There are usually weekend activities set up by the Student Activities Committee, so there is almost always some type of school-run activity you can be participating in on the weekends. Kids at Middlesex definitely work hard, but they want to have fun as well.
Daily Schedule:
Weekday
8:00 AM
classes start, unless you have a sleep-in
12:15 PM
lunch time, unless you had early lunch at 11:30
3:00 PM
unless you had l block for lab/double history. Now classes end
3:30 PM
sports practices start
5:30 PM
sports practices end, dinner opens
7:30 PM
study hours (for boarders) start
7:30 PM
study hours (for boarders) start
Weekend
11:30 AM
classes end, lunch starts
12:30 AM
leave for sports game if away
1:00 PM
get ready for game if home
9:00 PM
if there is a dance, come back for that
Middlesex is probably the boarding school that is far ahead in terms of student body diversity, and I mean that in a very good way. Between geographical and socioeconomic diversity, you really learn a ton. . .
The community that is centered around the circle is welcoming, and the nice fall and spring days leave the students socializing on the circle during free blocks throughout the day and in their free time. . .
The entire experience was not only unique, it was life changing! It opened my eyes and mind up to world I wasn't familiar with. I was able to meet, connect and bond with students from. . .
Show more reviews (

26 reviews

)
Mastering the Boarding School Selection Process: A 5-Step Guide
Discover the ultimate 5-step guide to choosing the perfect boarding school for your child. Explore essential factors, such as academics, campus facilities, extracurricular activities, and more. Make an informed decision to provide your child with an enriching and transformative educational experience. Read now!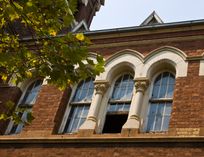 5 Founders and Their Boarding Schools
What prompts somebody to start a boarding school? The motives range from idealism to munificence right on through to capitalism. The common thread seems to be ample capital and a vision of what education can do.