Reflections and Advice:
1.) What do you think makes your school unique relative to other boarding schools?
The best thing about Andover is the sense of camaraderie amongst all students - past, present, and future. My closest friends continue to be fellow Andover students. Moreover, whenever I meet fellow Andover alumni, I feel an immediate connection to them. Andover is an invaluable networking tool.Another great thing about Andover is the diverse student population. It attracts students from across the country and around the world. Students also come from a wide variety of ethnicities, races, religions, and socioeconomic groups. This diversity helps to facilitate interesting classroom debates and dorm discussions.
2.) What was the best thing that happened to you in boarding school?
Andover really helped me to develop my strengths and forge some wonderful friendships. Andover helped me to develop the confidence that I need to succeed in the future. It also enabled me to obtain some of my greatest friends, who are more like family than mere friends.
3.) What might you have done differently during your boarding school experience?
I would have appreciated my time there even more. Now that more than 5 years has passed since my graduation from Andover, I truly miss my experiences there. I would love to go back and do it all over again.
4.) What would you never want to change about your school?
I loved every bit of Andover and would want it all to remain exactly the same.
5.) What things could be improved about your school?
I don't think that there is anything that really needs improvement.
6.) Do you have any final words of wisdom for visiting or incoming students to your school?
Enjoy your time at Andover because it goes by way too quickly. Do as much as you can possibly squeeze into your schedule. Be prepared for one of the best experiences of your life.
Academics:
1.) What did you like best about your school's academics?
Andover has some of the brightest teachers around. They are university-quality teachers who have a real passion for their work.Andover also offers a great variety of courses so that you can gear your classes to match your academic interests. While at Andover, I embraced this opportunity by taking some very interesting courses:* I took a French class that studied communities in France. This class included doing a research project on a small town of our choice.* I studied Supreme Court law during my 11th grade year.* One of my English classes focused on parties and other cultural celebrations. In another English class, we read only those books written by Toni Morrison.
2.) What did you like least about the academics in your school?
At times the workload was heavy and I felt pressed for time. I pulled a few all-nighters, but probably more because of a lack of planning on my part.Andover can be a competitive place, especially when it comes to making a varsity sport or getting into a top college. Since it attracts such talented students (academically, athletically, and artistically), it easy to forget about how talented you are yourself.
Athletics:
1.) What did you like best about your school's athletics?
Andover offers a huge variety of sports from the traditional (e.g., football, soccer, and lacrosse) to the less traditional (Nordic Skiing, Ultimate Frisbee). The ability levels are extremely high and Andover teams generally have very successful seasons.I loved being apart of each of my teams (field hockey, swimming, and crew). My teammates and I developed really close bonds with each other. My sports experiences are some of my favorite memories.
2.) What did you like least about the athletics in your school?
Nothing
Art, Music, and Theatre:
1.) What did you like best about your school's art program?
Andover attracts some very talented artists, actors, and musicians. There were always several plays, art exhibitions, vocal and instrumental performances, and poetry readings. I enjoyed attending these performances and shows.Although I did not personally participate in any of the arts programs, I did enjoy the art classes that I took, especially my photography and video classes.
2.) What did you like least about your school's art program?
Nothing
Extracurricular Opportunities:
1.) What did you like most about the extracurricular activities offered at your school?
Andover offers so many clubs and volunteer activities that everyone can find something that they would enjoy. If you don't find the club or volunteer project you want, the administration is very supportive in helping you to establish it.I filled my time with many extracurricular activities. It was a great way to balance out my academics. Even though I played varsity sports, I found time to volunteer during the evenings and on the weekend.
2.) What did you like least about the extracurricular activities offered at your school?
It was definitely challenging to balance academics, athletics, and extracurricular activities. However, this did help to develop my time management skills.
Dorm Life:
1.) What was the best thing about dorm life in your school?
Andover has great dorms. The rooms are really large and many of them have been recently remodeled.I lived in Adams South, a large girls' dorm, for three years. I loved it there. Some of my favorite memories happened after curfew when I bonded with my dormmates. We also had great dorm parents who welcomed us into their homes and lives...whether it was to give us a hug or cook us dinner, they were always there to support and look out for us.
2.) What did you like least about dorm life?
nothing
Dining:
1.) What was the best thing about your dining arrangements?
There are no sit-down dinners, so you can come and go as you please. It was all you can eat, so you never had to worry about going hungry. The dining hall has four main dining rooms, each of which developed its own character depending on who frequented that room (e.g., lower left was always filled with faculty and their families).The food was fine. We did have a great salad bar as well as a sandwich station. The waffle machines were always a big hit in the mornings.
2.) What did you like least about your dining arrangements?
The food was not always the greatest. However, if you did not find something appealing you could always venture down to the Ryley Room (snack bar) or order delivery food.
Social and Town Life:
1.) How welcome did you feel by the other students when you first arrived at the school
Andover has a great orientation program. From day one, you are welcomed right into the community (new students are greeted by cheering students who will help to unload your car and get you settled into your new room). Many seniors belong to the Blue Key Society, a group that organizes orientation. These Blue Keys help the new students get adjusted to boarding school life.Since I came as a 9th grade student, I lived in a large dorm that consisted entirely of other 9th grade girls. This made the adjustment a lot easier because we were all going through it together.9th graders are also placed in triads. These triads consist of about 10-15 fellow 9th graders, who all take the same English, social science, and music classes together during their first year. This also helps students to quickly establish a support group.
2.) Describe the level of diversity and integration of students in your school:
Andover prides itself on attracting a diverse student body. Students come from many different parts of the country and world. They also have extremely different upbringings. Being exposed to such diversity is really a part of Andover's learning experience.
3.) Describe typical fun activities you did on a weekend:
As an athlete, I typically had a game during the day on Saturday. When I returned, I would often hang out with my friends either on campus or in town. Sometimes, we would go to Boston for the day to shop. In the evenings, we would generally order delivery food or go to a day student's house for dinner. At night, we would either watch a movie in someone's dorm, hang out in the Ryley Room, or go to dances in the gym. Sometimes, we would spend the night at someone's house. There was certainly plenty for us to do, so we never got bored.
4.) What was the town like?
Downtown Andover is an easy walk from the campus. Although small, the town offers a CVS, 2 bookstores, a floral shop, some boutique stores, a music store, Starbucks, Bruegger's Bagels, Bertucci's, and much more.If you wanted to go to the movies, you had to take a taxi to the movie theatre. This never seemed to be a problem.Boston is only a 45 minute train ride away and the train station is in downtown Andover, so you can always head into the city if you cannot find what you need in Andover.
Daily Schedule:
Weekday
7:00 AM
Wake-up, shower, grab quick breakfast at Commons
9:30 AM
Conference Period/Break
2:30 PM
Drop books off in dorm and change for sports practice
3:00 PM
Sports Practice or Game (Wednesdays and Saturdays are game days)
6:45 PM
Go to Library or to Club Activity
10:00 PM
Sign back into dorm
Weekend
9:00 AM
Wake-up and get ready for game
7:00 PM
Movie/Ryley Room/Hang out with friends
11:30 PM
Sign into dorm and get food from house parent
As I look back on my life, I found the English Department profoundly brilliant. The level of reading (weekly) was extraordinary. The level of commitment of the faculty was genuine.. . .
Our campus has a cluster system which means we have five somewhat distinct residential communities. It definitely helps build smaller communities within Andover's larger student body. Another thing that was unique about Andover was their. . .
Andover has a need-blind admissions policy, which means that they don't take into account someone's ability to pay for the school when deciding whether or not to admit them. This makes the school much diverse. . .
Show more reviews (

13 reviews

)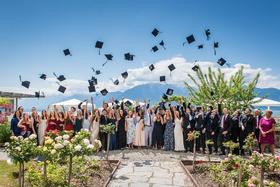 Nurturing Futures: A Journey through Boarding at Haut-Lac School in Switzerland
Nestled in the hills overlooking Lake Geneva in the French-speaking part of Switzerland lies an educational gem that embodies a unique blend of academic excellence, cultural richness and a profound sense of community. Founded over 30 years ago, Haut-Lac International Bilingual Day and Boarding School is now home to both 600 day students and a maximum of 30 boarders from around the world.
What To Wear at Your Job Interview
Navigating job interviews can be stressful, but knowing what to wear shouldn't be. Our comprehensive guide covers the essential dress code tips for men and women interviewing at boarding schools. Make your first impression count with style and professionalism.
Navigating the Modern Maze: Emerging Challenges for Boarding Schools
Explore the pressing challenges facing boarding schools, from marketing difficulties and rising insurance costs to facility maintenance and recruitment of competent trustees and teachers. This article delves into these complex issues and proposes innovative strategies to overcome them.