Reflections and Advice:
1.) What do you think makes your school unique relative to other boarding schools?
The teachers are always available and more than happy to help any student with anything even if it's not for their specific class. The sense of community between the students, faculty, and staff is like no where else I've been.
2.) What was the best thing that happened to you in boarding school?
The relationships I formed with not only other students but the teachers, coaches, and counselors was the best thing about Westminster for me. I realized that after going to Westminster I will never be a part of something with such a tight knit community ever again. Westminster creates not only smarter and more athletic people but it creates good people that greet everyone with a smile no matter who they are.
3.) What might you have done differently during your boarding school experience?
I would have tried to spend more time on campus. Since i was a day student i would go home after sports practices, and now I wish I stayed on campus more.
4.) What did you like most about your school?
I liked the teachers, faculty, and staff at Westminster the most. Every person you meet at Westminster is more than happy to be there and would help anyone with anything.
5.) Do you have any final words of wisdom for visiting or incoming students to your school?
Don't be afraid of any teacher, they are all there for a reason and they want to help you with anything. The people i met at Westminster are some of the best people I think I will ever meet. Take advantage of the amazing people at Westminster.
Academics:
1.) Describe the academics at your school - what did you like most about it?
The teachers at Westminster are like no where else. I became friends with all my teachers and they not only helped me as much as possible with the subjects they were teaching but also anything else I needed help with they offered their services. In my time I found there was a variety of courses and difficulties available. I can honestly say I enjoyed my time very much with all of my teachers at Westminster and I still keep in touch with a lot of teachers.
Athletics:
1.) Describe the athletics at your school - what did you like most about it?
The most important aspect of athletics at Westminster is there is a team and level for everyone. There is a variety of sports and a lot of levels for each sport. Westminster is a great place to try a sport for the first time. I played three different sports at westy that i had never tried before (Lacrosse for three years, squash one year, tennis one year). The varsity teams are very serious and competitive but if you'd rather just play a sport to have fun, there are teams like that as well.
Art, Music, and Theatre:
1.) Describe the arts program at your school - what did you like most about it?
I wasn't involved in the arts much at all at Westminster but I attended almost all of the theater performances, band and chorus concerts, and i took an art class. All of these I enjoyed very much. I also had friends into the arts that loved every minute of it.
Extracurricular Opportunities:
1.) Describe the extracurriculars offered at your school - what did you like most about it?
I was a school prefect, which is equivalent to student council or student government, and in the student council all four years. I was also in the john hay society and a black and gold tour guide. I loved all of these organizations. They all helped me become more involved at school. There are unlimited amounts of clubs and organizations at Westminster to choose from.
Dorm Life:
1.) Describe the dorm life in your school - what did you like most about it?
I was a day student so I don't know too much about the dorm life. But, I do know that the dorm rooms are all very nice and well taken care of. The boarding students invited day students in their rooms all the time.
Dining:
1.) Describe the dining arrangements at your school.
The food in the dining hall has gotten better and better every year I attended Westminster. This shows that the dining hall staff considers advice and makes changed to satisfy the people eating. There is a high diversity of food. I loved all the food in the dining hall and looked forward to lunch every day.
Social and Town Life:
1.) Describe the school's town and surrounding area.
There is a lot to do in the town around Westminster. There are endless amounts of places to eat in 20 minute distance of driving. There are also a lot of restaurants in just 10 minute walking distance. There is also shopping malls, and a movie theater close by.
2.) Describe the social life at your school - what did you like most about it?
Everyone at Westminster knows everyone which makes it a very fun place to be at anytime. There is always activities going on around campus such as dances, outdoor movies on a big screen, and roasting marshmallows over a fire.
Daily Schedule:
Weekday
Weekend
1:00 PM
Hang out on campus
You mostly have all of your classes besides arts and theatres in one building. The Armour Academic Center is a four-floor building that will host most if not all of your classes. It's home to. . .
While Westminster is in the Founder's League, its overall size hovers closely to 400, making it a tightly-knit community where a student at the very least knows everyone's face on campus. The newly built. . .
Family-style dinners bring the community together and are unique to Westminster - twice a week when I was a student - now they do it during lunch.The senior lawn ceremony was special - at. . .
Show more reviews (

7 reviews

)
Mastering the Boarding School Selection Process: A 5-Step Guide
Discover the ultimate 5-step guide to choosing the perfect boarding school for your child. Explore essential factors, such as academics, campus facilities, extracurricular activities, and more. Make an informed decision to provide your child with an enriching and transformative educational experience. Read now!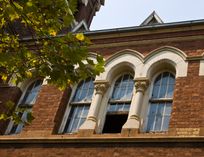 5 Founders and Their Boarding Schools
What prompts somebody to start a boarding school? The motives range from idealism to munificence right on through to capitalism. The common thread seems to be ample capital and a vision of what education can do.