Camden Military Academy - Review #4
About the Author:

College Enrolled
Catawba College
Home Town, State (Country)
Burlington, VT
Years Attended Boarding School
1
Activities During Boarding School
While i was at CMA, I was part of the more athletic groups than anything. I ran cross country coached by John Heflin, an amazing and dedicated coach that is willing to do whatever it takes to win, bond as a team, and to have fun every second together. I played lacrosse coached by Dan Dupree and was chosen to be captain of the team. This was my main sport that i played before going to CMA. Because of coach Dupree, i learned how to control and focus my skills and point them into scoring goals instead of retaliation penalties. We were 9-3 in the year 2011. We lost the first three games and because im a "Vermonter" (from Vermont), the heat was hard for me to handle at a temperature of 92, 93. But as the season moved on, we won every game after those three because we bonded as a team and learned how to make chemistry with one another because of coach Dupree. Not to mention we won the SCHILL Championship, the first time CMA's lacrosse team has won a championship since its been in the program. I received the coaches award at the end of the season and have a wonderful ring to carry with me everyday, and a memory of looking at the first lacrosse championship banner in the gym, still hanging there today. I was also on CMA's drill team before i had to stop drilling because of my dedication to lacrosse. In everyday formations, i was given the title of a "squad leader" that would be responsible for the entire squad. i have lead my squad through cleaning "fall outs" (mandatory cleaning in the bathroom, hallways, or outside) and through formations in parades and simple everyday marching. Being a "squad leader" is a position that makes anyone realize the importance of structure over a group of people, and the difficulties of leading a group of gentlemen in and out of everyday tasks, such as cleaning, home work, and sports.
Daily Schedule:
Weekday
| | |
| --- | --- |
| 6:00 AM | Wake Up |
| 6:15 AM | Fall Outs |
| 6:30 AM | Clean Rooms |
| 7:15 AM | March to Mess Hall |
| 7:30 AM | Eat Breakfast |
| 8:00 AM | Back to Company to get ready for class |
| 8:30 AM | Class Starts |
| 12:00 AM | Lunch |
| 3:15 PM | Classes end |
| 6:00 PM | Dinner and then Study hall, lights out at 10:00 p.m. |
Weekend
| | |
| --- | --- |
| 7:30 AM | Optional Breakfast |
| 8:00 AM | Free Time |
| 11:45 AM | Lunch Formation |
| 12:00 AM | Lunch |
| 2:00 PM | Parades (Not every weekend+time changes) |
| 6:15 PM | Dinner Formation |
| 6:30 PM | Dinner |
| 7:00 PM | Free Time |
| 9:00 PM | Be In Barracks |
| 11:00 PM | Lights Out |
Review

Description

The Citadel

A couple things that make my school unique, is the superb training in leadership and excellence. As well as the environment which pushes everyone to achieve greatness. . .

Stanly Community College

I was not doing well. Lost with no direction. Basically I was failing subjects not attending school so we tried different ways even home school but I would not do the work. I was. . .

Embry Riddle Aeronautical University; Liberty University

The teachers at CMA care. They not only care about your education, but they care about your success as an individual - no matter which direction you decide to head in life. Literally. . .

Catawba College

Camden Military Academy was a very different school. Not in the sense that it was strictly a military school, but because it has had a positive affect on me personally. As i chose to go. . .

University of South Carolina

The first unique aspect of the school is the combined military approach and the factor that not many students are allowed to attend. The way that there is a limited focus of students from. . .

Show more reviews

(3

reviews)
April 20, 2018
Actually, there is no secret to getting your child into boarding school. Just a lot of hard work and a heavy commitment of time.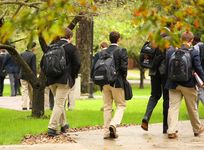 March 22, 2018
Some cynics think single-sex education is old-fashioned. The Kiski School shows how educating boys in a single-sex school is successful.
March 08, 2018
The wide range of fine academic, athletic, and other facilities found in boarding schools underscores the determination of schools to provide the very best for their students.