Reflections and Advice:
1.) What do you think makes your school unique relative to other boarding schools?
St. Andrew's is such a unique place, and it would be impossible to choose just one thing that separates St. Andrew's from any other boarding school. The most obvious difference is probably that St. Andrew's is 100% boarding, which definitely boosts the school's culture in a positive way. Being 100% boarding means that we are a group of individuals that eats, works, and plays together. We don't have day students coming in and out of the picture. I think that not having day students contributes to the very strict approach St. Andrew's has towards drugs and alcohol. St. Andrew's does not have the problems with the outside influences of alcohol or drugs that are prevalent in other boarding schools. I can say with certainty that St. Andrew's is one of the only high schools in the country without drug or alcohol problems. Everyone at St. Andrew's knows and trusts one another, and St. Andrew's not be such an honorable place without being 100% boarding.Another big difference about St. Andrew's is the people. Everyone at St. Andrew's works hard and wants to be there. St. Andreans all strive for their absolute best while at the same time supporting one another. Every person at this school is talented in their own unique way; each person has their own touch of genius. Furthermore, the relationships that I have forged during my time at St. Andrew's are second to none. I know with certainty that my friends from St. Andrew's will be my friends for life; relationships like these are few and far between.
2.) What was the best thing that happened to you in boarding school?
St. Andrew's is the best thing that could have happened to me. I feel so blessed that I was able to spend three years there (I was a new sophomore). St. Andrew's turns students into confident and happy adults. I know that a lot of people go to boarding school to get into a better college, but I honestly got so much more out of my time at St. Andrew's than just a college acceptance letter. St. Andrew's emphasizes core values, as well as being modest. St. Andrew's teaches students to think critically about everything and poke holes in even the strongest of arguments. My writing and my thinking skills have grown enormously.I have accomplished a lot during my time at St. Andrew's, but I really don't want to list specific achievements. To be general, I have changed a lot. I am a stronger thinker. I am better at tennis, squash, and running. I have chosen to become more religious. I can sight-sing just about any piece of music out there. I can hammer out a well-written paper in a short amount of time. I can balance my time. I have made some of the best friends I could ever ask for. I am a more outgoing person now.
3.) What might you have done differently during your boarding school experience?
My advice is to be always involved in the community, and to always try new things. I decided to try Chinese on a whim because it sounded interesting, and now I am thinking of majoring in East Asian Studies in college.Don't worry about being homesick too much. There will always be people watching out for you once you arrive, and when you go home you will realize that things really haven't changed too much.Also, remember that there will be times when it won't all be easy. As is true with anything, you will make mistakes, question yourself, fight with your roommate, etc. But what I found at SAS was that the good always outweighed the bad. It was all worth it in the end.
4.) What did you like most about your school?
The people, and everything else that I have listed above.
5.) Do you have any final words of wisdom for visiting or incoming students to your school?
Enjoy every free day! Especially Spring Free Day. I smile just remembering the early morning shouts of "Meeting in Engelhard!" across the dining hall during what would otherwise be a lackluster day full of classes. After a snowy winter, Spring free day is always one of the first warm Spring days, and Mr. Roach addresses the entire student body before declaring that everyone has the day off of classes. After school meeting, students scamper to claim their spot in the grass on the Front Lawn, and spend the day being lazy under the sun, swimming in the pond and laying in the grass with friends.Also, get to know the teachers, and stay close with your advisor. They're the best!
Academics:
1.) Describe the academics at your school - what did you like most about it?
St. Andrew's academics are really strong, and the simple truth is that the only way to succeed at St. Andrew's is by virtue of effort. At the same time, the school's community is nothing but supportive; all St. Andrew's faculty members are always willing to take the time outside of class to answer extra questions or review a little longer for a test (even if the questions are outside of the subject that they teach). The teachers are nice and helpful. The academic environment is competitive but not overwhelmingly so. Any St. Andrew's student that is willing to help out another student. The workload definitely increases a lot with each year, but this also teaches students how to balance their time well.
Athletics:
1.) Describe the athletics at your school - what did you like most about it?
St. Andrew's does really well in athletics for being such a small school. Every sport is competitive with other schools, and most of the St. Andrew's sports are actually among the best in Delaware. Tennis was always my main sport and at first I found it very frustrating that I could only play tennis during the spring season. But because of this rule, I picked up cross-country and squash, two sports that I grew to love. My senior year I gave up cross-country to have a fall IP so that I could focus on tennis again. Still, I am glad that I participated in cross-country and squash. I should also mention that St. Andrew's recently opened up a new field house. It is an incredible facility and I was so lucky to be able to use it, even if only for a year.
Art, Music, and Theatre:
1.) Describe the arts program at your school - what did you like most about it?
Choral Scholars is a really rigorous choral program at SAS, and that was my main focus in the arts during my time as a St. Andrean. I wish I had been able to spend more time in other areas of the arts program at St. Andrew's. That being said, I loved Choral Scholars. Choral Scholars often sings in chapel on Wednesdays and Sundays, and we perform in several off-campus concerts every month. Choral Scholars also voyaged to Eastern Europe this past spring break to sing in numerous cathedrals. It was the trip of a lifetime. At St. Andrew's there are also other singing opportunities, really great visual arts classes, a theatre program, and even a dance program. Arts weekend every year is really impressive, and I am constantly blown away by the talent of my classmates.
Extracurricular Opportunities:
1.) Describe the extracurriculars offered at your school - what did you like most about it?
There are a ton of extracurricular activities at SAS, and people are starting new clubs and organizations all the time. I liked being in the clubs a lot because there was always something to keep me busy, and many of the club activities were a lot of fun. St. Andrew's has a huge commitment to community service, and on Tuesdays (which are half-day) most of the school goes off campus to do service in the community.
Dorm Life:
1.) Describe the dorm life in your school - what did you like most about it?
Dorm life is always fun. Every night the dorm checks in after study hall and then hangs out and plays games together. St. Andrew's doesn't let students have internet in their rooms, which keeps students from spending too much time alone in their room. The teachers that live on dorm are carefully chosen, and they always make sure that everyone feels included. I lived in a double every year at St. Andrew's, and I always got along well with my roommates. The only complaint I have about dorm life is very minor: the junior girl dorms are far away from the rest of the dorms. I really liked the SAS tradition of spreading the seniors out among the underclassmen dorms instead of having one dorm allotted just for the seniors. It brings the community together and really encourages everyone to get to know each other.
Dining:
1.) Describe the dining arrangements at your school.
The dining hall is a big hang out spot for students. Breakfast is open every morning but it is not required senior year. Students have assigned seating at lunch during the week, with each table having a boy and a girl from each grade and two teachers. There is also a formal dinner before chapel on Wednesday nights that everyone gets dressed up for. Dinner is not assigned seating. The lunch table seating rotates every two weeks, so that students are never at one table for too long. I like this setup because by the end of the year, you have had a conversation with everybody else at the school. The food at St. Andrew's is sometimes really good and sometimes isn't.
Social and Town Life:
1.) Describe the school's town and surrounding area.
Middletown, Delaware would seem to be the middle of nowhere, but it really isn't that bad. Obviously it is not a city, but there is an ACME grocery store within a ten minutes walk and there are plenty of restaurants in town. There is a huge mall (Christiana Mall) about half an hour away. Each weekend at St. Andrew's, there are plenty of town trips driven by teachers for students to go on. I liked being able to leave the St. Andrew's bubble every once in a while, and the proximity of the town was really nice.
2.) Describe the social life at your school - what did you like most about it?
I liked that there really aren't bad people at St. Andrew's. The community is one of the friendliest I have ever encountered, and I feel so lucky to have been a part of it. By the middle of senior year, everyone in my class got along so well. Because St. Andrew's is on the small side of boarding schools, everyone knows each other inside and out.
Daily Schedule:
Weekday
4:00 PM
Sports practice begins
6:00 PM
Sports practice ends
6:30 PM
Shower and dinner time
7:00 PM
Hang out with friends/ study if I have a lot of work
10:00 PM
Check in on dorm, dorm hang out time
Weekend
10:00 AM
Choral Scholars rehearsal
3:00 PM
Tennis with friends
5:00 PM
Walk to Starbucks with friends
7:00 PM
Get started on homework for the night
10:30 PM
Dorm clean-up and hang out time
St. Andrews not only has the most incredible ethos but uses that ethos among the student body to do good. The small student population allows no one to slip under the cracks, and it's the. . .
I think that the small student body and close knit community of St. Andrew's makes it very unique. With a student body of only about 300 students, you know everyone's name and they know yours. . .
St. Andrew's feels like a second home to me. The teachers are not only dedicated to education and fostering critical thinking in all disciplines, but also in making the school a comfortable and friendly environment. . .
Show more reviews (

10 reviews

)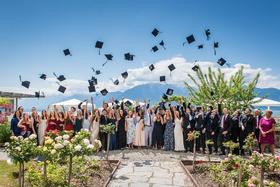 Nurturing Futures: A Journey through Boarding at Haut-Lac School in Switzerland
Nestled in the hills overlooking Lake Geneva in the French-speaking part of Switzerland lies an educational gem that embodies a unique blend of academic excellence, cultural richness and a profound sense of community. Founded over 30 years ago, Haut-Lac International Bilingual Day and Boarding School is now home to both 600 day students and a maximum of 30 boarders from around the world.
What To Wear at Your Job Interview
Navigating job interviews can be stressful, but knowing what to wear shouldn't be. Our comprehensive guide covers the essential dress code tips for men and women interviewing at boarding schools. Make your first impression count with style and professionalism.
Navigating the Modern Maze: Emerging Challenges for Boarding Schools
Explore the pressing challenges facing boarding schools, from marketing difficulties and rising insurance costs to facility maintenance and recruitment of competent trustees and teachers. This article delves into these complex issues and proposes innovative strategies to overcome them.