Reflections and Advice:
1.) What do you think makes your school unique relative to other boarding schools?
Blue Ridge is a one of a kind boarding school. This gem is hidden back at the feet of the Blue Ridge Mountains. The campus is one of the most beautiful that I have ever seen. The teachers at Blue Ridge almost become like your parents and the students like your brothers. The coaches and teachers at Blue Ridge School have helped me not only helped me get into college but also they have made me good enough to play a collegiate sport.
2.) What was the best thing that happened to you in boarding school?
The best thing that has happened to me at Blue Ridge besides finding Blue Ridge, was finding lacrosse. I had never played before in my life but I love the idea of it and I had played football and basketball so I started to play. It was a hook and I am now playing NCAA lacrosse and I love every minute of lacrosse from throwing on the wall, to lifting, to running. Blue Ridge helped me not only find a sport that I love but also to play that love at a collegiate level.
3.) What might you have done differently during your boarding school experience?
I am an outgoing and friendly guy and I introduced myself to everyone the first week. I talked with everyone and got to know a lot of people that initiative actually built the foundation to the friendship that I still have. My advice would be is to open up and embrace your boarding school. Talk with kids you don't know, you will be living with them for the school year it's better to be friends then enemies.
4.) What did you like most about your school?
Honestly Blue Ridge takes kids and makes them college ready young men. They turn peers into brothers and I feel that is the best part about Blue Ridge. I would also probably say 9 out of 10 guys who graduate from Blue Ridge say it's the friends they have made here that was the best part. I know everyone from Blue Ridge and most if not all feel like brothers to me, I have brothers from Canada, China, Korea, Nigeria, Saudi Arabia, Russia, Greece, and Kazakhstan. I have brothers from the United States that are all over the place from Virginia, to Georgia from California to Alabama from Louisiana to New York and everywhere in between. I talk with them on a regular basis still and can't wait to hang out again with them.
5.) Do you have any final words of wisdom for visiting or incoming students to your school?
Blue Ridge has changed my life for the best I love my high school and if you talk with other alumni then you will hear the same thing that I am saying because its true. Blue Ridge is my second family they took me in and now I am leaving it kinda feels like when I left Florida to Blue Ridge just the reverse.
Academics:
1.) Describe the academics at your school - what did you like most about it?
The academics at Blue Ridge push the students to their potential. Mr. Bennett the academic dean has been keeping up with the student's grades as well with their teachers. I struggled as a student in a couple subjects and needed some help. I could talk with fellow classmates on the dorm halls, or my teachers, after school most to all of them also live on the campus. The thing I really reacted well to was the fact that they actually cared about if I understood it not just to get me out of their hair.
Athletics:
1.) Describe the athletics at your school - what did you like most about it?
The athletics at Blue Ridge are very strong and also numerous. Blue Ridge's small student body makes it favorable for students to try new sports. The big four sports on campus are football, soccer, basketball, and lacrosse. They are the big four because all four almost always win their conference and make it into the playoffs. The thing I enjoy the most from the sports is the team you play with has that boarding school chemistry and it shows in the performance.
Art, Music, and Theatre:
1.) Describe the arts program at your school - what did you like most about it?
The art program at Blue Ridge is a long built up program thanks to Mr. Welty as there are several art pieces in and outside the dorms. Blue Ridge hosts an art show that showcases the students work. The theatre program has been also long expected to be excellent; the program is under the new command of Mr. King. The presentation of the 2011-2012 play "Oliver" was a smashing hit as expected, Jessup auditorium was filled to major capacity both nights. The music program is still building on its long history as it is under Mr. King as well. King says "Not only will the vocal music continue to excel but the instrumental side will begin to gain more focus at Blue Ridge" Hinting to new development in the music department.
Extracurricular Opportunities:
1.) Describe the extracurriculars offered at your school - what did you like most about it?
At Blue Ridge the structure helps the students study and does well academically and athletically. However the structure was also designed to give the students free time in which they can do what they want. If a student want to lift weights in his free time he is welcome to, if they want to fish they can, go canoeing they can, go on a hike they can. There is also the option to sit in your dorm room and relax, use Facebook, or use Twitter, or just watch TV. Then even more you can study in the library, talk with a teacher, or start your homework or study early.
Dorm Life:
1.) Describe the dorm life in your school - what did you like most about it?
I came from a house where I had my own room and didn't really have to share. When I moved to Blue Ridge I was dropped into an environment where I needed to share my room. My roommate Grey and I hit it off well we became good friends and are still today. I regretted a roommate but later enjoyed having one it was a friend that you are almost guaranteed. It is an experience that has prepared me for college and I am thankful for it.
Dining:
1.) Describe the dining arrangements at your school.
Blue Ridge has three meals served a day. However none of them are mandatory they are suggested however. The food is great each week is a new genre of food. If the food being served is not to your liking Blue Ridge has a salad bar, two soups offered every day, a sandwich bar, a panini maker, a cereal bar. On the weekends there is a Belgium waffle maker as well as a omelets bar. There is food at Blue Ridge even for the students who are vegetarian or who are allergic to Gluten.
Social and Town Life:
1.) Describe the school's town and surrounding area.
Blue Ridge is nestled back in the mountains. The views on campus and the drive up to campus are beautiful views of the Blue Ridge Mountains. The drawback to such a scenic campus is that it's about 20 minutes from Charlottesville. Blue Ridge sends town trips every Sunday into town and the teachers at Blue Ridge understand your situation and can sometimes take you into town if you need something. Every student has an advisor and they have monthly outings into town where you all go to dinner where you choose.
2.) Describe the social life at your school - what did you like most about it?
The social life is not the same as a normal high school. At Blue Ridge the roughly 195 students all become much closer then at a normal high school. The boys at Blue Ridge grow on each other and by the end of the year you see how close you all are when you are at your graduation ceremony. Blue Ridge also attends all girls' school events such as dances and mixers.
Daily Schedule:
Weekday
10:00 PM
Student shop open
Weekend
Over all, Blue Ridge School is a fantastic place for those who love the out doors. Not only is the Outdoor Program #1 in the country, but the campus is located on 400 acres of. . .
Blue Ridge is a one of a kind boarding school. This gem is hidden back at the feet of the Blue Ridge Mountains. The campus is one of the most beautiful that I have ever. . .
In my family nearly every male for the past eight generations has attended a boarding school. My father went to Woodberry Forest, his father went to Episcopal HS in Alexandria, and his father went. . .
Show more reviews (

4 reviews

)
Mastering the Boarding School Selection Process: A 5-Step Guide
Discover the ultimate 5-step guide to choosing the perfect boarding school for your child. Explore essential factors, such as academics, campus facilities, extracurricular activities, and more. Make an informed decision to provide your child with an enriching and transformative educational experience. Read now!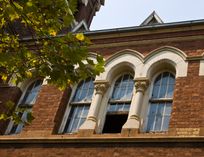 5 Founders and Their Boarding Schools
What prompts somebody to start a boarding school? The motives range from idealism to munificence right on through to capitalism. The common thread seems to be ample capital and a vision of what education can do.