Reflections and Advice:
1.) What do you think makes your school unique relative to other boarding schools?
Wasatch Academy's location in central Utah definitely adds a very unique feel to the school Even though Mt. Pleasant is a rural town, the proximity to Provo and SLC allows students to get the best of both worlds. So, while Wasatchers are on campus for most of the week, during the weekends they are able to explore the outdoors or go to the shopping mall 45 min away. Moreover, the teacher's commitment to the school's learning philosophy that no student learns the same way makes it easy for kids to know that the adults care about their development.
2.) What was the best thing that happened to you in boarding school?
I believe that Wasatch Academy provided me with much needed academic skills to succeed in a college setting. Moreover, WA also strengthened my character by allowing me to explore and discover who I truly wanted to be. By being in such a diverse campus, I got to know cultures and perspectives that I wouldn't value as much as I do nowadays if it was not for WA. During my high school years, I discovered that it was okay to be different and follow my own path, as long as that meant that I was being my best self. All the hard work during my high school years paid off when I got full rides to schools all over the United States, and I am so thankful that Wasatch was such a big part of my life.
3.) What might you have done differently during your boarding school experience?
I would just tell any kid looking for a boarding school to make sure that they make the best out of their high school years. Going to boarding school allows you to grow as an individual and possibly even discover what your passions are before you even get to college, and that is an invaluable lesson!
4.) What did you like most about your school?
At Wasatch Academy, I loved that I felt part of something bigger than myself - I was constantly feeling happy and proud of those around me. I embraced the school's mission and realized how much I appreciate getting to know different people and where they're from. Feeling as if you're cared for by such an outstanding group of faculty and staff leads you to hold yourself accountable for your actions, and that is something every teenager should learn.
5.) Do you have any final words of wisdom for visiting or incoming students to your school?
Get to know the faculty! They are amazing individuals and they have great life stories to share. Also, WA is what you make of it. If you take advantage of what it has to offer and see how great you have it there, it will become a place you can always go back to and still feel like it's ''home''. At WA, your high school experience will be unique - yet unforgettable.
Academics:
1.) Describe the academics at your school - what did you like most about it?
I loved that my teachers were so approachable and easy to get in touch with. They were very helpful, especially when I would go to their classrooms for evening study halls. WA teachers went out of their ways to make sure students were learning at their highest level, and were very creative about introducing unique teaching mechanisms. I did have a lot of homework indeed, but that depends on the classes you were taking. If you choose to take a majority of AP classes, obviously you will have a lot of work. However, it pays off once you go to college and can skip general requirements. Additionally, the environment when I was at WA was of support, not competition. Students get to know each other very well, leading them to being proud of each others' accomplishments and honors. When I got into my school of choice, all my friends were jumping up and down of joy with me, and that was truly one of the best moments of my high school career.
Athletics:
1.) Describe the athletics at your school - what did you like most about it?
My favorite part about WA athletics was that there are no try outs - everyone is guaranteed to participate in a sport they'd like to try. Even though that doesn't mean you will be a starter for varsity, you will still get amazing coaching and a lovely team experience. WA offers all kinds of sports and we truly stand out in a few of them. Basketball is currently the school's most competitive sport - we won the State Title in 2011. Moreover, soccer does pretty well every year, since we have students coming from all over the world and soccer is such a global sport. The boys and girls teams won region titles in 2011! Being a part of a team at WA is a great experience and you get to know your peers even more through team building and bus rides to other schools. We are a 2A school, so even though we are not very big, we still have very good competition.
Art, Music, and Theatre:
1.) Describe the arts program at your school - what did you like most about it?
My experience with arts at Wasatch is mostly linked to dance, and that was definitely one of my favorite parts about WA. The dancers build a great link through daily practices and performances. Also, I know that WA students excel in many areas of the arts. There are all levels of Drawing/Painting classes, including AP Art. Many of our graduates go to arts schools. In addition to that, we have film and digital photography, ceramics, game design and digital art design, that students take great advantage of. The theater program is also splendid - they recently renovated the auditorium to allow for a better space for student performances.
Extracurricular Opportunities:
1.) Describe the extracurriculars offered at your school - what did you like most about it?
I loved that there was an incredibly diverse array of extracurricular activities. One of my favorite things about WA were the equestrian and ski/snowboarding programs. We have a private Ski Cabin very close to campus, and students can go skiing at the hill everyday after class if they choose to. Moreover, the new barn and indoor arena are great for those that like to ride horses. I also spent a lot of my time doing volunteer work, from helping at the Ronald McDonald House in Salt Lake City to speaking at local middle schools. Our National Honor Society chapter is really active and we are constantly doing philanthropy and putting together school-wide events.
Dorm Life:
1.) Describe the dorm life in your school - what did you like most about it?
I really enjoyed that the dorm parents were so caring and easy to talk to. When I first got to WA from abroad, I was very scared of living by myself without knowing anyone. However, through the dorm events, I made friends quickly and the girls I was living with became more like sisters. WA offers a great dorm life curriculum - weekly meetings about all sorts of topics build community and instigate interesting conversations. The meeting topics range from learning techniques, body image issues to college life. Also, as a dormitory prefect, I gained great leadership experience and was able to guide younger girls to having a great residential life experience.
Dining:
1.) Describe the dining arrangements at your school.
The WA cafeteria serves all of our meals, and students are free to sit with whomever they'd like. Once a month, WA holds a ''Formal Dinner,'' which is usually when academic/athletic awards are given out. For those, students are required to wear formal wear and sit with their academic adviser. However, at all other times, the environment is casual. The food is a lot better than what I currently get in college, since it still has a home made touch to it. They always have a salad, soup and sandwich bars, in addition to the main courses available.
Social and Town Life:
1.) Describe the school's town and surrounding area.
Mt. Pleasant is a very cute and tiny town. The ''Old West'' architecture is very unique to this part of the country and the mountains surrounding our school add a beautiful touch to our campus. Even though Mt. Pleasant is small, there are still a few restaurants that students can go to if they want to eat something special. My favorite is ''El Mejicano,'' which is pretty close to campus. Mt. Pleasant also has a fairly large grocery market and a ''Family Dollar'' store. There are also cute diners around, and a Drive-In movie that students take trips to.
2.) Describe the social life at your school - what did you like most about it?
I loved that I got to share amazing experiences with people from all over the world. We went on amazing school sponsored trips and got to know the United States better, including the Grand Canyon, Utah's national parks and Las Vegas. The weekend recreational trips were numerous and very entertaining, and one of my favorites was the Real Salt Lake soccer games. Besides that, students go to NBA games, musicals, dance performances, etc. When not off campus, we put together really fun activities, such as dodge ball championships in which students put on crazy costumes and compete for prizes.
Daily Schedule:
Weekday
3:30 PM
Extracurricular Activity
Weekend
3:00 PM
Get on school's buses
4:00 PM
Get to Salt Lake City for a shopping trip or cultural event
7:30 PM
Dinner in the city
10:30 PM
Get back to campus
Rural area, international environment, attentive staff and faculty, student-focus activities-those are what Wasatch is praised for but what really impressed me was a speech given on Founder's Day about our endowment. Mr Loftin (school headmaster). . .
Wasatch Academy's location in central Utah definitely adds a very unique feel to the school Even though Mt. Pleasant is a rural town, the proximity to Provo and SLC allows students to get the best. . .
During my time at WA, it felt like the entire staff were my mentors, and supporters to do well in school, athletics and life in general. From the teachers, to my Dorm Parent, to. . .
Show more reviews (

1 review

)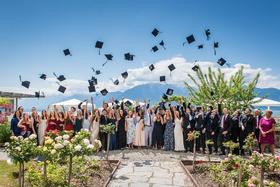 Nurturing Futures: A Journey through Boarding at Haut-Lac School in Switzerland
Nestled in the hills overlooking Lake Geneva in the French-speaking part of Switzerland lies an educational gem that embodies a unique blend of academic excellence, cultural richness and a profound sense of community. Founded over 30 years ago, Haut-Lac International Bilingual Day and Boarding School is now home to both 600 day students and a maximum of 30 boarders from around the world.
What To Wear at Your Job Interview
Navigating job interviews can be stressful, but knowing what to wear shouldn't be. Our comprehensive guide covers the essential dress code tips for men and women interviewing at boarding schools. Make your first impression count with style and professionalism.
Navigating the Modern Maze: Emerging Challenges for Boarding Schools
Explore the pressing challenges facing boarding schools, from marketing difficulties and rising insurance costs to facility maintenance and recruitment of competent trustees and teachers. This article delves into these complex issues and proposes innovative strategies to overcome them.