Reflections and Advice:
1.) What do you think makes your school unique relative to other boarding schools?
Rural area, international environment, attentive staff and faculty, student-focus activities-those are what Wasatch is praised for but what really impressed me was a speech given on Founder's Day about our endowment. Mr Loftin (school headmaster) disclosed that the endowment was divided fairly into 3 portion: for international students, domestic students and Utah students. Plus, despite of the stereotype about rich boarding school kids, there is actually a good number of students going to Wasatch with a large scholarship package.That way, there is always a good mix of the student body in term of genders, races, culture, financial background, and many more. It makes Wasatch Academy a dynamic representative of the bigger world and teaches the students how to make the best of their lives as the world is coming closer together.
2.) What was the best thing that happened to you in boarding school?
Wasatch literally changed me, in a good way. It gave me confidence, personality development, friendships and unnameable things that I value for life. Best decision I have in my life so far.
3.) What might you have done differently during your boarding school experience?
Please please please take advantage of everything the school offers. You/your parents/your grandparents/etc paid a decent amount of money for it.
4.) What did you like most about your school?
This question is too hard. I can't rank them.
5.) Do you have any final words of wisdom for visiting or incoming students to your school?
The new dorm "The Zoe" is super nice, the Shaved Ice shop near by is pretty sweet. Talk to the townie, they'd love to share stories and listen to yours.Visiting Wasatch or coming to Wasatch, you will meet students complaining non-stop about the school. Do not let them shape YOUR experience at school. No matter how perfect the school is, your own effort and attitude are what really make the experience. Obviously Wasatch is not perfect so some negative attitude from some students is unavoidable. But it's certain that the school is trying their best so they will need you cooperation.
Academics:
1.) Describe the academics at your school - what did you like most about it?
The teachers at Wasatch really earned my respect. The unique thing about a boarding school usually is its size and its closed environment, which is the best way for students to know their professors beyond the classroom. Personally, my impression on how well-rounded, talented and still serious. For example, my chemistry teacher has been to more about 24 countries, teaches chemistry and AP biology; my English teacher was an expert in his field and can play ukulele; my Math teacher used to be in Marine and had IQ of a genius; and many more. In other words, they are our models and inspiration. I certainly did not want to do poorly and disappoint my inspiration.Although there is a wide range of classes from fine arts to technology for an even wider range of students, the high-end classes not as challenging as it should be, or could be. The workload, even for seniors are fairly light so it might shock the students when they take intense courses in college after Wasatch.
Athletics:
1.) Describe the athletics at your school - what did you like most about it?
Wasatch is very well-known as a athlete recruiter, especially in basketball, and it worked. Proof is we have been announced as Utah state champion twice since I first went there. It really creates the school pride as well as competitiveness in each student body. We did not get along very well with North Sanpete, the other high school in town. But, ah well, can't make everyone happy.Other than that, Wasatch has some good policies to keep the students active. Every students are required to join extracurricular activities after class time (9AM-3PM) and most of them are sports, either competitive or intramural. Plus, throughout the year, there are sporting events that are held by the school and the students are given the incentive to participate.
Art, Music, and Theatre:
1.) Describe the arts program at your school - what did you like most about it?
Arts program at Wasatch is truly incredible. The school has been focusing on giving the students the best creative environment to develop in. Last year, Wasatch finished renovating an old warehouse into a new building for visual arts. I really love its rawness, bare wooden wall and glass wall design; they make a perfect art studio. I'm actually ridiculously jealous of the kids who are lucky enough to have classes in that building now. So if you end up deciding to go to Wasatch, whoever's reading this review, please take advantage of this building.I'm not really familiar with music and theater fields but all I know that I love every single performance or play that they put together. We do have a talented group of kids.
Extracurricular Opportunities:
1.) Describe the extracurriculars offered at your school - what did you like most about it?
Every spring break, the school has service trips to different countries in the world like India, Vietnam, France and Costa Rica. It gives the students a chance to experience lives other than their owns. The trips always have a significant influence on our perspective and followed by non-stop effort to help others. As the result, more and more students apply to go on oversea trips each year and the program is definitely growing.Personally speaking, I went on the service trip to Vietnam last year as a guide/translator/helper and it was one of the best experience I had at Wasatch. Although it's my home country, the trip gave me a chance to perceive it differently, both the goods and the bads.
Dorm Life:
1.) Describe the dorm life in your school - what did you like most about it?
The room size and furniture are standard, 2 students per room. Students are divided into dorms base on their class. Returning students get to choose their roommate the prior to the school year. The dorm parents live in their own apartment with their family but it's also located in the dorm, which is very convenient. However, there is not much access to late night food after 9PM, which is pretty sad sometimes, especially during the final week. In general, my dorm life was pretty awesome.
Dining:
1.) Describe the dining arrangements at your school.
Our cafeteria is friendly wooden looking, which makes me feel warm in the long cold Utah winter. Compare to other high school, Wasatch food is definitely on the higher end in term of quality and variety. Korean stir fried beef, Greek sandwich Gyro, Peking duck, Mexican chilli, Indian curry, miso soup, salad of all kind, Chinese fried rice, Vietnamese noodle, tacos, sushi, hot-dogs, corn-dogs, spaghetti, pasta, meatball, fried chicken, clam chowder, buffalo chicken wings, vegetarian burger, seaweed salad, squid salad, brownies, cookies, cheesecakes, scrambled eggs, boiled eggs, sausages, pancakes... My point is: you name it, they have it. If they don't have it, they will try to make it for you.
Social and Town Life:
1.) Describe the school's town and surrounding area.
There isn't much to do in this area but the people here are the nicest people I have ever met in my life. I'm sure having a boarding school there definitely has enhanced their business significantly so they always welcome us. It's a peaceful little town.FYI: center Utah right here!
2.) Describe the social life at your school - what did you like most about it?
It's high school, drama is unavoidable but Wasatch is where you're least likely to find it. Plus, we basically live together, eat together, study together like a family. And nobody would be able to treat family badly.
Daily Schedule:
Weekday
8:00 AM
Last snooze from the alarm clock, crawl to the shower
11:00 AM
Lunch and sunbathe
3:00 PM
Class ends and block class starts (sport or extracurricular activities)
7:30 PM
Homework by yourself or structured study hall with the teachers
9:30 PM
Study hall over, back in the dorm.
Weekend
9:45 AM
Wake up naturally without an alarm clock
11:30 AM
Shower then brunch
12:30 AM
Brunch over so I'm just chilling on the quad with my friends while waiting for the bus
2:00 PM
The chaperon and the bus show up to take us to the a dance show in salt lake city
5:00 PM
Bus arrives in salt lake city, we can walk around and look for dinner with >$7 each, given by the school
7:00 PM
Show time, get back to the theather
9:00 PM
Show ends, back on the bus to go back to campus
11:00 PM
Back on campus and chill with people in the dorm, dorm closed
Rural area, international environment, attentive staff and faculty, student-focus activities-those are what Wasatch is praised for but what really impressed me was a speech given on Founder's Day about our endowment. Mr Loftin (school headmaster). . .
Wasatch Academy's location in central Utah definitely adds a very unique feel to the school Even though Mt. Pleasant is a rural town, the proximity to Provo and SLC allows students to get the best. . .
During my time at WA, it felt like the entire staff were my mentors, and supporters to do well in school, athletics and life in general. From the teachers, to my Dorm Parent, to. . .
Show more reviews (

1 review

)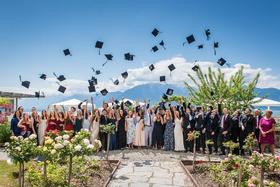 Nurturing Futures: A Journey through Boarding at Haut-Lac School in Switzerland
Nestled in the hills overlooking Lake Geneva in the French-speaking part of Switzerland lies an educational gem that embodies a unique blend of academic excellence, cultural richness and a profound sense of community. Founded over 30 years ago, Haut-Lac International Bilingual Day and Boarding School is now home to both 600 day students and a maximum of 30 boarders from around the world.
What To Wear at Your Job Interview
Navigating job interviews can be stressful, but knowing what to wear shouldn't be. Our comprehensive guide covers the essential dress code tips for men and women interviewing at boarding schools. Make your first impression count with style and professionalism.
Navigating the Modern Maze: Emerging Challenges for Boarding Schools
Explore the pressing challenges facing boarding schools, from marketing difficulties and rising insurance costs to facility maintenance and recruitment of competent trustees and teachers. This article delves into these complex issues and proposes innovative strategies to overcome them.