Reflections and Advice:
1.) What do you think makes your school unique relative to other boarding schools?
Well, if you have read the other reviews below, you will probably have read enough about NMH's work job program. However I can't stress enough how much the work job program has prepared me for my life outside of boarding school. Sure, I got experience working, but that's not what I'm talking about. Learning how to manage my time juggling rigorous boarding school work and actual work is something many students don't get to learn. Also, I think the work program really humbles students. There are some who have never lifted a finger for themselves and we are given the opportunity to get to know our school's staff and faculty members more.
2.) What was the best thing that happened to you in boarding school?
NMH has a larger percentage of international students compared to other boarding schools. It's surprising how different an international student body can enrich a school's atmosphere in all sectors whether it be in arguments in class, abilities in the arts or just visually ( clothes, hair, etc). Having a lot of international students with varying opinions really enriched my perspectives on philosophy, food, and life in general. That's one big general thing.Another important thing for me was overcoming my fear of public speaking and learning to be more outspoken. I actually joined debate my freshman year but quit immediately. I did the same thing sophomore year. Finally I stuck with it my junior year and on top of that I added MUN to my schedule. Forcing myself to participate more, I gradually became more confident in my speaking abilities and by the time I graduated I had acquired leadership roles for both activities. There are, of course, many other things that happened that were great, but these changes can occur at almost any boarding school, really.
3.) What might you have done differently during your boarding school experience?
I regret not joining certain clubs or activities earlier during my time at Boarding school. It's because I was to nervous or afraid to try certain new clubs, such as debate or Model UN because I wasn't great with public speaking at all and I guess I was a bit intimidated by the very talented upperclassmen.Honestly, it's a waste to go to boarding school if you aren't willing to face new challenges and experiences. It took awhile, but I finally got there. Yet only if I pushed myself a bit earlier, I think I would have learned more during my time at NMH and maybe would have had a bit more fun.
4.) What did you like most about your school?
I'm not a religious person. However, I like "messages". NMH has the message of the Head, Heart and Hand. Although that message is emphasized quite too often (in my opinion), I admire and appreciate the school's willingness and belief in that message, regardless of whether they(administration members) truly believe in it themselves. As adolescents, high schoolers are still growing and having that type of well rounded mission to educate the head heart and hand in noble and important, compared to the perception of just educating the brain.
5.) Do you have any final words of wisdom for visiting or incoming students to your school?
The physical aspects (dorms, food, etc) are all things you'll come to learn eventually during you time at NMH. All the dorms are great. It's all how you make it out to be. I know girls who have lived in at least three different dorms, and they liked all three of them. Foods food. There's variety, but you'll be able to enjoy all of what's there. But here's some other things to note.1. IT'S COLD (winter): BRING WARM WARM WARM CLOTHES AND LAYERS 2. The best work jobs are Student Sysop, International Ambassador, and Building Monitor 3. Other things....you'll have to find out for ourself
Academics:
1.) Describe the academics at your school - what did you like most about it?
I liked the way our schedule worked. Other boarding schools stick with the 8 periods a day schedule while NMH has a block schedule with only four periods a day (three classes a day). Both have it's pros and cons. However I believe the block schedule has more pros than the other type of schedule. With three classes a day (1hr 20min each), I and other students definitely felt more engaged in the subject. Usually it takes a while for the class to settle in and then to learn a subject for 30-40 or so minutes is not enough for material to sink in, especially when you have 5 or six other classes to think about for the rest of the day. Now, just because we had only 3 classes didn't mean our workload was small. We still had at least an hour's worth of hw for each class. The only downside to the schedule was when AP exams came and it was difficult to review for a class you had in the Fall semester. However, MOST people manage and it all works out in the end. In terms of actual classes and the quality: I can't try to say NMH's classroom environment is better than any other boarding school's. It's not worse either. It's basically the same as any other top boarding school. Classes are small (the largest I was ever in was 20, but that only happens in a math class. The smaller I was ever in was 5 kids). We have really great, intelligent teachers with years of experience, and then we have some "eh" teachers, but what school doesn't? Was it competitive? Only if you made it that way. The kids who wanted to be competitive in terms of academics made it competitive. Unlike my misconception of boarding school, not every single student is on high honors and aiming to be valedictorian (same goes for other schools). But the atmosphere was definitely more competitive than a regular public school. I mean, come on. If we all came to boarding school and some groups of people have similar goals, staying in a tight knit community can create some tension.
Athletics:
1.) Describe the athletics at your school - what did you like most about it?
One team sport a year is mandatory (unless you do music concentration). I love sports. Even some of my friends who aren't "athletic" really enjoyed the team sport they played. NMH has a LOT of sports to choose from. I liked how the whole school would come together for certain sports games (obviously the sports that do well will receive a nice audience...let's be realistic). For example, our basketball team is ranked in the top ten nationally. Sometimes our home games would have half of the school there. Literally. Let's see....facilities. Football field: NICE (got new turf). Regular Gymnasium (NICE! much better than some other top boarding schools....trust me I've seen them). Soccer Fields: OK? (not too sure as I've been there once and can't really compare to other schools) Track: NICE. Baseball/Softball fields NICE. Tennis Courts: NICE. Ice Rink: "eh"? (I can't really tell, but apparently it's "eh" according to hockey players...but also apparently NMH is getting a new hockey rink in the next couple years...)
Art, Music, and Theatre:
1.) Describe the arts program at your school - what did you like most about it?
I wasn't really a large part of the VA,M,T program. I was in orchestra (oboe), but that's about it in terms of personal participation. HOWEVER, every term (three a year), there is a major Musical, Theatrical, and Dance performance. All three (but especially dance), receives a LARGE audience for the performances. All groups of students and faculty and family attend these performances and the theater is usually packed. Our Rhodes Arts Center was just finished in 2008, and it is spectacular. It is a beautiful building with carillons from the old campus that ring every so often. Our Arts program definitely knows how to have fun. Actually, my senior year the new ceramics teacher had the class create life size sculptures of students doing different activities (reading, pushing an elevator button, tanning), and put them all around campus. They were funny and I liked how the arts were shown outside of the building too.
Extracurricular Opportunities:
1.) Describe the extracurriculars offered at your school - what did you like most about it?
A LOT LOT LOT to choose from.But it's all about discovering what you're truly interested in. Volunteer opportunities are PLENTY, no matter what grade you are, especially since NMH is located in the poorest county in Massachusetts. There are many off campus opportunities as well. We actually have an annual service day in which the whole school has school off and spends the day volunteering both on and off campus.
Dorm Life:
1.) Describe the dorm life in your school - what did you like most about it?
Dorm life was fun. Most people have doubles. After your freshman year you can choose your roommate (there is a point system though that determines what room you get. This depends on how long you've been at the school, your grade, etc). People usually stick with their dorms but I have seen students transfer dorms. Every dorm has a dorm store (basically FOOD) that's open after study hall. However we have chinese food and pizza delivery that comes and sells food for half price, or even less every weeknight after study hall. That food has definitely saved the stomachs of dozens of hungry teens a night. If you don't like that, three nights a week different dorms have their own business grilling hot dogs and burgers as well after study hall. Yum yum yum.
Dining:
1.) Describe the dining arrangements at your school.
FABULOUS! Honestly, NMH's dining hall is THE BEST. (Trust me, I've eaten at other boarding schools. My friends have eaten at other boarding schools. My friends' parents who have other kids at other boarding schools have eaten at other boarding schools).The dining hall has a mexican bar, stir fry line, meatless monday, vegetarian bar, ice cream machine, salad bar, soup station, noodle bar, fruit stand, breakfast bar, deli line, pizza station, make your own pizza station, and regular hot food. The bars occur on certain days of the week, but that's definitely variation.The "hot" food. Is open from 7-9, 11-2, and 5-7:30. However, there is always a dessert stand, yoghurt, muffins, fruit, and bread to take from if you're hungry. The actual hall opens as early as 6 am (i don't know if it's open earlier. that's just the earliest I've ever been)
Social and Town Life:
1.) Describe the school's town and surrounding area.
To be honest....eh.This would probably be the biggest downside to NMH. Kids do grab a 15 minute cab to a local town to eat dinner, watch a movie, etc, but if you're from a big city, it kind of lacks....I've personally never lived in a more rural area, so the move was kind of a shock, but you get used to it. Anyway, after your sophomore year you kind of lose the drive to leave campus anyway because you're so busy doing other things like getting ready for college or focusing on sports. For the first year it's actually fun (the surrounding area). It's just the in-between that kills you.
2.) Describe the social life at your school - what did you like most about it?
"Cliques" do not exist. Sure, there are kids with the same interests that hang out together. But I know Varsity basketball and football players who were in Choir. International students mix with domestic kids. It's because we live together in the dorms and our classes our so tight that the social life here is well mixed.
Daily Schedule:
Weekday
9:15 AM
X-block (free time)
Weekend
7:00 AM
Breakfast/HW in the dining hall (when it's quiet)
9:00 AM
Bake for Volleyball game
2:00 PM
Start setting up for Volleyball Game
3:00 PM
Score and videotape volleyball game
7:00 PM
Check out student center (ice cream night, ping pong, etc)
8:00 PM
dorm lounge hangout with dorm head, dorm girls, movie
11:00 PM
relax and then go to sleep soon
NMH allows students to dive into the community and passions. The college like scheduled of four classes allowed me to seamlessly transition into college academics. Also NMH has a four hour per week work program. . .
Northfield Mount Hermon School helped me become the man I am today.The best thing about NMH was its sense of community. I like to think that I knew almost everyone there, while everyone knew me. . .
This school was different from a lot of other boarding schools in the area because it fostered an environment where everyone wanted everyone else to achieve. Unlike other schools where every student made sure that. . .
Show more reviews (

12 reviews

)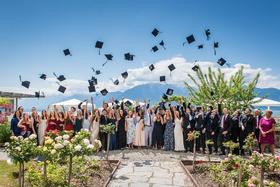 Nurturing Futures: A Journey through Boarding at Haut-Lac School in Switzerland
Nestled in the hills overlooking Lake Geneva in the French-speaking part of Switzerland lies an educational gem that embodies a unique blend of academic excellence, cultural richness and a profound sense of community. Founded over 30 years ago, Haut-Lac International Bilingual Day and Boarding School is now home to both 600 day students and a maximum of 30 boarders from around the world.
What To Wear at Your Job Interview
Navigating job interviews can be stressful, but knowing what to wear shouldn't be. Our comprehensive guide covers the essential dress code tips for men and women interviewing at boarding schools. Make your first impression count with style and professionalism.
Navigating the Modern Maze: Emerging Challenges for Boarding Schools
Explore the pressing challenges facing boarding schools, from marketing difficulties and rising insurance costs to facility maintenance and recruitment of competent trustees and teachers. This article delves into these complex issues and proposes innovative strategies to overcome them.