Reflections and Advice:
1.) What do you think makes your school unique relative to other boarding schools?
I LOVE NORTHFIELD MOUNT HERMON. NMH is (I think) the largest New England boarding school (approx. 1200), which is great because there are always new people to meet and new experiences to share; on the other hand, 1200 is still a fairly small community, which means that there is always someone to wave to on the way to class or sit with on the inter-campus bus. NMH has two campuses, which is fabulous; each campus has a distinct feel and a unique atmosphere. My experience with the faculty at NMH was priceless. Teachers and students are generally on a first-name basis, you spend time outside of class with your teachers (for fun!), and class-time is always friendly, relaxed, and very comfortable. I am still keep very close touch with a lot of my teachers. The students at NMH are also very close. House communities are strong and bonding (forced fun as we used to call it) is assured. It's all worth it . . . I am better friends with my roommates and friends from NMH now than I was in high school. The relationships that I made in high school have lasted and will last. One great thing about NMH is the incredible balance that people are able to strike in their extracurricular lives. At NMH, it is possible to participate in sports and the arts, simultaneously; most schools make you choose between the two. The Performing Arts Dept. at NMH is especially strong; I matriculated to a conservatory from NMH (then transferred to Smith) feeling totally secure about the education that I had gotten academically AND musically/theatrically.
2.) What was the best thing that happened to you in boarding school?
Boarding school was the best thing that ever happened to me. I came from a really small place where I didn't fit in and where people made me feel like being different was wrong and embarrassing. At NMH, I found people who were like me and I learned how to be myself and feel comfortable with who I was. I was given opportunities at NMH that I would never have gotten at another school. I spent time abroad in several countries, lived with people from three different countries, sang with choirs, jazz bands, symphony orchestra.
3.) What might you have done differently during your boarding school experience?
I would have gotten involved in more right from the start! I only wish that I had been at NMH all four years.
4.) What would you never want to change about your school?
The campus situation and the performing arts department.
5.) What things could be improved about your school?
Attendance policies are kind of strange.
6.) Do you have any final words of wisdom for visiting or incoming students to your school?
Enjoy every minute of NMH. Don't take your experience there for granted for one minute - you'll miss it when you're gone. Be thankful for everything that you are able to experience and learn while you are there!
Academics:
1.) What did you like best about your school's academics?
The teachers! The teaching faculty at NMH makes the work fascinating and students are involved at such a high level that you never really get bored. Relationships with teachers are generally strong and I always felt comfortable asking questions or talking to teachers outside of class (about class, but on a social level as well).
2.) What did you like least about the academics in your school?
It's a lot of work. If you jump in all the way at NMH, you really commit to a lot. Personally, I work really well with a very busy schedule and a lot to do. It is very demanding though, mentally and physically.
Athletics:
1.) What did you like best about your school's athletics?
I did not participate in organized athletics, but I liked having access to two gyms and lots of options for athletic minor courses available.
Art, Music, and Theatre:
1.) What did you like best about your school's art program?
NMH performing arts is GREAT. One motto: "NMH is a singing school." It's true, the entire school gets involved in great concerts like Christmas Vespers and Sacred Concert. The theatre program is excellent; students are involved at every level: performing, directing, set design, tech. The art program is also very strong. I always enjoyed going to see student exhibitions in Bolger (the art building). Dance is great too. One excellent thing about performing arts at NMH is that faculty and students collaborate all of the time. Ours is a performing faculty, which is important because students get to see what their professors do for a living and can teach them. It's nice to see a dance piece performed by students with their teacher. NMH is very committed to the visual/performing arts.
2.) What did you like least about your school's art program?
It's always a struggle to keep money in the bank for arts programs when the issue of competition with sports programs is at hand. NMH struggles with this like any school, but the faculty is very committed to making sure that sports are never favored over the arts.
Extracurricular Opportunities:
1.) What did you like most about the extracurricular activities offered at your school?
There are always tons of volunteer opportunities at NMH. Big Brother, Big Sister is very popular. You can always get involved in local organizations as well.
Dorm Life:
1.) What was the best thing about dorm life in your school?
Choices! There are tiny dorms and HUGE dorms. You can find an environment that works well for you. Dorm faculty is always on hand if you need anyone to help with homework or with personal problems.
2.) What did you like least about dorm life?
Visiting hours are really strict and you really have to learn to live with roommates because there aren't many single rooms available.
Dining:
1.) What was the best thing about your dining arrangements?
Lots of options and grazing hours! Basically, the dining halls are always open. You can always get food.
2.) What did you like least about your dining arrangements?
I was always fine with NMH food!
Social and Town Life:
1.) How welcome did you feel by the other students when you first arrived at the school
I felt great about meeting new people. Everyone was super friendly and NMH does a lot of house and class bonding activities. Orientation is a huge deal at NMH, so you generally start classes knowing people. You also meet people through extracurricular activities and workjobs.
2.) Describe the level of diversity and integration of students in your school:
NMH is very diverse. Last time I checked, we represent something like 45 countries. Colleges can't compare when diversity is an issue . . . NMH prepared me for living and working in a multi-cultural environment and I loved it. College is pretty bland comparatively. I miss the diversity of NMH!
3.) Describe typical fun activities you did on a weekend:
Took trips to big(ger) cities, watched movies, spent time with friends.
4.) What was the town like?
There is not much to do in Northfield and Greenfield, but there are movies to see and public transport is easy and cheap. NMH always does trips to Northampton, the Holyoke Mall, and bigger places like Boston and New York though, which are great because they are inexpensive and you can do a lot away from school.
Daily Schedule:
Weekday
7:45 AM
Get on the bus to go to class on the other campus
10:00 AM
Break between classes; get homework done; get a snack; check mail
2:00 PM
Minor courses; workjob
10:00 PM
Get back to dorm; visit friends; start homework
12:00 AM
Still doing homework . . . get to bed when finished!
Weekend
5:00 PM
Spend time with friends!
NMH allows students to dive into the community and passions. The college like scheduled of four classes allowed me to seamlessly transition into college academics. Also NMH has a four hour per week work program. . .
Northfield Mount Hermon School helped me become the man I am today.The best thing about NMH was its sense of community. I like to think that I knew almost everyone there, while everyone knew me. . .
This school was different from a lot of other boarding schools in the area because it fostered an environment where everyone wanted everyone else to achieve. Unlike other schools where every student made sure that. . .
Show more reviews (

12 reviews

)
Mastering the Boarding School Selection Process: A 5-Step Guide
Discover the ultimate 5-step guide to choosing the perfect boarding school for your child. Explore essential factors, such as academics, campus facilities, extracurricular activities, and more. Make an informed decision to provide your child with an enriching and transformative educational experience. Read now!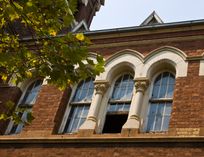 5 Founders and Their Boarding Schools
What prompts somebody to start a boarding school? The motives range from idealism to munificence right on through to capitalism. The common thread seems to be ample capital and a vision of what education can do.