Reflections and Advice:
1.) What do you think makes your school unique relative to other boarding schools?
Firstly, and most noticeably unique, is the diversity at WMA. There are over 30 different countries represented, and this played a major role in my learning experience. With so many different cultures present in the classroom it really added a level of learning that surpassed what a teacher alone could teach us. I learned about different cultures from all around the world- just by talking to my peers. One of my favorite things about the friendships I made at WMA is that they are friends from around the globe, and whenever I travel to a different country I most likely have a friend to visit! Another unique aspect of WMA is sit down lunch. This was put in place my senior year, and most of the students really enjoyed it! Every Thursday we were randomly assigned a table with other students and one faculty member. Knowing everyone at WMA is not an issue, we are a very small school and just after the first couple of weeks you recognize almost everyone you walk by; however you may not have had a conversation with everyone, and this is the benefit of sit down lunch. Not only did we get to know each other better, we also learned to improve our conversational skills, and prepare for future business meetings when you have to maintain a conversation with a stranger.
2.) What was the best thing that happened to you in boarding school?
Wilbraham & Monson Academy prepared me for the future in many different aspects. The Academy stresses the importance of global citizens, and I truly believe I adopted that title. I am confident in myself academically and socially because of WMA and the skills they taught me.
3.) What might you have done differently during your boarding school experience?
There is not much I would have done differently, but If I had to pick one thing it would have been to get to know the international students better. I did not get to know a lot of international students really well until my Junior year, and I wish I had started earlier! It is a huge opportunity to be able to go to school with students from all over the world, and I highly suggest you take advantage of it!
4.) What did you like most about your school?
My favorite part of WMA was the community. Everyone encourages each other to work hard and do their best. Most teachers were almost always willing to go above and beyond for you and take time to help you outside of the academic hours. Students were constantly striving to do better, and working hard was always the norm.
5.) Do you have any final words of wisdom for visiting or incoming students to your school?
Spend a lot of time all around the campus, it's gorgeous! Go on some of the weekend activity trips, even if you're a day student- Its a free ride! And definitely try the "Killer Quesadillas" in the campus center: it's one of the things I will miss the most!
Academics:
1.) Describe the academics at your school - what did you like most about it?
Academics are very strong at WMA. I really liked the fact that they had a lot of AP courses to choose from, and the schedule was open enough that I could take extra classes. At the same time the scheduled worked in a way that I could have some free time during the day to get homework done or take a break. The teachers offered a lot of extra help, so even though the courses were difficult it was still manageable. I really enjoyed the small class sizes because I felt like all of my teachers were able to really get to know me and get a sense of what I needed help on. Also the small classes allowed us to move at a faster pace because there were not a ton of students in class.
Athletics:
1.) Describe the athletics at your school - what did you like most about it?
The athletics program ranges from experienced to new athletes. Because it is mandatory for students to do an after school activity, a lot of students have never played the sport they enroll in before. However we do have very competitive varsity teams. WMA is very competitive with other schools, and its athletic program is growing to be more and more competitive each year. There are many different sports available, some such as Rugby and Crew, that can not be found at other schools. The facilities are very well maintained and the coaches are mostly very qualified. I enjoyed the fact that students were required to play a sport every trimester because I think it made everyone a lot more active and involved in the community. The requirement can be demanding, but students definitely benefit from the lessons competitive sports teach.
Art, Music, and Theatre:
1.) Describe the arts program at your school - what did you like most about it?
WMA has a very strong arts program. As far as visual arts are concerned, the art building has its own gallery that is changed through out the year and host a plethora of art shows. WMA also offers a wide variety of art classes to take, which was really nice because students are required to take three trimester long art classes to graduate. If students do not want to take a visual arts class, they can receive credits through music also. WMA has a great music program, with an amazing jazz band. They also have a string ensemble and "Mosaic Harmony" singing group. The Theatre program always puts on an amazing show, having productions in the fall and spring, and a musical in the winter. Students can participate in theatre after school instead of a competitive sport. A good portion of the community will go to the theatre productions.
Extracurricular Opportunities:
1.) Describe the extracurriculars offered at your school - what did you like most about it?
There are many extracurricular activities that students can participate in. Students are encouraged to join a club or activity: they even have a club fair in the beginning of the year to spread awareness of all the clubs. WMA also offers a community service group to join instead of an after school sport. My favorite part was that there was a special block on Thursday that was just for clubs to meet. This made it easier for students to participate and not have to miss anything!
Dorm Life:
1.) Describe the dorm life in your school - what did you like most about it?
Students that lived at WMA were always happy and content with dorm life. The rooms are typically very spacious (bigger than a college dorm room), and students can request what room they are in and who with. There are many delivery restaurants near by (Chinese,Wings,Pizza), and students can order delivery if they want. I liked the fact that each dorm is close to something, whether it is the dinning hall or the academic buildings, and no one dorm was set far apart from the main campus. Also the school provided many weekend activities for students to participate in, so students were rarely bored and stuck on campus!
Dining:
1.) Describe the dining arrangements at your school.
Not only is the food really good, there are also a lot of options! Students can eat as much as they want during the dinning hall hours, so rarely do they go hungry. I often would make my own salad or sandwich and there was a panini grill if I wanted to grill it. The hours are very accommodating to students daily schedule.
Social and Town Life:
1.) Describe the school's town and surrounding area.
Wilbraham is a lovely, quaint town that works very well for a private school environment. There are multiple banks right next to the campus, along with a drug store and a small cafe called "The Village Store". The towns people that walk around are campus are always very friendly and welcoming. Boston is only an hour and a half away from campus and Hartford is about 45 minutes. This is perfect for boarding students that need to take a plane in. My favorite thing about the town and surrounding area is how quiet and peaceful it is, but at the same time not too far from Boston.
2.) Describe the social life at your school - what did you like most about it?
Social life at WMA is one like I had never experienced before. With only a total of 425 students in the whole school, everyone mostly knew everyone. It is a very welcoming and understanding community, and typically social issues are not a problem. Most students that went to WMA were focused on academics and athletics, so typically social hangouts revolved around school and school activities. I really liked the fact that WMA helps create bonds between students that can last a life time; often alumni are still friends and hanging out even ten years after they graduate!
Daily Schedule:
Weekday
8:45 AM
Second class starts
9:30 AM
Office hours/ Extra help
10:15 AM
Study/ Free Period
2:15 PM
Study/ Free Period
3:30 PM
Sport/ Activity Practices Begin
Weekend
11:00 AM
Brunch at the Dinning Hall
12:30 AM
Leave for Away Game
5:30 PM
Return Back to School
6:30 PM
Trip to the Movies
9:15 PM
Hang out in the dorm with friends playing video games
WMA, more than any other prep school that I have visited, is a community. Everyone knows one another. With over fifty percent of all faculty and staff living on campus, the students really get to. . .
One aspect that sets Wilbraham and Monson Academy a part from other similar private institutions is the CEGS Department. CEGS stands for Center for Entrepreneurial and Global Studies, and is in place of a traditional. . .
Firstly, and most noticeably unique, is the diversity at WMA. There are over 30 different countries represented, and this played a major role in my learning experience. With so many different cultures present in the. . .
Show more reviews (

8 reviews

)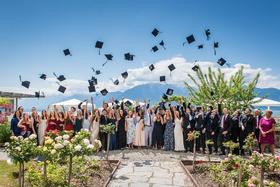 Nurturing Futures: A Journey through Boarding at Haut-Lac School in Switzerland
Nestled in the hills overlooking Lake Geneva in the French-speaking part of Switzerland lies an educational gem that embodies a unique blend of academic excellence, cultural richness and a profound sense of community. Founded over 30 years ago, Haut-Lac International Bilingual Day and Boarding School is now home to both 600 day students and a maximum of 30 boarders from around the world.
What To Wear at Your Job Interview
Navigating job interviews can be stressful, but knowing what to wear shouldn't be. Our comprehensive guide covers the essential dress code tips for men and women interviewing at boarding schools. Make your first impression count with style and professionalism.
Navigating the Modern Maze: Emerging Challenges for Boarding Schools
Explore the pressing challenges facing boarding schools, from marketing difficulties and rising insurance costs to facility maintenance and recruitment of competent trustees and teachers. This article delves into these complex issues and proposes innovative strategies to overcome them.