Reflections and Advice:
1.) What do you think makes your school unique relative to other boarding schools?
I attending WMA and unlike any other private school I was able to receive a global education, create great relationships and visit places all over the world.
2.) What was the best thing that happened to you in boarding school?
- learning sports - becoming a leader - growing as a person and looking at new things
3.) What might you have done differently during your boarding school experience?
-Be open and understanding of new cultures and experiences.
4.) What did you like most about your school?
- the sports
5.) Do you have any final words of wisdom for visiting or incoming students to your school?
LOVE SMITH HALL! Mr. Swanson is the best and is a great mentor.
Academics:
1.) Describe the academics at your school - what did you like most about it?
Amazing, great teachers and availability to learn. The ratio between student and teacher is almost 4:1 and with that attention you are able to learn and create over all success. Teacher involvement.
Athletics:
1.) Describe the athletics at your school - what did you like most about it?
I loved being an athlete at WMA. The coaches strive for success and teach you how to create goals which help for the future. I was also able to learn new activities and become a leader in all my sports. I received the highest award an athlete can receive at graduation. This I will remember for the rest of my life.
Art, Music, and Theatre:
1.) Describe the arts program at your school - what did you like most about it?
I liked the music program. I participated in many concerts and was in the Mosaic Harmony for four years. We were able to learn new music including songs from various countries.
Extracurricular Opportunities:
1.) Describe the extracurriculars offered at your school - what did you like most about it?
Always room to grow as a student and join extra activities. There is always something going on and something to be a part of.
Dorm Life:
1.) Describe the dorm life in your school - what did you like most about it?
huge rooms, great living space, amazing dorm parents, much freedom with supervision.
Dining:
1.) Describe the dining arrangements at your school.
great choices, amazing food, healthy, variety, no assigned seating, diverse food
Social and Town Life:
1.) Describe the school's town and surrounding area.
very small and quiet town. humble
2.) Describe the social life at your school - what did you like most about it?
very diverse. Not cliquey and for the most part everyone is friends and gets along. Very small grade classes which help everyone get to know one another.
WMA, more than any other prep school that I have visited, is a community. Everyone knows one another. With over fifty percent of all faculty and staff living on campus, the students really get to. . .
One aspect that sets Wilbraham and Monson Academy a part from other similar private institutions is the CEGS Department. CEGS stands for Center for Entrepreneurial and Global Studies, and is in place of a traditional. . .
Firstly, and most noticeably unique, is the diversity at WMA. There are over 30 different countries represented, and this played a major role in my learning experience. With so many different cultures present in the. . .
Show more reviews (

8 reviews

)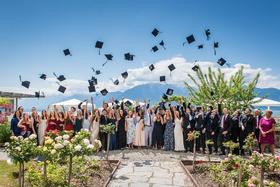 Nurturing Futures: A Journey through Boarding at Haut-Lac School in Switzerland
Nestled in the hills overlooking Lake Geneva in the French-speaking part of Switzerland lies an educational gem that embodies a unique blend of academic excellence, cultural richness and a profound sense of community. Founded over 30 years ago, Haut-Lac International Bilingual Day and Boarding School is now home to both 600 day students and a maximum of 30 boarders from around the world.
What To Wear at Your Job Interview
Navigating job interviews can be stressful, but knowing what to wear shouldn't be. Our comprehensive guide covers the essential dress code tips for men and women interviewing at boarding schools. Make your first impression count with style and professionalism.
Navigating the Modern Maze: Emerging Challenges for Boarding Schools
Explore the pressing challenges facing boarding schools, from marketing difficulties and rising insurance costs to facility maintenance and recruitment of competent trustees and teachers. This article delves into these complex issues and proposes innovative strategies to overcome them.