Wilbraham & Monson Academy - Review #2
About the Author:

College Enrolled
Trinity College
Home Town, State (Country)
Feeding Hills , MA
Years Attended Boarding School
4
Activities During Boarding School
I participated in several extracurricular activities during my time at the Academy. WMA has a three athletic or activity requirement, meaning that every student must be enrolled into a sport or an approved activity for the Fall, Winter and Spring. Some of the approved activities include theater, dance, yoga, yearbook, WMAction (a daily community service program) and Model Congress. I participated in Varsity field hockey all four years of my time at WMA and was the captain senior year. In addition I was a member of the Varsity Winter Track team for three years and the Varsity Spring Track team for two years. In addition to these sports, I tried tennis and basketball my freshman year and decided they weren't my cup of tea. Nevertheless, it was a great experience since I was able to make new friends on the teams and try something I've always wanted to. Believe it or not, I met my best friend playing JV tennis! My sophomore year I also participated in WMAction, which was a great way to get involved with the community. Outside of the requirement I also was involved with Gold Key, which is an admissions tour guide group, for all four years of high school, New Student Orientation and was head delegate for the Model United Nations group.
Daily Schedule:
Weekday
| | |
| --- | --- |
| 8:00 AM | Honors Calculus |
| 8:45 AM | AP World History |
| 9:30 AM | Office Hours |
| 10:00 AM | Free |
| 10:45 AM | AP Environmental Science |
| 11:30 AM | Social Media and Globalization |
| 12:15 AM | Lunch |
| 1:00 PM | AP Literature |
| 1:45 PM | Philosophy of World Religions |
| 2:15 PM | Free |
Weekend
| | |
| --- | --- |
| 9:00 AM | Breakfast |
| 10:00 AM | Uniform Pickup/Departure |
| 11:00 AM | Field Hockey Game |
| 2:00 PM | Return to Campus |
| 5:00 PM | Dinner |
Review

Description

Bentley University

WMA, more than any other prep school that I have visited, is a community. Everyone knows one another. With over fifty percent of all faculty and staff living on campus, the students really get to. . .

Trinity College

One aspect that sets Wilbraham and Monson Academy a part from other similar private institutions is the CEGS Department. CEGS stands for Center for Entrepreneurial and Global Studies, and is in place of a traditional. . .

Franklin & Marshall College

Firstly, and most noticeably unique, is the diversity at WMA. There are over 30 different countries represented, and this played a major role in my learning experience. With so many different cultures present in the. . .

Hartwick College

I attending WMA and unlike any other private school I was able to receive a global education, create great relationships and visit places all over the world. . .

Boston College

One of the most important things to recognize about Wilbraham & Monson Academy is that it prepares all students with a truly global education. With progressive curriculums, teachers and facilities, WMA has provided me with. . .

Show more reviews

(6

reviews)
April 20, 2018
Actually, there is no secret to getting your child into boarding school. Just a lot of hard work and a heavy commitment of time.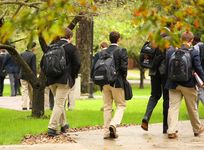 March 22, 2018
Some cynics think single-sex education is old-fashioned. The Kiski School shows how educating boys in a single-sex school is successful.
March 08, 2018
The wide range of fine academic, athletic, and other facilities found in boarding schools underscores the determination of schools to provide the very best for their students.