Reflections and Advice:
1.) What do you think makes your school unique relative to other boarding schools?
One of my favorite parts about Emma Willard was the round table method of teaching. All humanities classes were taught around a round table, so that all of the students could see one another. Teachers asked questions and facilitated discussion amongst the students, and since classes never had more than twelve or so girls, everyone had the opportunity to contribute. I never remember feeling lectured or feeling bored in the classroom. Not only did this style of teaching allow me to really engage with my coursework, I learned how to be a confident speaker and a meaningful contributor to any discussion, and these skills have been incredibly valuable to me since leaving Emma.Another aspect of Emma that I believe is really unique is the emphasis on service and global citizenship. At Emma I had some incredible opportunities, like hearing Nicholas Kristoff and Sheryl WuDunn speak about their book "Half the Sky," or participating in a day long brainstorming session on conflict resolution. Beyond the opportunity to listen to countless inspiring speakers, Emma also prioritizes local and international service. I remember volunteering at an "Empty Bowls" event in Troy, walking to a local elementary school to teach improv lessons, and going on a volunteer trip to Addis Ababa, Ethiopia.
2.) What was the best thing that happened to you in boarding school?
I think the best thing Emma gave me was the tools to be myself and to be passionate about excited about my life and my education. When I came to Emma as a thirteen year old I was always trying to "fit in," constantly worried about what would be perceived as cool. After just a year I was totally changed, I was excited to try new things, to go on adventures, to learn everything! I know that I would be a totally different person today were it not for my Emma Willard education.
3.) What might you have done differently during your boarding school experience?
I would have been more willing to try things that were completely new and foreign to me! Your first year of boarding school is the best time to branch out and try new things, because everyone is new!
4.) What did you like most about your school?
I love the special traditions that make Emma unique, like May Day and Revels and Eventide. I love that the friends you make at Emma Willard really are the friends that you will have for life. Recently I had the opportunity to meet some Emma Alumnae from the 1930's and 1940's and immediately we had so much in common, so much to laugh and joke about.
5.) Do you have any final words of wisdom for visiting or incoming students to your school?
Definitely explore all the buildings! The Emma campus is beautiful and full of great nooks and crannies.
Academics:
1.) Describe the academics at your school - what did you like most about it?
What I loved most was the close knit relationships that teachers form with students. I value these relationships even more now that I am a college student and I understand how unique this is to Emma Willard. I can remember discussing Beloved with my English teacher one night after I babysat her son, or getting a call from a History professor the night after a documentary we watched in class visibly upset me. My AP Bio teacher held regular early morning review sessions where she brought in bagels for our entire class. Emma Willard teachers go above and beyond for their students and it makes an incredible difference.
Athletics:
1.) Describe the athletics at your school - what did you like most about it?
I liked the wide range of sports available. I had never been exposed to rowing before and I ended up really loving it and becoming close with many of my teammates. I also liked how committed coaches were and how tight knit teams became. Emma Willard sports teams also get some incredible opportunities! My senior year my boat competed in the Scholastic National Competition, a really exciting opportunity for us!
Art, Music, and Theatre:
1.) Describe the arts program at your school - what did you like most about it?
I love how extensive the Arts programs at Emma Willard are. The Emma Willard Dance Co. is truly on par with a professional dance company, they even get to go on tour! My younger sister was in the Dance Co. and their performances were always incredible. I also loved getting to watch my friends sing! Emma not only has a choir but also two a capella singing groups that are completely student run! These groups perform regularly for the school and I was always blown away to hear how talented my friends were! I also liked that instrument lessons were able to be built right into the school day. This was always really convenient for me especially because even though I played sports after school I could still have my piano lesson every week.
Extracurricular Opportunities:
1.) Describe the extracurriculars offered at your school - what did you like most about it?
There are so many clubs and groups available! I think what I love most about them is how student driven they all are. Emma is a small school but there are so many passionate, motivated girls that new groups are always coming together! One of my favorite things to do now that I am an alumna is walk around the student centers and see the posters for all of the new opportunities available to students. I also loved the Practicum program, which allowed girls to get credit for doing activities outside of school , and helped arrange transportation for girls interested in pursuing their own activities off campus.
Dorm Life:
1.) Describe the dorm life in your school - what did you like most about it?
I was a day student, but I loved how much day students were incorporated into boarding school life. Every day student is assigned to a hall and you are always welcome to hang out with dorm parents or in a friend's dorm. I slept over often on the weekends and loved that I got to feel part of the boarding school community.
Dining:
1.) Describe the dining arrangements at your school.
My favorite part of the dining is definitely just the quality of the food! There were always so many choices and a always a focus on local or fair trade food.
Social and Town Life:
1.) Describe the school's town and surrounding area.
Downtown Troy is really a great neighborhood! Just a short bus ride away from Emma there is River Street, which is filled with great shops and cafes. On Saturday Troy has a really large Farmers Market and there are always musical performances or art shows going on!
2.) Describe the social life at your school - what did you like most about it?
I loved how close each class was, and the feeling of community that tied together the whole grade. I never felt like my class was divided into cliques or groups. I always felt like I could go into the dining hall and sit down at any table and feel totally comfortable there. When I graduated, there was not a single girl in my class that I was not going to miss.
Daily Schedule:
Weekday
8:15 AM
Class--with free blocks built in to work on homework, and a longer lunch period than any of my college friends ever had!
6:00 PM
Mock Trial Practice
7:00 PM
Dinner in the dining hall
Weekend
9:00 AM
Often I would sleep over Friday night and spend Saturday morning relaxing with my boarding friends
1:00 PM
Day students were always allowed to sign up for outings- apple picking in the fall was one of my favorites!
I visited many girls boarding schools. Emma Willard seemed to have a much higher academic standard and huge push to refine analytic skills. The student population was very well mannered. No one was there because. . .
Emma Willard's campus and the friendliness of my student tour guide and others we met while on the tour were the most important factors in my then 14-year-old decision to apply to and then attend. . .
Emma Willard is especially good at facilitating discussion based classrooms using the Harkness Method. I am finding now that I am in college classes that are all large lectures that Emma Willard's teachers were especially. . .
Show more reviews (

6 reviews

)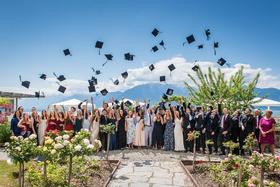 Nurturing Futures: A Journey through Boarding at Haut-Lac School in Switzerland
Nestled in the hills overlooking Lake Geneva in the French-speaking part of Switzerland lies an educational gem that embodies a unique blend of academic excellence, cultural richness and a profound sense of community. Founded over 30 years ago, Haut-Lac International Bilingual Day and Boarding School is now home to both 600 day students and a maximum of 30 boarders from around the world.
What To Wear at Your Job Interview
Navigating job interviews can be stressful, but knowing what to wear shouldn't be. Our comprehensive guide covers the essential dress code tips for men and women interviewing at boarding schools. Make your first impression count with style and professionalism.
Navigating the Modern Maze: Emerging Challenges for Boarding Schools
Explore the pressing challenges facing boarding schools, from marketing difficulties and rising insurance costs to facility maintenance and recruitment of competent trustees and teachers. This article delves into these complex issues and proposes innovative strategies to overcome them.