Emma Willard School - Review #3
About the Author:

College Enrolled
Dartmouth College
Home Town, State (Country)
Averill Park, NY
Years Attended Boarding School
4
Activities During Boarding School
At Emma Willard I played JV soccer for two years, rowed on the crew team for three years, and ran cross country my senior year. I participated in several theater productions and took jazz and ballet classes. I was a member of the Mock Trial Team. I was a peer-ed and a proctor and senior year served as Head Proctor.
Daily Schedule:
Weekday
| | |
| --- | --- |
| 8:15 AM | Class--with free blocks built in to work on homework, and a longer lunch period than any of my college friends ever had! |
| 3:30 PM | Crew practice |
| 6:00 PM | Mock Trial Practice |
| 7:00 PM | Dinner in the dining hall |
Weekend
| | |
| --- | --- |
| 9:00 AM | Often I would sleep over Friday night and spend Saturday morning relaxing with my boarding friends |
| 1:00 PM | Day students were always allowed to sign up for outings- apple picking in the fall was one of my favorites! |
Review

Description

Northeastern University

Emma Willard is especially good at facilitating discussion based classrooms using the Harkness Method. I am finding now that I am in college classes that are all large lectures that Emma Willard's teachers were especially. . .

Washington University in St. Louis

Emma Willard's home on Mount Ida is in itself one of a kind. The moment you step on campus, you enter a different world of gray stone walls and unbridled passion. Emma Willard's small, close-knit. . .

Dartmouth College

One of my favorite parts about Emma Willard was the round table method of teaching. All humanities classes were taught around a round table, so that all of the students could see one another. Teachers. . .

Marymount University

EWS is unique in that it enables the students to find what they love and pursue it as much as possible. There is no typical Emma girl and that is what makes the school so. . .

Davidson College

Emma Willard is truly a magical place where girls develop academic interests, become more self aware and form lifelong friendships. While an girls school isn't for everyone, it truly helps girls develop into unique. . .

Show more reviews

(4

reviews)
April 20, 2018
Actually, there is no secret to getting your child into boarding school. Just a lot of hard work and a heavy commitment of time.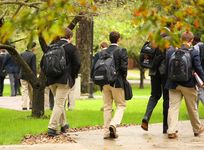 March 22, 2018
Some cynics think single-sex education is old-fashioned. The Kiski School shows how educating boys in a single-sex school is successful.
March 08, 2018
The wide range of fine academic, athletic, and other facilities found in boarding schools underscores the determination of schools to provide the very best for their students.