Reflections and Advice:
1.) What do you think makes your school unique relative to other boarding schools?
I visited many girls boarding schools. Emma Willard seemed to have a much higher academic standard and huge push to refine analytic skills. The student population was very well mannered. No one was there because their parents were divorced and needed a place to drop their children. The strong history of empowering women was also a huge draw for me. Our founder is a huge part of US Women's History. There were very few day students. Many students from around the world came to this school which was all part of the very enlightening genre at Emma Willard.
2.) What was the best thing that happened to you in boarding school?
Having been able to study and do well at a school with such high standards has bolstered my self esteem through life.
3.) What might you have done differently during your boarding school experience?
I would advise any parent, should their daughter want to go to one of the very few all girl boarding schools left in the country, to do all they can financially to make that happen for her.I would have gone for 2 more years than I did, if I had to do it over again.
4.) What did you like most about your school?
Friendships, high academic standards, the beautiful gothic campus.
5.) Do you have any final words of wisdom for visiting or incoming students to your school?
I do not.
Academics:
1.) Describe the academics at your school - what did you like most about it?
We rarely read textbooks. Professors used college level reading lists to teach from; and again, there was always an emphasis on pushing ourselves to really analyze our readings.We had a 6 day work week spread over 5 days. This was an interesting approach to scheduling.I do not recall our environment being competitive. There was a truly collegial, sisterly atmosphere of sharing information and thought.Workload was far more demanding than that I found at college.
Athletics:
1.) Describe the athletics at your school - what did you like most about it?
I loved the variety of the sports programs available at Emma Willard. This program has doubled in size since my days there with many more opportunities to prepare for college level sport.
Art, Music, and Theatre:
1.) Describe the arts program at your school - what did you like most about it?
I enjoyed being and audience member and seeing my classmates refine their artistic skills. There was a huge emphasis on Ballet and Theatre, however I did not participate.
Extracurricular Opportunities:
1.) Describe the extracurriculars offered at your school - what did you like most about it?
We were given glorious trips to New York, Boston and D.C. with chaperones once a month; I had never been to those cities before. Theatre Tickets were procured for us, and visits to the museums were emphasized.
Dorm Life:
1.) Describe the dorm life in your school - what did you like most about it?
It was so wonderful to be living in the same building as all your friends and going over to their room for help in your class studies or just visiting with out your parents having to drive you over or pick you up afterwords.
Dining:
1.) Describe the dining arrangements at your school.
The Food at Emma Willard was always spectacular. Far better than I hear from other schools. My husband went to a military school where food was not a strong point.
Social and Town Life:
1.) Describe the school's town and surrounding area.
I did not go beyond the gates of Emma Willard very often. It was pleasant enough but I was too busy trying to keep up with my classwork.
2.) Describe the social life at your school - what did you like most about it?
Mixers with Boys Schools were great. At that age it was about as much as I wanted to socialize with a boy.
Emma Willard is especially good at facilitating discussion based classrooms using the Harkness Method. I am finding now that I am in college classes that are all large lectures that Emma Willard's teachers were especially. . .
Emma Willard's home on Mount Ida is in itself one of a kind. The moment you step on campus, you enter a different world of gray stone walls and unbridled passion. Emma Willard's small, close-knit. . .
One of my favorite parts about Emma Willard was the round table method of teaching. All humanities classes were taught around a round table, so that all of the students could see one another. Teachers. . .
Show more reviews (

6 reviews

)
Mastering the Boarding School Selection Process: A 5-Step Guide
Discover the ultimate 5-step guide to choosing the perfect boarding school for your child. Explore essential factors, such as academics, campus facilities, extracurricular activities, and more. Make an informed decision to provide your child with an enriching and transformative educational experience. Read now!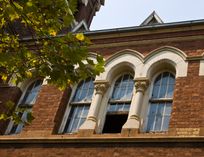 5 Founders and Their Boarding Schools
What prompts somebody to start a boarding school? The motives range from idealism to munificence right on through to capitalism. The common thread seems to be ample capital and a vision of what education can do.