Reflections and Advice:
1.) What do you think makes your school unique relative to other boarding schools?
Emma Willard's campus and the friendliness of my student tour guide and others we met while on the tour were the most important factors in my then 14-year-old decision to apply to and then attend Emma Willard School. I specifically remember telling my mother as we were leaving the school after our campus visit "If I can't go here, I'll just stay at Clearfield High School (our home school)." Nowadays I would have probably said that the place reminded me of Hogwarts in Harry Potter. But at the time , 1976 I believe, I just thoroughly loved the Gothic architecture.
2.) What was the best thing that happened to you in boarding school?
I still appreciate the opportunity of meeting and getting to know girls from all parts of the country as well as those from overseas. I believe it made transitioning to a very large university like Michigan even easier. My fondest memory would probably have to be performing in Revels Christmas play as I won the part on one of the visiting Lords of the Manor. A lot of girls tried out for those roles. Emma Willard DID prepare me better academically for college than my hometown school. I was able to apply to more vigorous colleges than I could have. Some Ivy League, some Big 10...all OUT of Pennsylvania as I wanted to expand my academic opportunities further.
3.) What might you have done differently during your boarding school experience?
If I could go back as a 14 year old knowing what I know now I would make the extra effort to participate in DIFFERENT activities than what was offered at home. I would push myself to get closer and share MY background with those from NY and New England and NOT be so concerned about their opinions socially. I would also tell myself that just because it is an all girl's school does NOT mean you have to go along with a female focus driven life (aka feminism). Emma taught me to think on my own. As such I may not agree with the feminist/Progressive focus that pervades institutes of higher learning today. Keep your mind open.
4.) What did you like most about your school?
Going to a boarding school anywhere is like heading off to college. Living at Emma Willard for three years as a boarder was a great preparation for that. The campus is stunning! I am always proud to claim that it has been used in a few Hollywood movies (Scent of a Woman, The Emperor's Club) .
5.) Do you have any final words of wisdom for visiting or incoming students to your school?
Things have changed SO MUCH from the late 70s when I attended Emma Willard. One of my dorm rooms is gone as it is now part of the Health Center. I loved the fact that at the time some of the rooms, including mine senior year, had their own sinks. You could do the basics of getting ready for bed and getting up in the privacy of your own room. Don't think they have those anymore! The tunnels between the buildings have long been closed so that is one thing present students will never experience. Nice not to have to wear a jacket in the Winter because of them. Get to know the day students. Find a faculty mentor. Savor the familiar but go with the new!
Academics:
1.) Describe the academics at your school - what did you like most about it?
I was not challenged academically at my hometown school and jumped right in to the vigorous classes that Emma Willard offered. Because most of the faculty lived on campus, they were easily accessible should the need arise. Looking back I am glad I got to choose the subject matter of my specific courses in History, English etc as opposed to the generic civics, science , English courses assigned per grade at home. The faculty had a wide range of experiences in their subject matter as well. For instance a few of my literature courses were taught by a couple who regularly traveled Europe during the summer months to gain more info about Renaissance and ancient writers.
Athletics:
1.) Describe the athletics at your school - what did you like most about it?
Since I came from Central Pa and NOT New England I was not familiar with field hockey, soccer, lacrosse etc as they were not offered at the time in my hometown. I was glad I could continue in gymnastics and softball and start anew in track and field.
Art, Music, and Theatre:
1.) Describe the arts program at your school - what did you like most about it?
I developed my love for photography while I was a student at Emma Willard. Learned and expanded on my new "hobby" on my own while in college. And used photography and attending photography school after my Michigan graduation to get me back to New England. Loved it so much I ended up finishing the 2 year program and starting with a portrait studio in Portsmouth Rhode Island. After 3 years moved back to Pa to open my own studio in the Harrisburg area. And, of course, THE BEST part of Emma Willard is being a part of the annual Christmas play Revels...a medieval Lord's feast and celebration in which every member of the senior class has a part which is kept SECRET to the rest of the school until the performance.
Extracurricular Opportunities:
1.) Describe the extracurriculars offered at your school - what did you like most about it?
My extracurricular activities at the time were limited to sports and the Outing Club, as previously noted.
Dorm Life:
1.) Describe the dorm life in your school - what did you like most about it?
Surprisingly dorm life was not difficult at all for me to adjust to, even coming from such a small town in PA. I was pretty independent and jumped in to "living on my own" right away. Not really homesick either, though without cell phones students did not have an immediate tie to home as they would today. I contacted my parents once a week from the hall's pay phone.
Dining:
1.) Describe the dining arrangements at your school.
Each of the 2 main dorms had their own dining room with set hours for meals. As a boarder it was very easy to get up throw on some sweats and head downstairs for breakfast EVEN if you had an 8 o'clock class.
Social and Town Life:
1.) Describe the school's town and surrounding area.
I was pretty content to staying on campus for the most part back then. They did offer Colony Mall/Shops bus shuttles occasionally on the weekends. But homework the beauty of the campus itself over the not so pretty Troy made staying there easy.
2.) Describe the social life at your school - what did you like most about it?
As an all girl's school I was surprised I didn't miss the male presence in classes and such. No one tried to "put on airs" as a result and focused on classes more. I DO member a big change in some girl's appearances though the first day of Winter Term when the 30+ boys from the boy's school would be in attendance!
I visited many girls boarding schools. Emma Willard seemed to have a much higher academic standard and huge push to refine analytic skills. The student population was very well mannered. No one was there because. . .
Emma Willard's campus and the friendliness of my student tour guide and others we met while on the tour were the most important factors in my then 14-year-old decision to apply to and then attend. . .
Emma Willard is especially good at facilitating discussion based classrooms using the Harkness Method. I am finding now that I am in college classes that are all large lectures that Emma Willard's teachers were especially. . .
Show more reviews (

6 reviews

)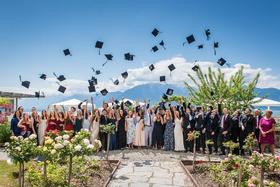 Nurturing Futures: A Journey through Boarding at Haut-Lac School in Switzerland
Nestled in the hills overlooking Lake Geneva in the French-speaking part of Switzerland lies an educational gem that embodies a unique blend of academic excellence, cultural richness and a profound sense of community. Founded over 30 years ago, Haut-Lac International Bilingual Day and Boarding School is now home to both 600 day students and a maximum of 30 boarders from around the world.
What To Wear at Your Job Interview
Navigating job interviews can be stressful, but knowing what to wear shouldn't be. Our comprehensive guide covers the essential dress code tips for men and women interviewing at boarding schools. Make your first impression count with style and professionalism.
Navigating the Modern Maze: Emerging Challenges for Boarding Schools
Explore the pressing challenges facing boarding schools, from marketing difficulties and rising insurance costs to facility maintenance and recruitment of competent trustees and teachers. This article delves into these complex issues and proposes innovative strategies to overcome them.