Reflections and Advice:
1.) What do you think makes your school unique relative to other boarding schools?
West Nottingham Academy (WNA) is very much so unlike any other school I've ever attended. Now that might be because it only has (at most) 150 students per year. But you learn so much, not only academic but about the rest of the world due to the diverse nature of both the international and domestic students.
2.) What was the best thing that happened to you in boarding school?
I definitely grow up a lot here. I won't tell you that my experiences here have turned me into a perfect being. But I know that without WNA I never would have been as successful as I am in all of my classes.
3.) What might you have done differently during your boarding school experience?
I would try to branch out and meet as many people as you can. Don't get stuck in a clique because you don't know if you're gonna be the same person from year to year.
4.) What did you like most about your school?
I really enjoyed sports because for one, I never would have made the team at any other school. But from sports I learned what it meant to have a work ethic and learned what it meant to be a leader. Not to mention I had a blast with my friends both winning and loosing games.
5.) Do you have any final words of wisdom for visiting or incoming students to your school?
Rush dorm is where its at! As a day student, whenever I would spend the night that's where all of my friends were and I had a lot of fun their. But beware of the haunted soda machine on the first floor.
Academics:
1.) Describe the academics at your school - what did you like most about it?
I really love knowing that WNA has really small classes. It is great to see that my classes only have 12 people in them at most. I've even had classes that were only 6 people total including the teacher so you really get that "one on one" experience.
Athletics:
1.) Describe the athletics at your school - what did you like most about it?
WNA generally has not been the most competitive in terms of athletics. That being said I played for 2 championship soccer teams and another that finished second in the league as well as a basketball team that finished third. But the best part about WNA athletics is the wide variety of talent on each team. Teams have players who have been playing all there life and those who have never touched a ball, stick, bat or glove in their life but you all get to learn it together.
Art, Music, and Theatre:
1.) Describe the arts program at your school - what did you like most about it?
There are plenty of opportunities to join arts programs at WNA ranging from choral performance to digital design.
Extracurricular Opportunities:
1.) Describe the extracurriculars offered at your school - what did you like most about it?
There are plenty of clubs that are well designed at WNA and the best part is that they come and go frequently so there are clubs that have been around for ever and new ones just starting.
Dorm Life:
1.) Describe the dorm life in your school - what did you like most about it?
As a day student I can not really discuss dorm life.
Dining:
1.) Describe the dining arrangements at your school.
There are always plenty of options, vegetarian, hot, cold, soup, salad, sandwich, and even for the less venturous, a serial option.
Social and Town Life:
1.) Describe the school's town and surrounding area.
Colora and Rising Sun are fairly rural areas so there isn't much to do in the towns. However, the school plans many trips to malls and movie theaters in some of the other less local areas, like Bel Air so there is always something to do during the weekends.
2.) Describe the social life at your school - what did you like most about it?
I really like that WNA has such a diverse population. I seriously doubt that any other school in the nation has as diverse a population as WNA. I never would have imagined that my best friend would live half way around the world in Korea.
Daily Schedule:
Weekday
5:00 PM
down time (dinner too)
Weekend
12:00 AM
service learning/community service
1:00 PM
the rest of the day is yours do what it with you will
I think the size makes it very unique. There are only about 130 students in the whole school which I thought sounded crazy at first, but really appreciated as time went by. You form really. . .
At West Nottingham Academy the campus has a very "close knit" feeling. When attending WNA you get to know your peers, teachers and their families very quickly. I was a day student for two. . .
At West Nottingham Academy, students are required to fulfill two Culture Credits per trimester and fifteen hours of Service Learning per year.Culture Credits are fun weekend activities that students can sign up for that. . .
Show more reviews (

7 reviews

)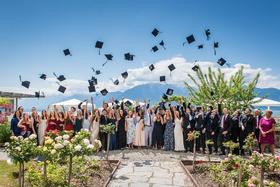 Nurturing Futures: A Journey through Boarding at Haut-Lac School in Switzerland
Nestled in the hills overlooking Lake Geneva in the French-speaking part of Switzerland lies an educational gem that embodies a unique blend of academic excellence, cultural richness and a profound sense of community. Founded over 30 years ago, Haut-Lac International Bilingual Day and Boarding School is now home to both 600 day students and a maximum of 30 boarders from around the world.
Navigating the Modern Maze: Emerging Challenges for Boarding Schools
Explore the pressing challenges facing boarding schools, from marketing difficulties and rising insurance costs to facility maintenance and recruitment of competent trustees and teachers. This article delves into these complex issues and proposes innovative strategies to overcome them.
What To Wear at Your Job Interview
Navigating job interviews can be stressful, but knowing what to wear shouldn't be. Our comprehensive guide covers the essential dress code tips for men and women interviewing at boarding schools. Make your first impression count with style and professionalism.