West Nottingham Academy - Review #4
About the Author:

College Enrolled
none yet
Home Town, State (Country)
Port Deposite, MD
Years Attended Boarding School
4
Activities During Boarding School
West Nottingham Academy has so many clubs that currently exist and there are always more that seem to form over night. For example, during my sophomore year I joined the Film Enthusiast's Club (FEC). I spent countless late nights watching old movies with a bunch of my friends in the school's lecture hall. If its still around when you attend, I highly recommend the FEC.
Daily Schedule:
Weekday
| | |
| --- | --- |
| 8:00 AM | class starts |
| 2:45 PM | class ends |
| 3:45 PM | sports |
| 5:00 PM | sports end |
| 5:00 PM | down time (dinner too) |
| 7:30 PM | study hall |
| 9:30 PM | study hall over |
| 10:00 PM | time to sleep |
| 8:00 AM | repeat |
Weekend
| | |
| --- | --- |
| 11:00 AM | brunch (SO GOOD) |
| 12:00 AM | service learning/community service |
| 1:00 PM | the rest of the day is yours do what it with you will |
Review

Description

currently in high school

I think the size makes it very unique. There are only about 130 students in the whole school which I thought sounded crazy at first, but really appreciated as time went by. You form really. . .

Currently in High School

At West Nottingham Academy the campus has a very "close knit" feeling. When attending WNA you get to know your peers, teachers and their families very quickly. I was a day student for two. . .

None

At West Nottingham Academy, students are required to fulfill two Culture Credits per trimester and fifteen hours of Service Learning per year. Culture Credits are fun weekend activities that students can sign up for that. . .

none yet

West Nottingham Academy (WNA) is very much so unlike any other school I've ever attended. Now that might be because it only has (at most) 150 students per year. But you learn so much, not. . .

The University of Texas at San Antonio

West Nottingham's weekend culture credits were one of the most unique experiences I have ever encountered in my life. By requiring all students to sign up for trips to a historical or educational site during. . .

Show more reviews

(2

reviews)
April 20, 2018
Actually, there is no secret to getting your child into boarding school. Just a lot of hard work and a heavy commitment of time.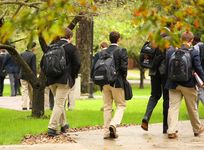 March 22, 2018
Some cynics think single-sex education is old-fashioned. The Kiski School shows how educating boys in a single-sex school is successful.
March 08, 2018
The wide range of fine academic, athletic, and other facilities found in boarding schools underscores the determination of schools to provide the very best for their students.