Reflections and Advice:
1.) What do you think makes your school unique relative to other boarding schools?
West Nottingham had a lot of international students-- WNA was in a very white county in Maryland, and I had the opportunity to meet people of all different backgrounds while I was there. Also, the teachers were willing to try anything new-- if you wanted to start a new club, they were enthusiastic about helping.
2.) What was the best thing that happened to you in boarding school?
I feel like I became more independent, and through meeting so many different people, my perspective widened.
3.) What might you have done differently during your boarding school experience?
I wish that I had taken more classes that "scared" me -- like AP science classes.
4.) What did you like most about your school?
It was a comfortable, fun place to live.
5.) Do you have any final words of wisdom for visiting or incoming students to your school?
I'm sure it's changed, but East Dorm was my favorite dorm. Also, if they are still offering darkroom photography-- take it.
Academics:
1.) Describe the academics at your school - what did you like most about it?
The teachers were extremely helpful. When I went to college, I felt prepared.
Athletics:
1.) Describe the athletics at your school - what did you like most about it?
WNA has mandatory participation of after school activities. It sounds like a chore, but I enjoyed that I was able to try many different sports. Since it was so small, everyone was able to join. I would have never done sports otherwise.
Art, Music, and Theatre:
1.) Describe the arts program at your school - what did you like most about it?
I did drama for three years. I loved it, but the facility was small, and not too many people were invested. However, it seems like in recent years they have dedicated more time and resources investing in the arts program. I will say-- I did photography my senior year, and it was the best experience. I was able to do an independent study and spend my free time in the dark room-- I loved it. My best moment from WNA.
Extracurricular Opportunities:
1.) Describe the extracurriculars offered at your school - what did you like most about it?
I liked that you could ask a teacher to sponsor a new organization, and, if you gave them a good enough reason or showed enough passion, they would help you.
Dorm Life:
1.) Describe the dorm life in your school - what did you like most about it?
Everyone was very close. I was a day student, though, but I would stay over often.
Dining:
1.) Describe the dining arrangements at your school.
It was easy and flexible.
Social and Town Life:
1.) Describe the school's town and surrounding area.
Cecil County is very small, nothing to write home about. But WNA is close to Philadelphia, Baltimore, and Washington D.C., so I was able to go on many day trips to museums or other cultural outings.
2.) Describe the social life at your school - what did you like most about it?
Even though everyone was from different backgrounds, everyone got along, for the most part.
I think the size makes it very unique. There are only about 130 students in the whole school which I thought sounded crazy at first, but really appreciated as time went by. You form really. . .
At West Nottingham Academy the campus has a very "close knit" feeling. When attending WNA you get to know your peers, teachers and their families very quickly. I was a day student for two. . .
At West Nottingham Academy, students are required to fulfill two Culture Credits per trimester and fifteen hours of Service Learning per year.Culture Credits are fun weekend activities that students can sign up for that. . .
Show more reviews (

7 reviews

)
Mastering the Boarding School Selection Process: A 5-Step Guide
Discover the ultimate 5-step guide to choosing the perfect boarding school for your child. Explore essential factors, such as academics, campus facilities, extracurricular activities, and more. Make an informed decision to provide your child with an enriching and transformative educational experience. Read now!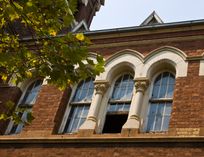 5 Founders and Their Boarding Schools
What prompts somebody to start a boarding school? The motives range from idealism to munificence right on through to capitalism. The common thread seems to be ample capital and a vision of what education can do.