Reflections and Advice:
1.) What do you think makes your school unique relative to other boarding schools?
Small classes helped me out tremendously. All teachers made sure you were involved. No hiding in the back like other schools. An all male freshmen dorm was very big towards gaining independence as a 14 year old who didn't know anybody. I wish they would bring that back.
2.) What was the best thing that happened to you in boarding school?
My education grew tremendously. In my previous schools I was treated like a number, not a student. I had gained independence at a young age which was very important when entering college and the real world. I won a lot of awards because WNA brought the best out of me.
3.) What might you have done differently during your boarding school experience?
I wouldn't have done anything differently. I was very shy when I first entered WNA my freshman year. The growth and learning process I learned was an amazing experience. I suggest not going home on the weekends. It slows your independence and being with others on the weekends you'll meet kids from all ages and different backgrounds.
4.) What did you like most about your school?
I liked the boarding experience. I loved being a tri athlete. I met life long friends and got into every college I wanted to thanks to the teachers and coaches pushing me to my fullest potential.
5.) Do you have any final words of wisdom for visiting or incoming students to your school?
Enjoy the time there. It's a very special and rare experience that most of your future peers and colleagues never had. I still think that there should be freshmen dorms or maybe at least a level or wing of a dorm dedicated to just freshmen.
Academics:
1.) Describe the academics at your school - what did you like most about it?
I like the student to teacher ratio. All teachers would help you outside of the classroom. Some were dorm parents, so they could even work with you in your dorm.
Athletics:
1.) Describe the athletics at your school - what did you like most about it?
Our baseball team won the conference title all 4 of my years. My senior year we went the the MD state finals, but unfortunately lost. We also played at the Wilmington Blue Rocks stadium twice in my 4 years. It was an awesome experience. Our school packed the stands.
Art, Music, and Theatre:
1.) Describe the arts program at your school - what did you like most about it?
My first dorm parent was my Art teacher. He taught me a lot about art. We would listen to classical music when we painted or did other forms of art. Our school had many exceptional artists with all sorts of different backgrounds. It made the art universal.
Extracurricular Opportunities:
1.) Describe the extracurriculars offered at your school - what did you like most about it?
I liked how the students and teachers were able to communicate on a different level then most high schools due to the small classes and small extra curricular groups.
Dorm Life:
1.) Describe the dorm life in your school - what did you like most about it?
You gain independence at a young age which is a huge advantage when entering dorm life at colleges. The bonds you make with roommates and dorm mates are very tight. I still talk to my roommate and I'm 40. He's still one of my best friends. You could order food for delivery. You could do your own laundry. On weekends you can go on trips or go just about anywhere on campus. The dorm selection is pretty nice. We used to do a pool to see who went to which dorm. If you became a resident advisor you got to have a refrigerator and TV.
Dining:
1.) Describe the dining arrangements at your school.
We had breakfast, lunch, and dinner. Wide selections. Cereal if you didn't like the breakfast, a sandwich bar if you didn't like lunch or dinner. A salad bar and even an ice cream bar. On the weekends you could make your own Belgium waffles! Some nights were special. They had steak and shrimp some times which was always a nice treat.
Social and Town Life:
1.) Describe the school's town and surrounding area.
Colora, Maryland was a very small town in the late 90's. Cecil County was nice and small. We would sometimes play local public schools in sports which was always fun. We would take trips to the grocery store and McDonald's, which were local.
2.) Describe the social life at your school - what did you like most about it?
The social life was fun. You could make a lot of friends with different backgrounds. Being a boarding student I got to meet people from Korea, Japan, China, Germany, France, and many other countries.
I think the size makes it very unique. There are only about 130 students in the whole school which I thought sounded crazy at first, but really appreciated as time went by. You form really. . .
At West Nottingham Academy the campus has a very "close knit" feeling. When attending WNA you get to know your peers, teachers and their families very quickly. I was a day student for two. . .
At West Nottingham Academy, students are required to fulfill two Culture Credits per trimester and fifteen hours of Service Learning per year.Culture Credits are fun weekend activities that students can sign up for that. . .
Show more reviews (

7 reviews

)
Mastering the Boarding School Selection Process: A 5-Step Guide
Discover the ultimate 5-step guide to choosing the perfect boarding school for your child. Explore essential factors, such as academics, campus facilities, extracurricular activities, and more. Make an informed decision to provide your child with an enriching and transformative educational experience. Read now!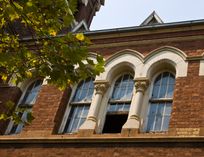 5 Founders and Their Boarding Schools
What prompts somebody to start a boarding school? The motives range from idealism to munificence right on through to capitalism. The common thread seems to be ample capital and a vision of what education can do.