Reflections and Advice:
1.) What do you think makes your school unique relative to other boarding schools?
At West Nottingham Academy, students are required to fulfill two Culture Credits per trimester and fifteen hours of Service Learning per year.Culture Credits are fun weekend activities that students can sign up for that allows them to experience things they might not have in another school. After a student has gone to their Culture Credit, they submit a one to two page paper to their English teacher about what they experienced. Some Culture Credits West Nottingham Academy offers are trips to local theaters, symphonies, garden trips, and trips to Baltimore. I have gone to my first symphony this year and it was a really exciting experience. I never would have thought of attending plays or symphonies before and I never would have thought I would enjoy them as much as I did!Service Learning is also very important to the West Nottingham Academy community. Volunteer trips to local churches and parks get us involved with helping out the community. Students can also sign up for walks with foundations such as Relay for Life or March of Dimes. These are great opportunities for students and it teaches them the value of giving back to the community.
2.) What was the best thing that happened to you in boarding school?
My freshman year I participated in my first science fair. It was required for the students in my class to participate and I had no idea what to do. I did not want to do something clické like a volcano. My dad had discovered something about music frequencies around the time when we were given our assignment so I tried to figure out how to turn it into a legitimate science project. I finished up my project and I thought it looked decent; nothing extraordinary. Our projects would be judged and the winners of the divisions would be announced the following week.When the time came to find out the winners, the last name I expected to hear was my own! I won first place in the Life Science Category, Introductory Division. That means my project beat out students in the Sophomore Chemistry Class and Juniors in Biology. I was so stunned that I forgot to stand up!This definitely was the best thing that happened to me so far at West Nottingham Academy. This made want to submit something next year for the science fair as well. This experience made me realize to be proud of the work I produce. In my previous school, I would be considered a total loser to have won the science fair. But at WNA, it is an actual accomplishment. I felt really proud of myself afterwards.
3.) What might you have done differently during your boarding school experience?
I did not realize how homesick I was. I refused to admit it because I was trying to be independent but I still needed to be around my parents. We arranged for me to come home every other weekend and that has helped my stress levels tremendously.I recommend that if this is your first year at boarding school, talk to your parents or guardians as often as possible. If you don't need to go home every weekend or every other weekend, that's fine, but do find the time to go back home. You need the time to decompress around people you are familiar with. It's totally acceptable to feel homesick, so don't feel embarrassed. There are plenty of teachers and faculty members on campus you can talk to if you as well.
4.) What did you like most about your school?
I like how prepared they are getting us for college. I stay motivated by focusing on the bigger picture: my career. Even though I still do not quite know what I want my career to be yet, West Nottingham Academy prepares us for college. We have a terrific college counseling program that really starts your Freshman year. The teachers push you to do your best and pile on the work because they know you can handle it.I feel like I have an advantage over my other friends in public schools because I am going to be prepared for college. I'll be used to the homesickness, the dorm life, and the class work. I will have the skills to balance my social, academic, and personal life.
5.) Do you have any final words of wisdom for visiting or incoming students to your school?
Remember: You are in High School! These are going to be the best years of your life; make the most of them. We are all young, we like to have fun so don't feel like you need to be locked up in your room all night, up to your eyeballs in homework. There is a time to relax with friends and as a teenager, you need to relax. Sure there may be some nights where you can't hang out in the lounge watching TV or talking in the dining hall for that extra half hour, but your hard work pays off.
Academics:
1.) Describe the academics at your school - what did you like most about it?
The thing that stands out most at West Nottingham Academy is how individual your education is. I came from a rather large school so being able to have a more personal connection with my teachers and peers was like a breath of fresh air. The average class size is eight or nine students, so you really receive the attention you need from your teachers.Teachers are here to help YOU. They care about each student and they want to see you succeed. They have no problem clarifying anything during class time and are more than happy to assist you outside of the classroom. Many teachers live on campus so you can always find the time to talk to them if you are struggling.
Athletics:
1.) Describe the athletics at your school - what did you like most about it?
I find that having a sports requirement at West Nottingham Academy is actually more beneficial to the students in the long run. You learn the value of being a team player and it is tons of fun!There are also plenty of sports to choose from at WNA. In the fall, we offer: Soccer (Boys and Girls), Volleyball (Girls), Cross Country (Boys and Girls), and Fitness. In the winter we have: Basketball (Boys and Girls), Cheerleading (Girls), and Weightlifting. And in the spring we have: Lacrosse (Boys and Girls), Badminton, Tennis, and Weightlifting.There is a wide variety of sports to choose from. Don't be afraid to try something you have never played before; you may really like it!
Art, Music, and Theatre:
1.) Describe the arts program at your school - what did you like most about it?
Visual Arts is very prominent at West Nottingham Academy. Art classes start at Freshman Humanities and branch out to either Photography or Studio. Several artists take AP Studio and display their work often. That is what I really enjoy about WNA; the students get to display their work. We have a gallery on the main floor of the academic building where students get their work put up by the art teacher. It makes the environment much more personal and it's fun to get to see what your friends have been working so hard on.A unique thing that West Nottingham Academy has is an Artist in Residence Program. Each trimester, a professional artist comes in and teaches their skills to a few Studio Classes. The kids really like the artists and they learn so much because each project is completely unique.The music music program also offers an array of classes. Freshman Humanities starts the journey and students can choose if they want to take Music or Art to fulfill their Art credits. After Humanities, students can take Music Theory, then Composition, and finally AP Music Theory. There are also choir classes available and a Chamber Ensemble to participate in as an after school activity.Theatre is in the spring and every year we perform a different play. Students can choose to take Drama instead of a sport during the spring. Even if you don't want to act in the play you can help with production, props, lights, sound, costume, etc.
Extracurricular Opportunities:
1.) Describe the extracurriculars offered at your school - what did you like most about it?
Clubs meet after school and occasionally on weekends. Some clubs WNA offers are: Debate Team, Math Club, Student Government Association (SGA), Gay-Straight Alliance (GSA), Anime Club, Let's Talk About It, and Current Events. What I like most is that any and all clubs are student created and student run. Any idea for a club is welcomed and you just need to find a teacher to advise your club. Some clubs such as Debate Team, Math Club, and Current Events take trips to attend competitions or sites that pertain to their club.Volunteering is completed on the weekend through Service Learning. Every weekend there is a trip to either a church, a park, or a foundation walk to volunteer. It is always a lot of fun and a learning experience for everyone.
Dorm Life:
1.) Describe the dorm life in your school - what did you like most about it?
I like that the dorms at West Nottingham Academy are not too large. There are about twenty - twenty two kids living in a dorm at once. Each student is paired with one other roommate. Dorm Prefects and Seniors live in single rooms. Each student is provided with a twin sized bed, a dresser, a desk, a safe, and closet space. Dorms are quite lively during appropriate hours and we all get along very well.We are also allowed to personalize our dorms how we like. Adding simple things like pictures or posters to your wall or dresser can make you feel more at home. You can also arrange and rearrange your room any way you like as long as it isn't a fire hazard (i.e. blocking the doorway).Dorms are also equipped with a refrigerator, microwave, washers and dryers, and a vending machine. We have full access to all the facilities and with permission from a Dorm Parent, we are allowed to use hot plates or electric cookware. Each dorm has two to four Dorm Parents living in the attached apartments to the building. They check up on us during evening Study Hall and are the ones we go to if there is any issue going on.
Dining:
1.) Describe the dining arrangements at your school.
Dining services include breakfast, lunch, and dinner on weekdays and brunch and dinner on weekends.Meal Times: Mon-Fri Breakfast: 7:00 am - 7:45 am Lunch: 12:15 pm - 1:00 pm Dinner: 5:45 pm - 6:30 pmSat-Sun Brunch: 11:00 am - 12:30 pm Dinner: 5:00 pm - 6:00 pmThere are vegetarian options available, a fruit bar, a salad bar, a sandwich station, soup options, and cold sides in the dining hall. There is also ice cream and/or desert (cookies, cake, brownies, pie, etc.). For brunch on the weekends the waffle machine is available to us.The dining hall staff is always very nice and know many of us by name. They are aware of our food restrictions and they are more than willing to heat up something or prepare something specific for students. For brunch we can order eggs any style and they always have plenty of options available.Once every two months the head of the food department, Chef Eric comes in and makes something special for the school. There are also cards in the cafeteria to write down suggestions for the staff.
Social and Town Life:
1.) Describe the school's town and surrounding area.
West Nottingham Academy is located in a very rural area. There are lots of surrounding farms. On trips I have seen horse and buggies on the road and old fashioned plows in a field.I like that we are situated right between Baltimore, Maryland and Philadelphia, Pennsylvania. They are both very historic cities full of fun activities.
2.) Describe the social life at your school - what did you like most about it?
Social life is very diverse at West Nottingham Academy. There is a 40% international population so we are exposed to many cultures. A few of the countries represented at West Nottingham Academy are China, South Korea, Vietnam, Saudi Arabia, Turkey, Nigeria, Nepal, and Sri Lanka. In our cafeteria we have flags representing the countries of past teachers and students.Having such a diverse community opens up many new opportunities for students. Most stereotypes one may have are broken once you step on campus. You learn how individual each person is and you learn a lot about their culture.
Daily Schedule:
Weekday
7:45 AM
Academic Day Begins (Advisory/Morning Meeting; Block A; Block B)
9:45 AM
Break (meet with teachers, go back to dorm, finish homework)
10:00 AM
Classes resume (Block C,D,E)
1:00 PM
Afternoon Classes (1:00-2:40)
3:15 PM
Sports/After School Activities (3:15-5:00) ~varies depending on activity~
5:45 PM
Dinner (5:45-6:30)
7:30 PM
Study Hall (7:30-9:30)
10:45 PM
Lights Out (11:00 for seniors)
Weekend
11:45 AM
Down Time (Take a shower, go back to bed, watch TV, etc)
6:30 PM
Culture Credit (returns around 9:30-10:30 pm)
8:00 PM
Movie/Karaoke night
11:00 PM
Dorm Check-In (No set lights out on weekends)
I think the size makes it very unique. There are only about 130 students in the whole school which I thought sounded crazy at first, but really appreciated as time went by. You form really. . .
At West Nottingham Academy the campus has a very "close knit" feeling. When attending WNA you get to know your peers, teachers and their families very quickly. I was a day student for two. . .
At West Nottingham Academy, students are required to fulfill two Culture Credits per trimester and fifteen hours of Service Learning per year.Culture Credits are fun weekend activities that students can sign up for that. . .
Show more reviews (

7 reviews

)
Mastering the Boarding School Selection Process: A 5-Step Guide
Discover the ultimate 5-step guide to choosing the perfect boarding school for your child. Explore essential factors, such as academics, campus facilities, extracurricular activities, and more. Make an informed decision to provide your child with an enriching and transformative educational experience. Read now!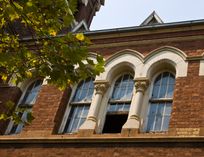 5 Founders and Their Boarding Schools
What prompts somebody to start a boarding school? The motives range from idealism to munificence right on through to capitalism. The common thread seems to be ample capital and a vision of what education can do.