Reflections and Advice:
1.) What do you think makes your school unique relative to other boarding schools?
We have a beautiful view of the lake right as you drive onto campus where you have a clear view of the mountains and even a view of Gunstock. Along with the physical attributes of Brewster there is also an overwhelming sense of community that exists within the campus. From the moment you get on campus to the moment you leave, you can feel the family like atmosphere that Brewster provides.
2.) What was the best thing that happened to you in boarding school?
I think boarding school has changed me as a person and only in a positive way. At home I have a twin sister and going to boarding school helped to gain that sense of independence not only from her but from my parents as well. Originally, I was intending to go to boarding school for sports, however I have now learned that there is a lot more to boarding school than the sports. I learned the skill of responsibility in my journey as well. You are forced to manage your social life with academics and sports. At first it is not easy but once you get into the grove you can become good at it. There are endless skills that I will take with me to college but independence and responsibility are definitely two that stick out to me.
3.) What might you have done differently during your boarding school experience?
Going into the private school experience with essentially a blind fold over my eyes, there would be a lot of things I would have done differently. Coming from a family where I would be the first to attend private school it was a very blind process. I applied to schools that I had only had connections to through other people. We didn't do our research or look at other schools. If I were to do it again I think I would have given myself a wider range of schools to chose from. Along with that I think I would have take the application and interview process a lot more seriously. I had no idea that it was the unwritten rule to show up looking presentable. If I could do it again, I would show up to all my interviews in the best condition possible and would have taken a bit more time on the essays and questions on the application.
4.) What did you like most about your school?
Overall, I like the sense of community at Brewster. We are a school where everyone pretty much knows everyone after the first month. You get to know the other 350 students pretty quickly. What's much different about that than public school is that you not only know their names but you also get to learn a bit about everyone as a person. You learn where they are from and what their family is like.
5.) Do you have any final words of wisdom for visiting or incoming students to your school?
If I were visiting campus for the first time I would tell you to check out the boathouse. The boathouse is one of the prettiest places on campus especially if you get to watch the sunset on the docks. It is peaceful and what I believe to be the most beautiful building on campus.
Academics:
1.) Describe the academics at your school - what did you like most about it?
Brewster is very unique when it comes to academics. The first thing that separates Brewster from the rest is the small classroom size. There is usually about 10-12 students in each one of your classes. In each class you are also places into what we call "STAD" groups. STAD groups are small groups of 4 students that are placed in a specific desk arrangement. In each one of your classes you will be place in either foundational, standard or accelerated. Based on where your strengths and weaknesses fall, you could be accelerated in math and foundational in English. The system is designed to challenge you in each one of your classes but not put you over your head. In each one of your STAD groups there could be a foundational, standard, and accelerated student. This is designed to allow students to help one another out and to also do work in small groups which is often exercised at Brewster. Brewster is unique in the fact that we have teacher who want to help you succeed. The people that might be your teachers can also be your coach or your dorm parent. They are always willing to make themselves available to you. At the end of everyday there is what we call a "Team Study" block where all teacher just wait in their rooms for students to come in and ask questions. If you are unable to make the team study block, teachers are always willing to accommodate a time to meet either during a meal or at night. The workload at Brewster is nothing too bad. Until my junior year I would usually balance about an hour to and hour and a half of homework every night. Junior year I took four classes at the accelerated level and 1 AP course so my workload was increased to about four to four and a half hours of homework every night, still something that was manageable with three varsity sports.
Athletics:
1.) Describe the athletics at your school - what did you like most about it?
Sports at Brewster is something that we 100% pride ourselves in. Along with strong academics we also have an equally strong sports program. In my time here there have been only a couple of times that we have achieved under 500 in a season. As of right now it is only mandatory that you participate in 1 interscholastic sport. This is nice for our artistically talented students because they are not only able to get in their physical exercise one season but they are also able to balance an art class in the other two seasons. We have a wide range of sports. Just about any sport but football is offered at Brewster. Two sports that make Brewster unique and that many of our new students tend to pick up is sailing and crew. These two sports seem to attract many students who are looking to participate in something outside of the traditional team sport. All of our teams are competitive. Every team that I have been on, we have been looking to capture a banner in. Successfully we have. Great thanks to our wonderful facilities we are able to achieve these goals. We are lucky to have such a beautiful weight room that overlooks the water as well as an indoor track and turf field. Along with the indoor turf there is also an outdoor turf that was put into place about 2 years ago.
Art, Music, and Theatre:
1.) Describe the arts program at your school - what did you like most about it?
As an athlete I was only lucky enough to take one art class. I took studio art my freshman year. It was a boatload of fun.
Extracurricular Opportunities:
1.) Describe the extracurriculars offered at your school - what did you like most about it?
There are many student organizations that are offered such as LGBT, Environmental Club, Business Club, and ONE Club and many more. There are also numerous community service opportunities provided throughout the year that involve much of the Wolfeboro community.
Dorm Life:
1.) Describe the dorm life in your school - what did you like most about it?
Dorm life is very unique. I have been a boarding student for four years now. My first year they set me up with a roommate that I consider to be my best friend. The school could honestly not have done a better job. At Brewster there are singles, doubles, triples, and quads. My freshman year I was in a double, sophomore and junior year I was in a triple and senior year I was in a quad. I have lived in a wide range of rooms and I must say that living in a double had to be my favorite. In every room there is a bed, desk, dresser, and closet per student. Each girls and boys dorm is equipped with about 16-18 students. In each dorm there is also what we call a common room/lounge where there is a refrigerator, microwave, couches and usually a TV.
Dining:
1.) Describe the dining arrangements at your school.
Recently our dining hall was renovated and it is into a much nicer area. The food is great. We have a nice fireplace that was also added into the dining hall. There is a nice new marble servery as well as a wide variety of drinks that are offered. On Friday nights it is "Pizza Night" and we are fortunate enough to have our very own brick oven where there are specialty pizzas served out of there every Friday. Also when it isn't pizza night we are lucky enough to receive fresh rolls and bread throughout the week. The dining hall hours are pretty simple. Breakfast: 7-9 Lunch: 11-1 Dinner: 5-7
Social and Town Life:
1.) Describe the school's town and surrounding area.
The surrounding area around Brewster is one of a kind. The area resides just outside of a small down town with the only two chain companies being Rite Aid and Dunkin Donuts. The downtown is filled with tiny mom and pop shops where they sell crepes, ice cream, breakfast, and Winnipesaukee gear. The little shops always give us something to do on the weekends if we want to go shopping. Also downtown are the town docks. This is also a common place in the spring and fall for people to pull up their boats and visit the downtown area. It is a common place for a Brewster student to take an ice cream cone and eat it there. Along with the downtown there is also plenty of beaches including Brewster Beach for many of the students to utilize.
2.) Describe the social life at your school - what did you like most about it?
The social life at Brewster is different than a traditional public school. I like Brewster for it's social life because the school is so small that "cliques" don't exist. As an athlete I tend to stick to the group of kids that I happen to be playing sports with too. In my grade it is easy to walk up to any other student and hold a conversation with them because you are friends with everyone in your grade. Yes we do tend to hang out in separate groups, it's inevitable, however I do find myself to be comfortable with just about everyone in the school.
Daily Schedule:
Weekday
Weekend
11:30 AM
No Lights Out: Check In Only
The biggest thing that makes Brewster unique is the location. Brewster is located right on the water front of Lake Winni, and directly in the center of the town of Wolfeboro. Students are able. . .
Most people are attracted to Brewster for the campus, but the community is worth so much more than the photographs. In all my years of education, I have never met faculty and staff so devoted. . .
Being in a small town located on a lake (the only Lakes region boarding school that was on a lake may I add) made our school not only unique but also gorgeous. Our classes. . .
Show more reviews (

7 reviews

)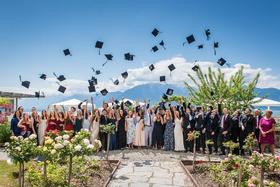 Nurturing Futures: A Journey through Boarding at Haut-Lac School in Switzerland
Nestled in the hills overlooking Lake Geneva in the French-speaking part of Switzerland lies an educational gem that embodies a unique blend of academic excellence, cultural richness and a profound sense of community. Founded over 30 years ago, Haut-Lac International Bilingual Day and Boarding School is now home to both 600 day students and a maximum of 30 boarders from around the world.
What To Wear at Your Job Interview
Navigating job interviews can be stressful, but knowing what to wear shouldn't be. Our comprehensive guide covers the essential dress code tips for men and women interviewing at boarding schools. Make your first impression count with style and professionalism.
Navigating the Modern Maze: Emerging Challenges for Boarding Schools
Explore the pressing challenges facing boarding schools, from marketing difficulties and rising insurance costs to facility maintenance and recruitment of competent trustees and teachers. This article delves into these complex issues and proposes innovative strategies to overcome them.