Reflections and Advice:
1.) What do you think makes your school unique relative to other boarding schools?
The Thacher School is a unique experience that I believe I and all of my peers will remember fondly. There is no other place where the faculty and school spirit is as strong, as friendly and as conducive to an adolescent's growth and learning. The mandatory camping trips twice an academic year as well as the horse program are only two of the many aspects that highlight Thacher and set it apart from other schools. With the twice a year camping trips, students are forced to bond with other students and faculty thrown in the random medley of small groups sent out to the scenic areas of the California backcountry. We were pushed to become leaders, mentors and great friends as we encouraged each other on the sometimes very strenuous five day trips. Despite the fact that it is a time where we go without the luxury of bathrooms, showers, or a change of clean clothes, many many students and faculty look back fondly on these times as the most memorable and the best times of their lives.The horse program is where every freshman and incoming student is required to tend and learn to ride a horse. It was worth every early morning getting up in the cold and watching the sun as it slowly rises with students heading towards the barn, ready to clean their horses' stalls. It was in itself a learning experience as you saddle up and go into the wilderness and beauty of Thacher's "backyard" and gallop around or train with your horse around the fields and on trails. Gymkhana is also one of Thacher's greatest events as all freshman and some upperclassmen join in a variety of fun, exciting horse games.
2.) What was the best thing that happened to you in boarding school?
As corny as this sounds, I feel like I completely found who I am at Thacher and that was the biggest acomplishment. It is not easy to be living in a non-familial environment around age 13. It was amazing how much everyone grew and struggled together emotionally to find their true identities. However, the opportunities Thacher was abe to provide were completely beyond anyone's imagination. From the challenges I never thought I was able to acomplish, I found confidence in my abilities.
3.) What might you have done differently during your boarding school experience?
I don't think I would have done anything differently.
4.) What would you never want to change about your school?
1) horse program 2) faculty student relationship 3) camping trips 4) location
5.) What things could be improved about your school?
1) arts department 2) diversity 3) dorms
6.) Do you have any final words of wisdom for visiting or incoming students to your school?
Ther is no doubt that Thacher is a once in a lifetime experience. For me, it is a time of my life that I look back at and cannot believe everything happened so wonderfully and so quickly at the same time. Treasure all moments, hard and memorable while you are there, I miss the wilderness and the undeniable beauty of the valley. There is so much you can make out of your Thacher experience, free your mind, find yourself and be invincible, this is your chance to try everything you thought would be impossible.
7.) How was your experience as an international student?
I don't think that Thacher was completely well-adapted to having international students. Although, as stressed again and again, Thacher's faculty-student relationship is remarkable and completely supportive, I feel like there should have been a more stuctured support of international students.
Academics:
1.) What did you like best about your school's academics?
I loved the fact that the classes were all small so the faculty and students developed an intense relationship. The faculty lived on campus, they were easily accessible to students and they were completely there to be supportive of students emotionally and intellectually.
2.) What did you like least about the academics in your school?
I suppose because of the restraints of being a small school, the curriculum was restricted. There are still many new courses being introduced but if anything, it would have been wonderful to have had more electives to choose from.
Athletics:
1.) What did you like best about your school's athletics?
There was a wide range of sports from the most typical: basketball, tennis to rock climbing, dancing, or kayaking. It was an excellent program because it was a personal, intimate event where bonding was a wonderful experience.
2.) What did you like least about the athletics in your school?
I cannot think of anything that I liked least.
Art, Music, and Theatre:
1.) What did you like best about your school's art program?
I loved the theatre program because of the passion of students and faculty alike.
2.) What did you like least about your school's art program?
The Arts departement, both performance and visual arts, was tiny. There was not a huge emphasis on this department, therefore I feel that this is the largest area of improvement Thacher can see in the future.
Extracurricular Opportunities:
1.) What did you like most about the extracurricular activities offered at your school?
There were lots of clubs and students came up with fun, original ideas that provided an array of activities for the school.
2.) What did you like least about the extracurricular activities offered at your school?
It was not a big part of student life, there were a lot of clubs but not all of them were active in a sense that they were coordinating events consistently.
Dorm Life:
1.) What was the best thing about dorm life in your school?
There were prefects that served as the supportive group for students and their lives apart from their academic lives. We had munch outs which were the quintessential bonding experience in dorms. This is when a prefect throws a little gathering with music and lots of food and everyone catches up and chats.
2.) What did you like least about dorm life?
There were curfews but I felt like they were reasonable and the older you get, the more freedom you gain, so there were not any rules that were impossible.
Dining:
1.) What was the best thing about your dining arrangements?
The dining hall was accessible almost all the time, and the food was excellent. The kitchen staff was friendly and responded to all sorts of requests and complaints. The food was fresh, high quality and very well made. The food is one of the things that I miss most about Thacher.
2.) What did you like least about your dining arrangements?
I have absolutely no complaint about the dining arrangements.
Social and Town Life:
1.) How welcome did you feel by the other students when you first arrived at the school
I was a new sophomore but I felt welcome going in as a new student.
2.) Describe the level of diversity and integration of students in your school:
There is an effort in intergrating more students of color. There are students from around the world but they are barely represented because there is such a small number of them.
3.) Describe typical fun activities you did on a weekend:
We would go into town and do some shopping, go to the movies in town or just simply eat out and relax in the sun in the park.
4.) What was the town like?
Yes, Ojai is a very small, safe town. It does not have much going on if you're from a city but it is perfect to bring a book to and get a burrito, some horchata and sit down to spend a lazy Saturday afternoon.
Daily Schedule:
Weekday
3:30 PM
Afternoon sports/activities
6:45 PM
End of Formal Dinner
10:00 AM
Check in curfew in dorm
11:00 AM
Lights out for sohpomores/ midnight for juniors
Weekend
The tight knit community is a really rare quality at high schools in general but especially boarding schools. The relationships with teachers and students is so close and the fact that there is very few. . .
The horse department at Thacher is both unique and outstanding. Unique because the school strives to keep the cowboy culture alive with over 100 horses and a fully outfitted western riding center. It is outstanding. . .
Thacher's community on campus is unlike any other, connections at the school go beyond merely knowing every student's name but having had interacted closely with everyone whether on a camping trip, in the dining hall. . .
Show more reviews (

23 reviews

)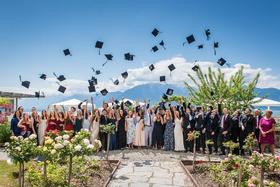 Nurturing Futures: A Journey through Boarding at Haut-Lac School in Switzerland
Nestled in the hills overlooking Lake Geneva in the French-speaking part of Switzerland lies an educational gem that embodies a unique blend of academic excellence, cultural richness and a profound sense of community. Founded over 30 years ago, Haut-Lac International Bilingual Day and Boarding School is now home to both 600 day students and a maximum of 30 boarders from around the world.
What To Wear at Your Job Interview
Navigating job interviews can be stressful, but knowing what to wear shouldn't be. Our comprehensive guide covers the essential dress code tips for men and women interviewing at boarding schools. Make your first impression count with style and professionalism.
Navigating the Modern Maze: Emerging Challenges for Boarding Schools
Explore the pressing challenges facing boarding schools, from marketing difficulties and rising insurance costs to facility maintenance and recruitment of competent trustees and teachers. This article delves into these complex issues and proposes innovative strategies to overcome them.